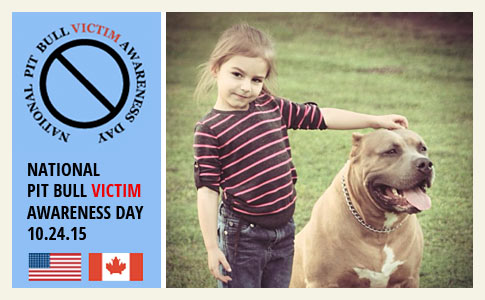 Pictured: Mia DeRouen, 4-years old, was killed by her family's pit bull in 2014.
Ways to Take Action
North America - Ten days ago, we wrote about a new information website launched by a coalition of over 50 support groups in the United States and Canada declaring October 24, 2015 the first ever National Pit Bull Victim Awareness Day. The new website explains the multi-part pit bull crisis: innocent people and animal victims suffering serious and fatal injuries inflicted by pit bulls and the open admission shelter crisis caused by the rampant number of overbred and unwanted pit bulls.
Imagine if the volume of these victims and the pit bull shelter crisis -- extremely high pit bull intake, occupation and euthanasia rates -- were cut by a third or even by more in just a few years? Smart cities and counties that have adopted mandatory pit bull sterilization laws are seeing some of these results. More jurisdictions are following suit too. A mandatory pit bull sterilization law is a powerful step toward achieving a safer community and reigning in pit bull-related shelter issues.
Ways to Take Action
The new website lists ways that you can take action. Please help honor the victims of these attacks and prevent new life-altering maulings by voicing the concerns of victims. Encourage your community leaders and policymakers to review the successful results jurisdictions have achieved after adopting breed-specific pit bull laws. Advocate for breed-specific legislation and support education about the genetic inheritance of aggression and attack traits in pit bull type dogs.

About DogsBite.org
DogsBite.org is a research and education nonprofit organization dedicated to conducting research on the growing, but underreported, public safety issue of severe and fatal dog attacks inflicted by well-documented dangerous dog breeds. We publish the results of our research to educate the public, law enforcement, journalists, attorneys and policymakers and to prevent new life-altering attacks. The public has the right to know information that helps them keep their families safe.
A very special thanks to Dogs Bite Decatur AL who has created so many posts about this day!
Related articles:
10/22/15: Protection for People, Pets and Pit Bulls - Lori Welbourne
10/15/15: Announcement: Happy Birthday DogsBite.org; Nonprofit Turns 8-Years Old
10/14/15: Coalition of Victims' Groups Announce National Pit Bull Victim Awareness Day...
09/01/15: Cities with Successful Pit Bull Laws; Data Shows Breed-Specific Laws Work
05/05/09: Alexandra Semyonova: Heritability of Behavior in the Abnormally Aggressive Dog