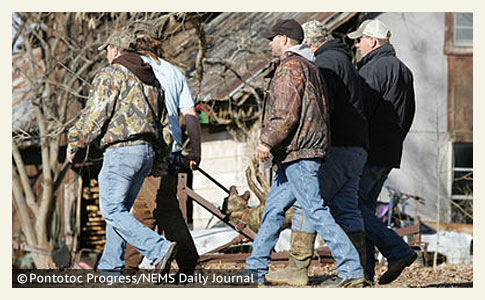 Men seen hauling away one of the pit bulls that killed Ronnie Waldo.
Manslaughter Charges
UPDATE 03/03/11: To our dismay and delight, the owner of the pit bulls that brutally attacked and killed Ronnie Waldo has been charged with manslaughter. James Casey Swanson, 30, of Topsy Road was arrested Thursday morning after the charges were issued by a special grand jury. We encourage readers to take a good look at Mr. Casey, as he represents the "exhausted cliche" pit bull owner who nearly always walks away without consequences after a devastating attack.
01/31/11: Fatal Dog Attack Ruled Accidental
Authorities have ruled the death of Ronnie Waldo, who was savagely killed by his landlord's three pit bulls last week, an accident. Pontotoc County Coroner Kim Bedford said the autopsy results show the victim died due to injuries inflicted by the dogs and that the manner of death was accidental. It is unknown if Waldo has any surviving family members. The Clarion Ledger posted an obituary for Waldo on Saturday. Sadly, it is the shortest obituary we have ever seen.
01/27/11: Mauling Investigation Continues
News reports indicate that Ronnie Waldo went to his neighbor's house to borrow a relay switch when three pit bulls savagely attacked and killed him. His neighbor, James Swanson, owns the pit bulls and the nearby property where Waldo lived. In a recent video, Swanson said he was Waldo's friend, but that he didn't understand "why he was in the yard" (blaming the victim). Even though being a tenant and a friend are perfectly normal reasons for Waldo to enter into the yard.
01/26/11: Mauling Victim Identified
Pontotoc County, MS - In a developing story, NEMS360.com reports that a 51-year old man died today after being attacked by three pit bulls in Pontotoc County. Ronnie Waldo was killed this afternoon at a home on Topsy Road. Emergency responders pronounced the victim dead on the scene and deputies shot and killed at least two of the three dogs after being aggressive toward them. Pontotoc County Sheriff Neal Davis said the mauling death is still under investigation.
Though details are still emerging, Waldo was renting property from Casey Swanson and was found in Swanson's front yard. In another "pit bull breeding operation" that ended in human death, NEMS360.com reports, "A half dozen pit bull puppies scurried around the yard, seemingly oblivious to the howls and growls of the adult dogs that were being corralled from the backyard by sheriff's deputies."1 They also noted that the adult pit bulls did not go "without a fight."
1
There is typically

zero accountability

regarding the offspring (puppies) of fatality attacking dogs. We imagine it will be the same in this case.
Related articles:
02/21/10: 2010 Fatality: 37-Year Old Philadelphia Woman Killed by Mother's Pit Bulls
01/18/10: 2010 Fatality: 56-Year Old Man Killed by Daughter's Six Pit Bulls
Photo: NEMS360.com