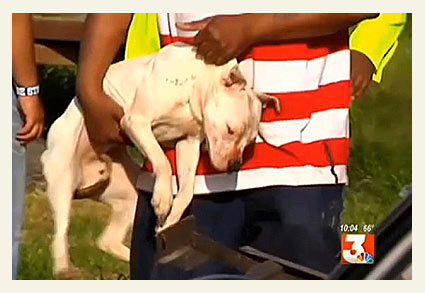 One of the two young pit bulls that killed 3-year old Christopher Malone.
Ban Debate Erupts
UPDATE 04/10/14: Shortly after Christopher's death, Holmes County Sheriff Willie March said that there is a pit bull ban in the nearby town of Lexington and that he would address county officials about adopting a countywide ban. The debate about pit bulls in Mississippi increased after 4-year old Victoria Mullins was brutally attacked by three of her grandfather's 10 pit bulls in Simpson County on April 9. The three dogs burst through the back door of his residence to reach the child.
The Clarion-Ledger article also created an interactive map of severe and fatal dog attacks in Mississippi for the years 2003 to 2014. Users can view by breed type, year and victims. Pit bulls are overwhelmingly the perpetrators. A related graphical charts shows a steep rise in maulings and fatalities since 2006. A separate Ledger article published on the same day outlines cities and counties with pit bull laws, resourced by the DogsBite.org Mississippi breed-specific laws page.
04/01/14: On Scene Footage
Video footage from WAFB shows the high fenced pen the two pit bulls escaped from and attacked the child who was playing nearby. How the dogs escaped the enclosure is unknown. The footage also shows authorities carrying away both pit bulls, referred to by the child's aunt, Lucy Mayze, as "puppies." When asked if the dogs were vicious before, Mayze told reporters, "Not the puppies. They never been no real vicious dog they never bit nobody they never jumped on nobody..."
"The dogs just jumped him and took him down and drug him in the back and killed him, ate him up," Mayze said.
Captain Sam Chambers with the Holmes County Sheriff's Department said, "The children were outside playing and [the mother] missed her child and when she went around to look for him that's when she saw the dogs on him and she went up there to try to get the dogs off her child and she ended up getting bit too." Chambers added, "Sad, when it comes to a child, real sad." The child's mother was treated at Lexington hospital. The little boy's death remains under investigation.
View Related video
03/31/14: Pit Bulls Kill Child
Holmes County, MS - In a developing story, two pit bulls owned by a family member killed a 3-year old boy on Monday afternoon in Holmes County. The attack occurred in the Thornton community. The boy died on the scene. Holmes County Sheriff Willie March said it appears the dogs were in a pen and got out. Family members owned the two pit bulls, March said. The boy has been identified as Christopher Malone. The coroner and Holmes County Sheriff's Department are on the scene.
---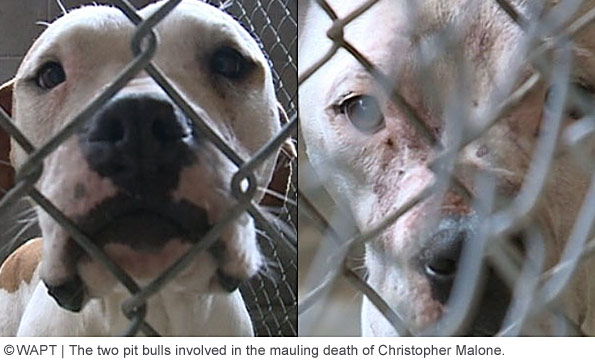 View the DogsBite.org Google Map:
Mississippi Fatal Pit Bull Maulings
.
Related articles:
03/03/11: 2011 Dog Bite Fatality: Pontotoc County Man Killed by Three Pit Bulls
06/26/10: 2010 Dog Bite Fatality: Terry Child, 5-years old, Killed by Neighbor's Pit Bull
11/09/09: 2009 Dog Bite Fatality: 16-Month Old Killed by Pit Bull of Babysitter's "Boyfriend"
07/23/08: 2008 Dog Bite Fatality: Mississippi 3-Year Old Boy Killed by Pit Bull
Photo: WAFB.com