Tom Vick Sr. pictured with his daughter, Lauren Stanley, in undated photo.
Clarifications
UPDATE 12/30/13: The Las Vegas Review-Journal reports that five family dogs that killed Tom Vick and seriously injured his wife will be euthanized. Former mayor Diane Vick asked that all five dogs be "put down," according to Bullhead City Police Capt. Tad Appleby. The couple was home alone with their six dogs on Sunday evening when a 40-pound shepherd attacked a 14-pound cocker spaniel, Appleby said. A boxer named Dempsey and three boxer-mixes joined the fight.
"It culminated in a big dog fight. All six animals got involved." -Capt. Appleby

The two were taken to Western Arizona Regional Medical Center after suffering multiple dog bites and lacerations. Vick died at the hospital, possibly from bleeding to death from a cut to his femoral artery, Appleby said. Investigators believe that Dempsey inflicted the fatal injury, he said. An autopsy will determine his cause of death. Diane Vick was flown to Sunrise Hospital and Medical Center in Las Vegas. A hospital spokeswoman said that she was in good condition Monday.
The couple's sixth dog, the cocker spaniel, died from injuries it suffered during the dog fight.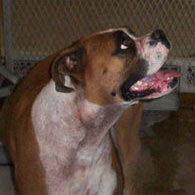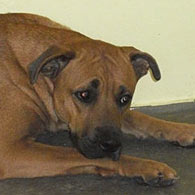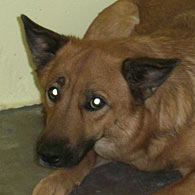 12/30/13: Conflicting News Reports
Conflicting news reports were published today, along with new information. The conflicts include the attacking dog being called a pit bull and a shepherd, depending upon the news source, the latter according to Bullhead City Police Capt. Tad Appleby. New information disclosed includes that there were up to 6 dogs in the couple's home and that the cocker spaniel died of injuries from the dog fight. The animals are currently being held at the Bullhead City Animal Control facility.
12/29/13: Mayor Talks to Media
The current mayor of Bullhead City, Mayor Jack Hakim, has spoken to the news media about the most recent U.S. fatal dog mauling (ironically, Hakim's Facebook cover photo depicts himself being licked by a boxer). Tom Vick, 64, and his wife, former Mayor Diane Vick, 65, tried to intervene after one of their larger dogs attacked one of their smaller dogs, but the pet dogs turned on the couple, fatally injuring Vick and seriously injuring his wife, according to Mayor Hakim.
Tom Vick Sr. died of his injuries Sunday morning, Hakim said. The incident is "pretty devastating," he said. "We've had dog bites before but never something like this," he said. "It's very sad for us in Bullhead City. She was a former mayor and he was a prominent high school teacher at Mohave High School ... We're just grateful that at least one of them was able to survive," Hakim said. Statements from police indicate that only the larger family dog, the boxer, attacked the couple.
2005 to 2012 Fatal Boxer Attacks
During the 8-year period of 2005 to 2012, boxers were involved in 5 dog attacks that resulted in human death. Two of these cases involved killing adults, Pablo Fleites, 56-years old of Miami-Dade County, Florida (2006) and Karen Gillespie, 53-years old of Hardin County, Kentucky (2009). A "boxer-mix" was also involved in the pack attack death of Rebecca Carey, 23-years old of DeKalb County, Georgia (2012). During this same period, pit bulls killed 151 Americans.
12/29/31: Man Dies After Dog Attack
An Associated Press article confirms that a Bullhead City man died from injuries suffered when he and his wife, a former Bullhead City mayor, tried to break up a fight between two of their pet dogs. The Bullhead City Police Department said that Thomas J. Vick, 64-years old, died from his injuries after being brought to a hospital. Police said that the couple tried to break up a fight between the family's boxer and cocker spaniel on Saturday evening. Both were attacked by the pet boxer.1
12/29/13: Teacher Killed in Dog Attack
Bullhead City, AZ - In a developing story, the Mohave Valley Daily News reported on their Facebook Page today that Mohave High School teacher, Tom Vick Sr., was killed late Saturday afternoon following a dog fight at his residence. His wife and former Bullhead City Mayor, Diane Vick, was also injured and is currently in ICU, according to the Facebook post. Subsequent updates announced in comments by the Mohave Valley Daily News include the following:
Mohave Valley Daily News According to the police department, Vick and his wife were attempting to break up a dog fight between their two dogs when one of the dogs turned on them both. Vick succumbed to his injuries at Western Arizona Regional Medical Center and Diane was airlifted to a hospital in Las Vegas where she is currently listed in stable condition in the ICU.

Mohave Valley Daily News Justin Brown as of right now they are being housed at the Bullhead City Animal Control. The dog that reportedly attacked the Vick's was a Boxer.
1
Remember that "boxer-mix" is commonly used to disguise the pit bull breed.
Related articles: 
09/24/13: 2013 Dog Bite Fatality: Boy Killed by Pit Bull-Mixes at Babysitter's Home in Gilbert
Photos: Facebook.com and Bullhead City Police Department