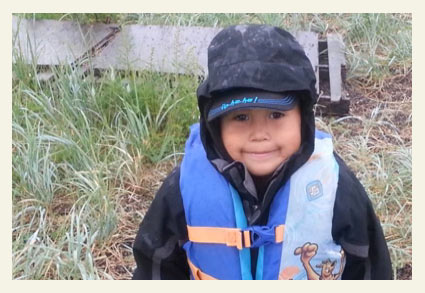 Dog Put Down
UPDATE 09/16/13: It was reported late Monday by the Anchorage Daily News that Kotzebue police have destroyed the husky-mix believed to have killed 5-year old Jordan Lee Reed. Police said the dog was traced and captured near to where the boy's body was found. "(The dog) was determined to be the animal that had attacked and killed the child," said police chief Eric Swisher in a statement Monday. No other information regarding the ongoing investigation was provided.
As we pointed out in our May post, DogsBite.org Releases 8-Year U.S. Dog Bite Fatality State Map (2005 to 2012), of all U.S. states, Alaska has the highest incidence rate per 100,000 of dog bite fatalities. The death of Jordan Lee Reed ensures that Alaska will maintain this position.
View Family tribute video
09/15/13: Child Killed by Loose Dog
Kotzebue, AK - In a developing story, a 5-year old Kotzebue boy was found dead early Sunday after being mauled by one or more loose dogs, according to the Kotzebue Police Department. Jordan Lee Reed had been playing outside in front of his family's home Saturday night when he was reported missing just after 10:30 pm. Police and search and rescue teams combed the area looking for the boy through the night. He was discovered dead in an open field at 4:10 am.1
Police captured several loose dogs in the area, one of which was determined to have been involved in his death. Police did not say what breed or breeds of dogs killed the boy. Roaming aggressive dogs have been an increasing problem in the Northwest Arctic town. Mayor Nathan Kotch told the Anchorage Daily News that city council recently revised to its existing animal control ordinance because people feared that children were not safe walking to and from school.
"We were all dreading something like this happening. We talked about it when we passed the ordinance," Kotch said.
The stricter ordinance went into effect a few months ago, Kotch said. It requires people with "dogs on a 'vicious breeds' list to have insurance coverage for their animals." (No details of the "vicious breeds" list were provided.) It also requires these dogs to be securely penned and penalizes owners who fail to follow the rules with stiff fines, he said. The city tried to inform the public about this issue by putting the police chief on the radio, he said, stressing responsible dog ownership.
1
This is the third "search and rescue mission" for a child in the past 17 months that was the result of a fatal dog attack: Kylar Johnson, 4-years old of Victoria County, TX and Bryton Cason, 4-years old of Donalsonville, GA.
Related articles:
05/09/13: 8-Year U.S. Dog Bite Fatality State Map (2005 to 2012) and Discussion Notes
05/22/10: 2010 Dog Bite Fatality: 3-Year Old Child Killed by Sled Dog in Napaskiak, Alaska
08/19/08: 2008 Dog Bite Fatality: Isis Krieger, 6-Years Old, Killed by Family Pit Bull
04/30/08: 2008 Dog Bite Fatality: Abraham Jonathan Tackett, Killed by Chained Dog