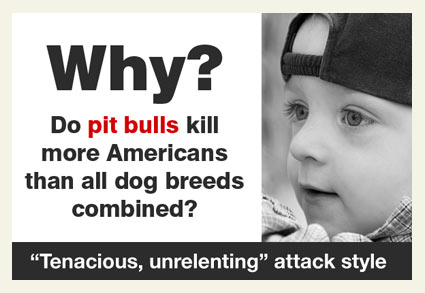 Fatal Pit Bull Attacks Sharply Rise in 2013
DogsBite.org - Today we launched an urgent pledge campaign on Causes.com to inform more Americans about the escalation of fatal pit bull attacks this year. In the first 5 months of 2013, pit bulls inflicted 13 of the 14 attacks that resulted in human death -- 93%. This is well above the average of 60% over the combined 8-year period of 2005 to 2012. If the current rate of fatalities inflicted by pit bulls continues, 33 Americans will lose their lives to these dogs by the end of 2013.
Many readers of this website are well informed about this issue. We still need you to take the pledge and share the DogsBite.org pledge campaign through Facebook, Twitter and email. Please help us get this urgent message out to more Americans. Everyday that passes is one day closer to the next horrific fatal pit bull attack. The average number of days between each pit bull fatality this year is 11 days -- much shorter than the 21 day average over the last 8-year period.



Related articles:
05/12/13: 2013 Dog Bite Fatality: Paralyzed Man Pulled from Wheelchair Dies After Dog...
05/09/13: 2013 Dog Bite Fatality: Antelope Valley Woman Mauled to Death by Pit Bulls
05/02/13: 2013 Dog Bite Fatality: Coshocton Woman Dies After Vicious Dog Attack
04/24/13: 2013 Dog Bite Fatality: Fulton County Infant Killed by Family Pit Bull
04/23/13: 2013 Dog Bite Fatality: 4-Year Old Mauled by Pit Bull Dies; Babysitter Arrested
04/11/13: 2013 Dog Bite Fatality: Stockton Woman Killed by a 'Big, Nasty Pit Bull'
04/07/13: 2013 Dog Bite Fatality: Callaway Boy Savagely Mauled by Two Dogs Dies
03/27/13: 2013 Dog Bite Fatality: Bryan County Toddler Killed by Family Pit Bulls
03/06/13: 2013 Dog Bite Fatality: 14-Month Old Wisconsin Boy Killed by Babysitter's Pit Bulls
03/02/13: 2013 Dog Bite Fatality: 7-Year Old Galesburg Boy Killed by Dog
02/16/13: 2013 Dog Bite Fatality: 'Nightmare' Pit Bull Kills Uvalde County Boy
02/08/13: 2013 Dog Bite Fatality: Elderly Woman Mauled to Death by Pit Bulls in Motel Room
01/19/13: 2013 Dog Bite Fatality: Chained Pit Bull Kills Montgomery County Boy
01/08/13: 2013 Dog Bite Fatality: Dog Mauls Woman to Death While Babysitting Toddler