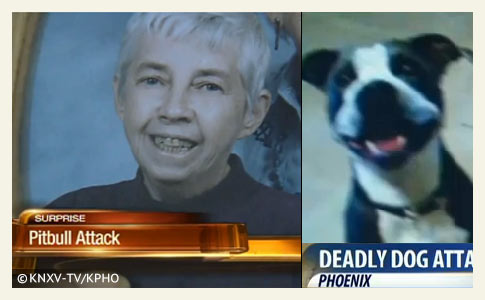 Maryann Hanula, 73-years old, died seven months after a violent pit bull mauling.
Numerous Surgeries
Surprise, AZ - An elderly woman badly mauled by two pit bulls last year has died. Maryann Hanula, then 73-years old, was in her front yard on October 10, when the attack occurred. The two pit bulls, a male and female, escaped a gated yard on the same street. When neighbors tried to rescue Maryann, the dogs turned on them. Another neighbor -- an off-duty Phoenix police officer -- shot and killed both dogs. Most of the woman's right foot was gone before medics arrived.
After the October attack, friends say Maryann underwent 13 surgeries and suffered multiple infections, spending most of the last seven months in the hospital. The dogs' owner, Cynthia Montoya had only lived on the street for about three weeks prior to the attack. After the incident, Montoya said she was "surprised" by the dogs' behavior. Unsurprisingly, the Montoyas moved away about six weeks later and could not be reached for comment about Maryann's death.
The dogs' owner, Cynthia Montoya, has never faced criminal charges despite a new Arizona law intended to hold pet owners accountable when their animals attack.

Fabian's Law stipulates that a pet owner can be charged with a felony if their animal attacks a person.

Surprise police told CBS5 that they could never establish that Montoya knew the dogs were vicious, so the case did not move forward.

Sally and Richard Andrade are the Valley couple who helped get Fabian's Law passed at the state Capitol last year.

The law mandates tighter penalties for dog owners whose animals attack.

The Andrades lost their poodle, Fabian, after he was attacked by a viscous dog in their neighborhood.

They said that they can't believe the owner of the dogs who attacked Hanula were never charged, and now that she has died, they want Montoya to face a stiffer penalty. - KPHO, May 18, 2012
Related articles:
01/18/12: 2011 Dog Bite Fatality: Victim of Catastrophic Pit Bull Injury Dies on Christmas Eve
01/03/12: 2012 Dog Bite Fatality: Woman Dies New Years Eve After Pit Bull Biting Incident
08/23/11: 2011 Dog Bite Fatality: Tucson Man Succumbs to Injuries After Attack by Pet Pit Bull
08/30/09: 2009 Dog Bite Fatality: Phoenix Woman Dies After Complications of Dog Bite