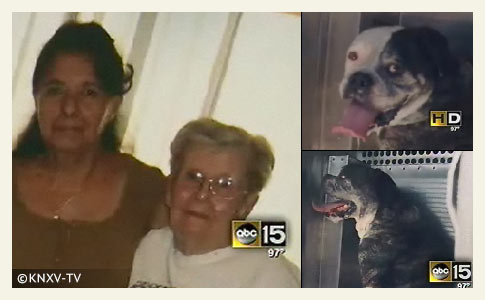 Jeanette Doyle, 90-years old, died due to complications suffered after a dog bite.
Woman Dies After Dog Bite
Phoenix, AZ - It was reported on Tuesday that 90-year old Kathleen Jeanette Doyle of Phoenix died July 26, 2009 due to complications suffered after a dog bite. On July 20, a loose American Bulldog1 bit her leg as she was walking home from her friend's house near 41st and Medlock drive. According to the dog's owners, it got out of their backyard because "windy weather" blew their fence down. Police have now opened a homicide investigation into Doyle's death2.
Gerald Doyle, Kathleen's son, said the bite injury required surgery, and his mother's health declined shortly thereafter. Aprille Hollis, a spokeswoman for Maricopa County Animal Care & Control, said the offending dog has since been put to sleep. Hollis also said the dog's owners had been cited in early July after a different dog bite incident involving the same animal. According to Hollis, the dog was quarantined for 10 days at that time before releasing it back to its owners.
The dog was "quick" to bite again, this time leading a person's death.
The owners of the dog, who would not appear on camera nor were they identified in the article, said they were "sorry" for the family's loss. They also said that they are "currently being sued" (presumably by the first July bite victim or by the Doyle family). Meanwhile Gerald and friends of Doyle's, such as Mary Maloney, are devastated at the loss of Kathleen. Maloney told reporters, "I hope that when I get as old as she is, if I make it that far, I can be as strong as she was."
1
The dog appears to be a Johnson type. It also appears that there is no "safe" subdivision of a pit bull. See the History Channel blog post to learn more.
2
Doyle's death was coupled with cardio pulmonary disease. With police opening a homicide investigation, final autopsy information will likely be released.
Related articles:
07/26/09: History Channel Airs Segment of Double Fatal Attack; Images of Dogs Shown
04/16/09: 2009 Fatality: 80-Year Old Woman Dies Due to Infected Dog Bite