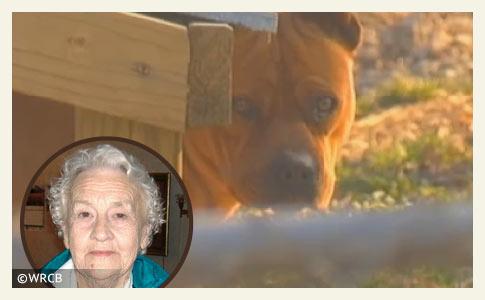 One of several pit bulls belonging to the owner that killed Mable McCallister.
Mable McCallister
Cleveland, TN - WRCB reports that an 84-year old woman died New Years Eve after a pit bull owned by her grandson attacked her face and neck on December 18 in Cleveland. Mable Harrison McCallister was transported to Erlanger hospital's trauma unit, where she spent more than four days following the attack, according to Bradley County Medical Examiner Dr. Jeffery Miller. Privacy laws are preventing the news agency from learning more about the cause of McCallister's death.
Gamble says the dog in question belongs to Harrison's son, McCallister's grandson, Jerry Harrison, Jr.

"She was bit in her face and neck," Cleveland Police Ofc. Evie West says.
Privacy laws prevent Eyewitness News from examining the medical records to determine the extent of her injuries. But they were serious enough to put Ms. McCallister in Erlanger hospital's trauma unit for more than four days, according to Bradley County Medical Examiner Dr. Jeffrey Miller.

Those same privacy laws also are denying Eyewitness News access to records that could indicate why Ms. McCallister died in hospice care New Year's Eve. Did she succumb to complications that developed from the dog bites? Or from a previous medical condition?

"We became aware of the dog attack only after Ms. McCallister was brought to Erlanger," Ofc. West says. "Neither we nor Animal Control got a call when she was injured."

The dog has remained with the Harrisons since the attack.- WRCB-TV, January 3, 2012
The pit bull has remained in the home of Jerry Harrison, Sr., the dog owner's father, since the attack under a home quarantine. WRCB asked police officials about Tennessee law allowing for "house arrests" after a serious biting incident. Officer Evie West said, "If it complies with those plans and procedures [of a rabies quarantine], it can stay with the owner." WRCB asked, "Even if the bite was serious enough to put somebody in the hospital?" West said, "That's correct."
---
Welcome to the reality of home quarantines even after life-threatening dog attacks. Tennessee is not alone in allowing for such house arrests. Also, plans call for McCallister's body to be cremated, but the medical examiner "may hold off on signing the authorization" pending further review.
---
A person named Amanda, who purported to be Mable's great-granddaughter, left comments on the news article, including: "I am the great-granddaugter of Mabel McCallister. My grandmother died from the pit bull attack," and "Jerry is a cruel human being. He sets out to hurt others. He is always threatening to set that dog loose on people. Something needs to be done about the dog. A woman an amazing woman dies from this dog and nothing is being done about it," she wrote.
View the DogsBite.org Google Map:
Tennessee Fatal Pit Bull Maulings
.
Related articles:
10/02/11: 2011 Dog Bite Fatality: Philadelphia Woman Killed by Husband's Pit Bulls
05/08/09: Pit Bull 'Redirects' Attack onto Owner in Greeley, Colorado