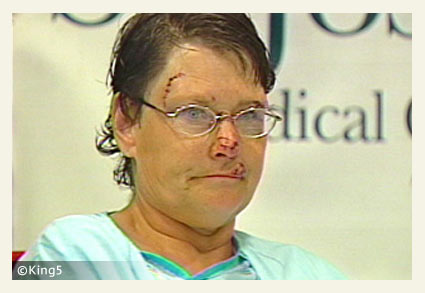 Safety Issues Persist
Gig Harbor, WA - On August 21, 2007, two pit bulls entered a residential home through a side sliding door and attacked a disabled woman while she slept. The victim, 59-year-old Sue Gorman, suffered serious injuries to her face, forearms and hands. Prior to the incident, animal control had made over a dozen visits to the home of the dogs' owners due to complaints by area residents. Gorman alone had called 911 at least ten times leading up to the attack.
There were four specific times Pierce County officials could have declared the pit bulls "potentially dangerous." That never happened.
Victim Successfully Sues County
Last week, a Pierce County jury awarded Gorman $2.2 million in damages. Jurors assigned 52% of the blame to the dogs' owners and 42% to Pierce County, leaving the county on the hook for $924,000. Gorman's attorneys -- Michael McKasy and Shelly Speir -- successfully argued that county animal control was negligent for not taking action against the dogs' owners despite numerous complaints about their pit bulls "running loose and terrorizing people."
In the King 5 video,1 Gorman said she believes safety issues still persist in the county. She said the crux of the problem in her case was a failure of communication between the Pierce County Auditor, who handles animal control issues, but does not share these complaints with the Sheriff's Department (and vise versa). Four years after her ordeal, Gorman believes little has been done to change the system that allowed the dangerous dogs to nearly kill her.2
"It's just real scary that it could happen again to anyone in any neighborhood," Gorman said.
Gorman's victory against Pierce County is yet another victory won by a dog bite victim against a county. Local governments who continue to sweep dangerous dog complaints under the rug and/or fail to properly penalize owners of these dogs must take notice. As recently as June, a potential lawsuit against a Florida county arose after the fatal mauling of Roy McSweeney. In that case, the pit bulls had viciously attacked two people prior to killing McSweeney.
Reflections on the Sue Gorman Attack
In the founder's recent piece about her own attack, she mentions the Sue Gorman attack, "This horrifying attack rocked the Puget Sound and left me nearly fully debilitated for three days."3 Many community members and groups were also greatly affected by what happened and mobilized to help. One of these efforts was carried out by Need-A-Break Services, who did an "extreme make over" of Gorman's home before she returned home from the hospital.
A special thanks goes out to the outstanding lawyering by Michael McKasy and Shelly Speir and to all community members and groups who helped Gorman in the weeks, months and years following the attack. Sue Gorman is an unforgettable pit bull attack survivor who also became a leader. DogsBite.org will always hold Sue Gorman's courage, perseverance and loveliness close to our hearts.
1
Note the computer generated graphics that show Gorman being attacked by the pit bulls in her bedroom -- highly effective materials to place in front of a jury.
2
At the time of the attack, Gorman had a therapy dog, named Misty, and had been caring for a neighbor's Jack Russell. The Jack Russell was killed during the attack.
3
In 2007, the founder of DogsBite.org was living in King County, adjacent to Pierce County. This website launched two months after the attack upon Sue Gorman.
Related articles:
06/20/11: Founder Colleen Lynn Reflects Upon Four Year Anniversary of Her Attack
06/15/11: 2011 Dog Bite Fatality: 74-Year Old Man Dies After Catastrophic Pit Bull Injury
08/31/08: Dog Attack Victim Lawsuits and Settlement Awards
08/23/08: Suing Animal Control Agencies or Municipalities After a Serious Dog Attack
05/22/08: Pit Bull Owners Plead Guilty in Gorman Attack
10/19/07: Owners Charged in Sue Gorman Attack