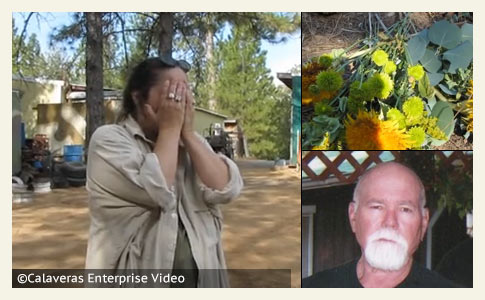 Jerry Yates daughter, Jami Southard, and flowers placed where his life ended.
Dead Men Tell No Tales archived
Calaveras County, CA - On March 22, Recordnet.com reported that Calaveras County Superior Court Assigned Judge Thomas A. Smith ruled that Sheryl Sellers would not face trial on felony charges after the mauling death of Jerry Yates. The judge cited California Penal Code Section 399, which requires prosecutors to prove that the person killed by vicious dogs took "reasonable precautions" to avoid harm. (This bizarre law places the burden of proof upon the dead victim.)
"There's a failure of any actual evidence as to what precipitated the attack," Judge Smith said. "What reasonable conduct did he engage in?"
Upon learning of this stunning injustice, DogsBite.org wrote to Yates' daughter, Jami Southard, expressing our great lament. Several other persons were included on this email's CC list. One of them was Kory Nelson, Senior Assistant City Attorney for the City and County of Denver, who had previously provided ideas to help Southard's family wade through recourse issues on behalf of himself not his office. After Judge Smith's ruling, Nelson replied to us with the following:
---
"California Penal Code Section 399 - requires prosecutors to prove that the person killed by vicious dogs took reasonable precautions to avoid harm"
While I am not an expert in the California Penal Code, and I am unaware if any other section would be more applicable to these facts, this overview of the law is quite disturbing for a number of reasons:
I know of no other criminal law that requires victims to take any action to avoid harm before the defendant can be convicted; a victim is a victim. Imagine if other criminal laws also put such a burden upon potential victims? What did the alleged victim of rape do to prevent being assaulted? What did the victim of the drive-by-shooting do to prevent bullets from penetrating their home? Did the pedestrian even attempt to jump out of the way of the car that ran the red-light? Did they jump in the correct direction - or high enough?
Dead men tell no tales. This law gives an advantage to those dog owners whose dogs actually kill, rather than merely maim or seriously injure, their victims. The law should never bestow a benefit upon a party for the infliction of a greater harm upon another party.
What if the victim were a child or an infant? How could such a victim take any action to avoid harm, let alone those that a trier of fact could be deemed to be reasonable? For every action of a child, I could pose a legal argument why their action was not reasonable:

The child attempted to run away from the dog [The child's actions sparked the dog's natural instinct to chase]
The child screamed [The child's action scared the dog, causing it to bite out of fear]
The child stepped on the dog's tail [natural reaction to pain]

The predictable debate over the term "reasonable precautions" fails to set the legal parameters for a jury to determine the outcome. Should the term be viewed from the perspective of the innocent actor who is completely ignorant of animal behavior - or from the perspective of the expert animal behaviorist? As described above, in the face of an aggressive dog, animal behaviorists would probably advise against turning and running away from the dog, as such behavior may spark the dog's natural instinct to chase its prey. However, a child or even an adult who has not had a significant amount of exposure to dogs may be understandably ignorant of such recommendations - therefore, would the dog owner's attorney be allowed to call expert witnesses to testify before the jury about such "common sense" dog behavioristics, such that the attorney would be allowed to argue the victim "caused" the attack by running away - an "unreasonable act" from the perspective of the highly educated expert?
Americans who, for whatever reason, are either unfamiliar with dogs - or who choose not to have dogs as pets - should not have their health, safety or welfare protected to a lessor standard merely because the party who brings a dangerous animal into their community would like to avoid their legal duty of protecting their fellow citizens from the dangers of their poor choices and/or poor animal management techniques. I'm certain these owners of dangerous dogs would like to displace their guilty and legal duty by shifting the duty of protection from the owner and manager of the dangerous implement to the innocent victim. Shame on the lawmakers for allowing such a perverted system of justice to allow innocent victims to be so unjustifiably exposed to such horrible dangers as a tenacious and vicious mauling by animals with sharp teeth who will bite and rip their victims bodies to shreds - the most horrible way for a human to die imaginable.
In conclusion, this law, if reported accurately in the news article, is a travesty to justice and should be changed immediately.
While it may be one thing to provide a legal defense to dog owners such that a child or adult who is physically abusing the dog, or is actually engaging in an unlawful act against the dog's owner - such as assault, or burglary, would not be protected by such a law - but is something completely different to place a legal duty on children and adults to take affirmative action to prevent the harm reasonably foreseeable by the dog owner. Maybe Lewis Carroll could appreciate the topsy turvy nature of this law - but it makes no logical sense to the rest of the world above the rabbit hole.
Kory Nelson, Esq.
---
DogsBite.org greatly thanks Mr. Nelson for his thoughtful and informative response. Most persons do not work within the legal system nor can we easily articulate the meaning of such a bizarre law or Judge Thomas A. Smith's interpretation of it. DogsBite.org grieves for Jami Southard and her family and most especially for Jerry's widow. We encourage all readers who have not yet watched the Calaveras Enterprise video, "Fatal Pit Bull Attack - A Closer Look" to watch it below.
Fatal Pit Bull Attack - A Closer Look from Calaveras Enterprise on Vimeo.
Related articles:
10/13/10: Video: Calaveras Enterprise Examines Pit Bull Victim's Last Steps
09/17/10: 2010 Fatality: Mountain Ranch Man Mauled to Death by Two Pit Bulls