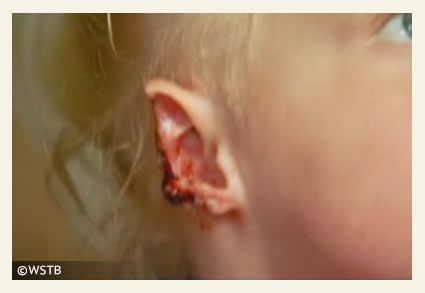 Little girl suffers permanent disfiguring pit bull injuries.
Ear Attachment Fails
UPDATE 04/13/11: WSBT reported yesterday that Sarah Bailey has permanently lost the ear that was bitten off by her grandfather's pit bull last month. "Doctors reattached the ear while giving Sarah blood thinners to keep it alive," explains the WSBT reporter. "But her ear recently died. The doctors were forced to remove it." The news group also reports that Sarah's mother is now facing eviction: "I haven't been able to pay my rent because I haven't been working."
No Hall of Shame in the world could deliver enough shame to Troy Gladura, the little girl's grandfather and owner of the offending pit bull. Gladura was also aware that the City of South Bend requires owners of pit bulls to carry $300,000 in liability insurance in the event of an attack (view ordinance code). Gladura chose not to be in compliance: "Gladura admitted he did not have the required license or insurance that South Bend requires for owners of pit bulls."

Sarah Lee Recovery Fund
Donations to assist with Sarah's medical payments can be made to the "Sarah Lee Recovery Fund" at any Wells Fargo Bank.
03/25/11: Excuse-Ridden Pit Bull Owner
South Bend, IN - It was reported this week that another grandparent's pit bull brutally attacked a grandchild. Troy Gladura,1 the young victim's grandfather, is "still trying to cope" with what happened. He told reporters that his 2-year old pit bull, named Spike, had never attacked or bitten anyone before. He also recounted his heroic, self-sacrificing rescue effort: "I actually had to put my hand and arms in his mouth to get him to bite on me and away from her," he said.
The Internet is littered with stories of pit bulls owned by grandparents that attack and sometimes kill their innocent grandchildren.
There are several reasons why it is a very unsafe idea for grandparents to own a pit bull or other dangerous dog breed. Most importantly, the visiting child is often not a household regular -- the child does not know the dog well nor does the dog know the child -- thus creating a larger risk for an unpredictable attack. Grandparents usually have less critical stopping power than their 30-year old counterparts too and frequently become victims trying to stop an attack.
Spike ripped off Sarah Bailey's ear before Gladura could gain control of his dog.
The City of South Bend has an ordinance that requires pit bull owners to register their animals as "dangerous dogs" and to carry a $300,000 liability policy in the event that their dog chooses to maul a person. It is unknown if Gladura was in compliance with this law.2 What is known is that Gladura's excuse that his pit bull had not attacked or bitten before is about as valid as Monopoly money at a pricey jewelry store. Wisely, he had the dog put down.
1
At the end of the piece, Gladura takes advantage of the little girl's age and recent trauma by using it as an opportunity to victimize the pit bull. "She was worried about Spike more than anything," he said.
2
Additional Google searches revealed that Glendura did not have the required license or insurance.
Related articles:
01/24/11: 2011 Fatality: Young Girl Killed by Grandfather's Japanese Akita
11/24/10: 2010 Fatality: East Texas Child Killed by Grandfather's Pet Pit Bull
05/08/10: 2010 Fatality: Concord Child Killed by Step-Grandfather's Pit Bulls
01/04/09: 2009 Fatality: 7-Month Old Boy Killed by Grandmother's Pit Bulls
Photos: WSBT