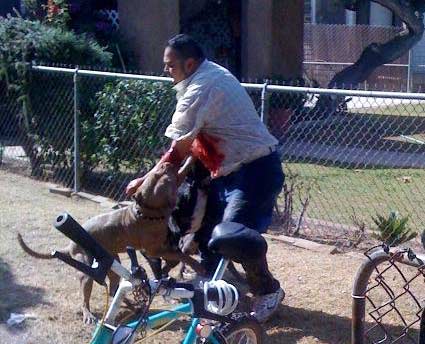 iPhone Snapshot
Bakersfield, CA - In a rare photo captured by Damon Hill via iPhone on Tuesday, 35-year old Steven Herrera is shown being attacked by three pit bulls in the front yard of his brother Salvador Romero's East Bakersfield home. Neighbor Andy Castaneda could hear Herrera's screams from four houses down. He was screaming, "Oh God, please somebody help me," Castaneda said. When 69-year old Castaneda arrived at the scene, he had no weapon except a hardwood cane.
"The big pit was chewing the man's arm off. It was horrible," Castaneda said. "I've never seen anything like that."

As neighbors gathered outside the fenced front yard of Salvador Romero, one shot a few photos with his cell phone. Others were reluctant to enter without a weapon to defend themselves against the powerful pit bulls. According to Castaneda (pictured right), by this point, "the man's arm was shredded." So he entered the yard, used the bicycle to shield himself, and started beating the dogs with his cane until they retreated long enough to get Herrera out of the yard.
Damon Hill also heard the commotion. "His son was outside the yard crying and throwing up," Hill said of the victim. Hill said he believes Herrera would probably have been killed had someone not intervened. "The dogs were just going wild," he said. Romero, who runs a backyard breeding operation, initially said he would not seek the return of the three pit bulls that are currently being held in quarantine, but later suggested he may want the two pregnant females back.
Related articles:
09/17/09: 3-Year Old Girl Airlifted After Backyard Breeder's Pit Bull Attacks
04/14/09: Camera Catches Pit Bull Attack on Bichon Near Fort Collins
12/05/08: Video: 4 Pit Bulls Kill Pit Bull in Owners Back Yard