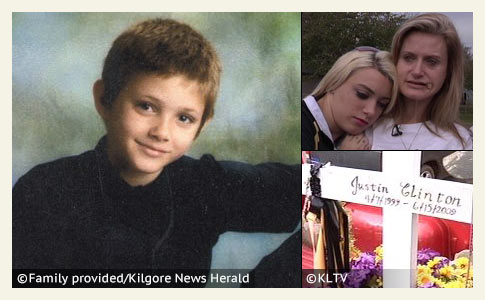 Justin Clinton's memorial being dismantled as grieving family members watch.
Continued Trauma
Leverett's Chapel, TX - On June 15, 10-year old Justin Clinton was viciously struck down by two pit bulls owned by Ricky and Christi George. After the attack, classmates of Justin created a make-shift memorial at the spot where he took his last breath. The location is next to CR 133 and falls at the very back of the George's property, a distance from their house and fenced yard. Recently, the George's demanded that the memorial be removed from their leased property.
On November 7, Justin's grieving mother, Serenia Clinton, attended a brief ceremony at the memorial and witnessed as family and friends broke apart Justin Clinton's memorial piece-by-piece and stowed it into the back of a truck. Mrs. Clinton still suffers from the horrific death of her son this past summer and will now suffer the added trauma of the "demanded removal" of her son's harmless memorial. In a press release issued on November 6, Mrs. Clinton states:
"Our family has been touched by the love and prayer of our community when they established this small make-shift memorial for Justin. Everyday my daughter would go by the memorial on her way to school. As a cheerleader for the school, she would each day say a prayer and give Justin a cheer at the site of his gruesome death. This helped her cope with her grief. The small memorial was a source of some consolation to me and now that the owners of these vicious dogs that killed my son have demanded the removal of this memorial, my grief is almost too great to bear.
We hope that this incident will bring attention to the vicious nature of this breed of dog and the need for responsible dog owners to safely secure these dangerous animals. I hope that even without this small memorial people will not forget Justin and the lessons to the public about the likelihood of substantial harm to life and health caused by this breed. I had hoped the memorial would remind people to make responsible decisions about which breed is a family pet and which breed is a loaded gun waiting for the trigger to be pulled.
Our attorneys, Don and Cynthia Kent are working to try and seek new legislation to protect future victims of these dangerous dogs. It is my sincere hope that the Texas Legislature and other government officials will create an even larger memorial for Justin by stepping forward and responding aggressively in protecting the life of a state full of Justin Clintons. Justice for Justin may be obtained by remembering Justin, better public awareness of the dangers of this dog breed, and hopefully legislation banning pit bulls."

Related ZUPF video
Layron Livingston, "Family forced to remove memorial," KLTV, November 7, 2009 (www.kltv.com)URL:http://www.kltv.com/Global/story.asp?S=11463734. Accessed: 2014-04-29. (Archived by WebCite® at https://www.webcitation.org/6PClEmAKP)
Related articles:
09/05/09: 2009 Fatality: 2 Pit Bulls Kill 10-Year Old Boy in Rusk County, Texas
07/01/09: Justin Clinton's Family Starts Campaign: "Justice for Justin: Outlaw Pit Bulls"
06/23/09: Texans Killed by Pit Bulls in 3.5 Year Period (2006-2009)
08/20/08: Dog Attacks, Trends and Dog Law Coverage of Texas