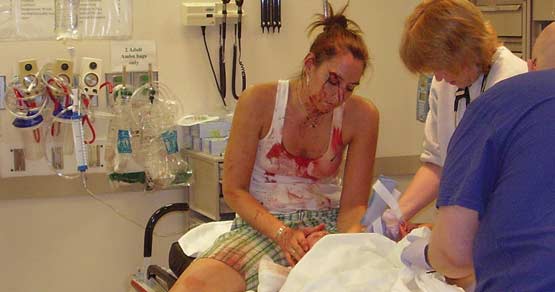 Wendy and Charlotte Blevins at Creighton Medical Center after the attack.
DogsBite.org - A comment was recently left at DogsBite.org about Tina Agerson's pit bull that suddenly attacked Charlotte Blevins and ripped off her scalp. The commenter, who is presumably a pit bull advocate, blames Charlotte's mother. The cruel accusation voiced by the commenter is universal amongst comments that we do not publish at DogsBite.org. So that readers can understand this spiteful mindset, we publish it for you now:
Comment: "Question, why does Wendy Blevins not have insurance to pay for this? Not that it's her fault that her daughter was attacked, but if the attack happened to me, insurance would cover it. Why is she apparently uninsured?"
Wendy Blevins was insured. This is stated in multiple articles about her. In addition to blaming the victim for potentially being uninsured (after "someone else's dog" violently attacks), the commenter also lacks insight into personal health coverage. When you get into a car accident, for instance, your car insurance pays for injuries, not your personal health plan. Not all health plans pay for dog bite injuries. The expectation, as outlined in "strict liability" state law, is that the dog owner is liable.
The commenter also questions whether or not Wendy is a good mother. Wendy immediately straddled the attacking dog and pulled it off of her daughter. As the scalp ripped off, blood flew everywhere, including all over Wendy. This courageous mother is a hero. Not only did she save her daughter's life, she stood up to the pit bull lobby in Omaha and helped get a new dangerous dog law passed that will prevent future mothers from having to undergo what she did.
There is more power and integrity in a single strand of Wendy's hair than the entire pro-pit bull community combined.
Related articles:
12/18/08: 275 Days in the Slammer for Tina Agerson
07/27/08: Bills Mount for Omaha Family of Dog Attack Victim
06/28/08: Coverage of the Omaha Pit Bull Attack - DogsBite.org