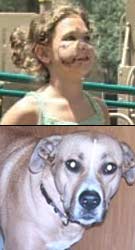 11-Year Old Miranda Gets 200 Stitches
Melrose, FL - Just a few days ago, a pit bull-mix named Bruiser pounced a Dallas mailman. This "mixed breed" dog, also named Bruiser, attacked 11-year old Miranda. The dog attacked Miranda while she and her family were visiting friends over the weekend. Elton Miller, Miranda's father, said the friend's dog was with the kids all day but never showed any signs of aggression.
In the evening, the families went inside the friend's house. Miller said Miranda and her step sister were about five feet away, playing with coloring pencil on the floor. When one of the pencils rolled away, Miranda stood up and went to go get it. That's when Bruiser attacked her. Miller said the dog "grabbed her by the face and started shaking her."
The "shake and hold" bite is a genetic pit bull trait, as is unpredictability.
With her cheek hanging off her face, Miller picked up Miranda and rushed her to his truck. His wife, who is a nurse tended to her, while Miller drove them to the hospital. Throughout the event, Miller said Miranda never cried. "We were in the emergency room, and I was crying like a baby." She got mad at me and told me to stop, but I couldn't, "It was just horrific."
Miranda remembered being in the hospital. She said, "I was telling him to 'calm down and be quiet.' And he just kept on crying, and I calmed him down." Miranda went through three hours of surgery and now has at least two hundred stitches in her right cheek. The owner of the dog will surrender the animal to be euthanized after the 10-day quarantine.
We hope the dog owner had a homeowners insurance policy. This may help the "family friendship" from spiraling into various forms of violence.
Related articles:
05/09/08: Pit Bull Mastiff-Mix Attacks Dallas Mail Carrier