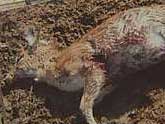 Pet Deer Farm Suffers Massive Loss
Quincy, IL - Three pit bull mixes, killed more than 30 pet deer in a pen. Authorities are trying to determine if the dogs' owner ought to be held responsible. The herd was valued at 40-60 thousand dollars. After discovering the carnage, the farm owner said, "it looked like a massacre."
Dee Leonardi said, "I just kept looking thinking okay, there is a few dead, there's a few dead, and then there were more and more and more, it was just devastating to see all of them. "
Three neighboring dogs, all pitbull mixes, got into the pen at night and killed 34 of the 36 deer. Capt. Jimmy Shinn said that it was devastating to arrive on the scene. He said it was pretty evident, that "it wasn't animals that were hungry, that were looking for something to eat, it was basically a slaying is what it was."
With the fence being up to eight feet tall, the deer couldn't escape. The Leonardi's bedroom window is only 50 feet from the pen, but they didn't hear any noise. The family has been raising deer for eight years. The herd was valued at 40-to-60 thousand dollars. They had hoped to sell a few to build a college fund for their children.
Joe Leonardi shot and killed the three dogs and will not be charged, the decision has not been made whether the dog owner will be charged.