Aleksandra Kagan, 9, Suffers Severe Injury
Chicopee, MA - Aleksandra R. Kagan said she went to a neighbor's house to deliver treats when a pit bull ran out and attacked her in the lower abdomen. She was treated at Baystate Medical Center in Springfield. Her mother said she has 25 stitches and a drainage tube. The photo below depicts Aleksandra (right) before the attack.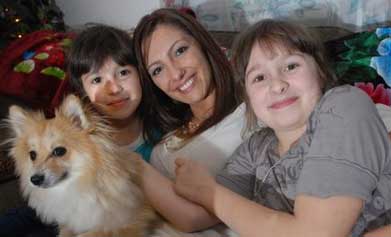 Since the incident, Aleksandra has had trouble being in school, and spends only a few hours in class each day. Since she cannot climb the stairs for lunch and there is no elevator, a teacher brings her lunch to eat. Aleksandra is looking forward to her many stitches being removed in about 7 days.
Officials at the Thomas J. O'Connor Animal Control & Adoption Center said that the owner does not want the dog back, and it will be euthanized after the 10-day quarantine period. The dog did not have a dog license, rabies or any other vaccinations and was not neutered.
Yeva Kagan, Aleksandra's mother, states an obvious truth, "If you cannot afford to keep animals, don't have animals."
The larger concern is Aleksandra's future and her family's future. DogsBite.org hopes that both receive adequate civil recourse for this crime.