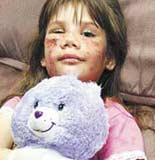 10 Month After Attack
Lorain, OH - Georgia Rice, the 7-year-old girl who was attacked by a neighbor's pit bull mix last May, is still healing. Her mother, Corine Roark, said the girl is doing well, considering what she has gone through. Fortunately, Georgia doesn't remember much about the attack.
Last May, Georgia Rice, 7-years old, was viciously attacked by a pit bull-mix. Police said Georgia was playing at a friend's house when she got tangled in the dog's chain that was attached to a tree in the backyard. The dog bit off chunks of her face and chewed off a finger and an ear.
Georgia was flown to MetroHealth Medical Center in Cleveland, where the finger was reattached, her ear reconstructed and more than 100 stitches were used to close the facial wounds. Her step-father, Nathan Anderson said, "She has a steel plate under her right cheek from where the dog broke her face. Her whole face is all scarred -- completely."
After nearly a year, Georgia is still physically healing from her wounds. She has deep scars lining the right side of her face and continues to undergo plastic surgery. But Roark said her daughter has mainly bounced back. She, doesn't fear dogs when she sees them, her mother said. But she gets scared when she hears them barking.
The dog was euthanized shortly after the attack. The dog's owner, Keonn Chaney, no longer lives next door. Roark said the family thought about suing Chaney, but a consultation with attorneys revealed that it would offer little chance at reward given Chaney's limited finances.
Another judgment proof pit bull owner; a dime a dozen.
Related article:
04/19/08: Flashback: Georgia Rice Attacked by Chained Pit Bull