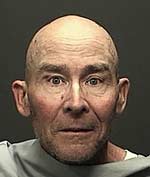 The Clean Up is Grim
BUST UPDATE: Tucson, AZ - Patrick Mahlon, pictured is now locked up, while the future of his confiscated dogs remains unclear. Investigators also seized more than 50 weapons from a mobile home, including assault rifles, long guns and handguns. Authorities say the stench in the breeding barn was so strong it was almost unbearable.
"It's pretty disgusting," said Humane Society Investigator Mike Duffey. "Animals are being bred for financial gain and not a lot of care involved with them. It's a dirty, filthy, disgusting place."
Local KVOA News 4 has learned that the FBI and the Department of Agriculture (USDA) will be assisting the Pima County Sheriff's Department in the investigation. The USDA was the lead agency in the investigation involving Michael Vick.
It's no surprise that authorities are finding remains of dogs in shallow graves on Mahlon's property -- both adult and puppies. Sgt. Terry Parish says the puppies were either an inadequate size or were used as a bait animal to get the blood lust going. Evidence found near living puppies, seized earlier this week, indicates that they had infections in their feet from standing in their own feces. Sgt. Parish adds:
"(PCSO) Sheriff Dupnik isn't just interested in putting a dent in this crime; we want to put it out of business and make sure it never starts again. Make sure these players never do this type of activity ever again."
Related articles:
02/21/08: Officials Dismantle Upper Echelon Dog Fighters
02/20/08: Big Fighting Dog Breeder Busted