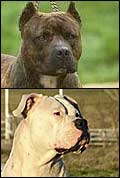 Jacksonville, NC - Josh Goblin is an American pit bull terrier breeder and the owner of Infernal Kennels. As an active pit bull advocate, he is part of a growing class of dog breeders who are trying to expose the positive aspect of "bully" dogs.
This is why Gobin held the first annual "Muscle Up or Go Home" event. Dogs of all ages and breeds gave it their all, whether in the "hang time" rope competition, the tug-of-war, or in the weight pull. Strapped to a harness, a pit bull can pull as much as 8,000 pounds.
"Strength and discipline," Gobin says. "It is these two qualities that make up the soul of a pit bull or American bulldog."
DogsBite.org would like to add that for the very reason Mr. Gobin states, American Bulldogs are included in the definition of "pit bull type dog" when pertaining to legislation that seeks to regulate these breeds. The 2007 fatality cases of Cheryl Harper, Edward Gierlach and Tori Whitehurst are just a few examples of their strength and discipline. Combined, pit bulls and American bulls dogs killed 24 Americans in 2007, a whopping 69% of all dog bite fatalities.
Related articles:
21/31/07: Grim 2007 Dog Bite Fatality Statistics