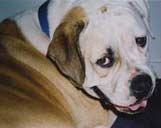 Dog-bite Victim Gets $1 million
Santa Rosa, CA - A California woman settled a lawsuit Tuesday for severe facial injuries suffered after a 90-pound American bulldog attacked her. Wendy Rydberg will receive $900,000 and her husband and two children will receive about $33,000 each, an amount that equaled the upper limit of the dog owner's insurance policy.
"Oh-eight is going to be a good year," Rydberg said following the hearing as she, her husband, Alan, and their children left court. "I feel like an extreme pressure is gone, just a relief that this is over."
Rydberg was badly injured on April 6, 2006, when Denali, a dog owned by Emmellia Dale-Pincus, bit her face as she walked her own dog to pick up her children from a bus stop west of Santa Rosa.
Dale-Pincus, who was 19 at the time, initially was charged with a felony, as was her mother, who bought the dog for her. A judge reduced the charges to misdemeanors after a preliminary hearing and the case was dismissed against the mother when Dale-Pincus agreed to admit responsibility. Dale-Pincus was sentenced in to four months in jail, which she was allowed to serve on work furlough. The dog was killed by animal control officials.