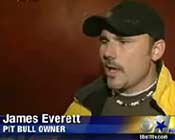 2 Pit Bulls Kill Family Dog
Watauga, TX - Two pit bull terriers are in quarantine after attacking and killing a neighbor's dog. This is the second deadly attack in Watauga in a month. The recently victimized family is "furious."
The dog that was killed, T-Bone, had been with the Ponce family since he was a puppy. Last Tuesday, Kerry Ponce looked out into her backyard. She had heard dogs barking, but not T-Bone barking. When she peered through the blinds, she saw her dog lying in the backyard. At first she had thought he was asleep.
After Ponce opened the door, she noticed movements to the right side of her, that's when two male pit bulls appeared covered in blood. Ponce quickly closed the door and called 911.
"I don't know how [those pit bulls] got back there, because our gate is locked. They killed my dog."
The owner of the pit bulls, James Everett lives across the street. He said his pit bull terriers got out of his backyard after the cable installers left the gate open. He tried to explain, "These are, all these dogs we have, are family dogs. And they've been around kids and family and all that. We don't bring the dogs around other dogs, that's not something we do. We keep them in the backyard and locked up."
The city has classified the two pit bulls as "dangerous dogs." If the owner wants them back, he will have to fulfill a long list of safety requirements.