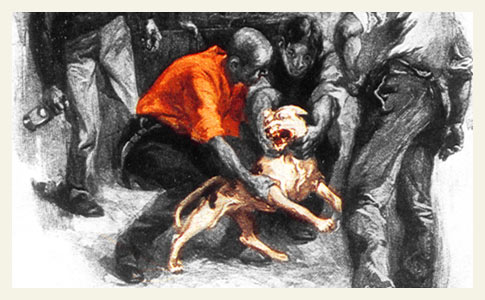 Photo from America's Dog, chronicling the baiting bulldog through photographs.
Not Very Popular
Whidbey Island, WA - Pit bull advocates often claim, "By World War I, the pit bull terrier had become the most popular dog in America." The source of this claim, however, is never cited. Last year, the publication Animal People (pg 6) decided to test this claim. By searching the classified dogs-for-sale ads between 1900-1950 on NewspaperArchive, they discovered the most popular breeds of this period: Huskies and St. Bernards. Of the 34 breeds searched, pit bulls ranked 25th.
"Two breeds hit the NewspaperArchive search engine ceiling of 314,027 mentions, and are asterisked accordingly in the table at right. Huskies in the second quarter of the 20th century were at a peak of popularity, after their heroics in delivering diptheria serum to Nome over the Iditarod Trail in 1927. St. Bernards appear to have been very popular as well.
The exercise was skewed toward finding more pit bulls rather than fewer, since multiple searches were run to try to find pit bulls under a variety of different names; since searches were not run on every recognized dog breed; since not all mentions of huskies and St. Bernards were returned; and since several always rare breeds such as Basenjis were included in the sample, to establish a lower end benchmark for comparison with the most popular breeds and breed types."
According to the Animal People exercise, pit bull terriers, Staffordshires, and American bulldogs combined only came to 34,770 mentions. This is equivalent to 1% of the sampling of nearly 3.5 million breed-specific mentions of dogs (versus huskies and St. Bernards, both hitting the roof of the NewspaperArchive ceiling at 314, 027 mentions each). So the often quoted claim that pit bull terriers "used to be among America's most popular dog breeds," is baseless and invalid.
See all: Pit Bull Myths