Wednesday, January 3, 2018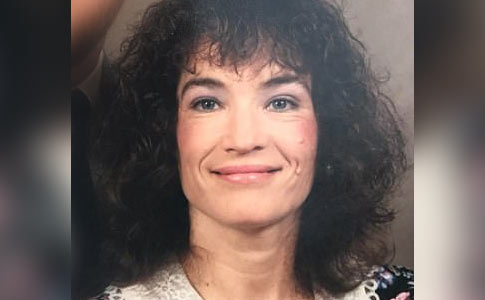 Two pit bulls killed Lorraine Saylor and injured her husband on Christmas Eve.
Owner Pleads Guilty
UPDATE 01/03/18:
The owner two pit bulls that killed a woman and injured a man on Christmas Eve has pleaded guilty to harboring a vicious animal. Lorraine Saylor, 66, was pronounced dead at the scene. Bell County Coroner Jay Steele said she suffered massive injuries on her neck, face and shoulder. Her husband, Johnny Saylor, suffered multiple serious bite injuries. On Wednesday, Johnny Dale Lankford, 42, was sentenced to one year at the Bell County Detention Center.
Johnny Saylor shot and killed one of the attacking dogs, the other fled. Deputies put the other dog down after capturing it the following day.
Lankford was being held at the detention facility on unrelated charges when his dogs savagely attacked Lorraine and her husband. On December 22, just two days before the deadly attack, Lankford was arrested and charged with 2nd degree domestic assault, a class C felony, 2nd degree unlawful imprisonment, a class A misdemeanor and a bench warrant. Today's guilty plea and sentencing for harboring a vicious dog appears to have been done in record-breaking time.
12/26/17: Christmas Eve Fatal Mauling
Arjay, KY – About 10:20 am on Christmas Eve, Bell County Dispatch received a call of a vicious dog attack on Highway 66 near Wiser Branch Road in Southern Kentucky. Arriving deputies found a woman and her husband had been "savagely attacked by two pit bulls." The woman, identified as Lorraine Brock Saylor, 66, was pronounced dead at the scene. Her husband,
Johnny Saylor
, suffered bite injuries to his head, arm and hand, as is expected to recover from his injuries.
James Saylor, the husband's brother
who lives next door
, said he was inside his home when he heard the attack. He rushed outside and saw the two dogs attacking his brother. He threw a doorstop at the dogs to distract the animals. This gave his brother time to run inside and grab a pistol. Johnny shot and killed one of the pit bulls and injured the other, but it fled. Then Johnny discovered his wife unresponsive on the ground with severe wounds in the front of his home.
Owner Already Behind Bars
The two pit bulls, both male, belong to neighbor Johnny Dale Lankford, 42, who has an extensive criminal record, including
one or more felonies
. On December 22, just two days before his pit bulls escaped his property and killed Lorraine and injured her husband, Lankford was booked into the Bell County Detention Center for assault, domestic violence, unlawful imprisonment and a bench warrant. It's unclear if anyone was designated to care for the dogs while Lankford was in jail.
Johny Dale Lankford now also faces charges of harboring vicious animals after his dogs killed a woman and badly injured her husband.
Bell County Coroner Jay Steele said Lorraine was out feeding the birds when she was viciously attacked by Lankford's pit bulls. "She loved animals and every morning she would go out and put wild bird seed out on a metal roof of a little work shed they had there and feed the birds," Steele said, who has
known the couple for the last 30 years
. "Johnny got a gun and shot both dogs, killing one of them instantly," Steele said. He managed to injure the other dog, which then fled.
Steel said Lorraine suffered massive injuries to her head, face and shoulder. Her husband was later admitted to the Pineville Community Hospital, but not before he had made arrangements to have his wife's body taken care of. "The ambulance kept trying to get him to go to the hospital but he wouldn't leave until I took her into our care," Steele said. Authorities captured the second pit bull on Christmas Day after it returned to Lankford's home; the dog was subsequently put down.
Victim's Husband Mourns
"That was the last time I'd give her a kiss goodnight; that Saturday night," Johnny Saylor told LEX 18. When he got up that morning, he knew something was wrong when he could not immediately find her. As soon as he stepped outside, he was confronted by the two pit bulls. The dogs attacked him, inflicting 21 puncture wounds. "
I'll never forget, as long as I live
. I looked over toward the front porch where she was laying. I screamed, 'My baby, my baby, my baby," said her grieving husband.
LEX 18 also spoke to Lankford's family who said they did not see the dogs often. The last time they did, the dogs were chained up, just like
Lankford's Facebook page shows
. "I seen the dogs before. They always had bloody ears. About 6, about 4 months ago. They had bloody ears where they been fighting. There's a lot of dogs like that in these hollers," Lankford's uncle, Ulyess Lankford said.
It's a tragedy that convicted felons like Lankford are allowed to own these dogs.
Recent Southern Fatalities
Since November 4, six people have been mauled to death by pit bulls in the United States, five of these dog bite fatalities occurred in the Southern United States, including the states of North Carolina, Alabama, Virginia and Kentucky. In July of this year, about 65 miles to the west of Arjay in McCreary County,
79-year old Vinson Tucker
was killed by a pack of dogs involving pit bulls. This horrific mauling was captured on surveillance cameras belonging to the dogs' owner.
---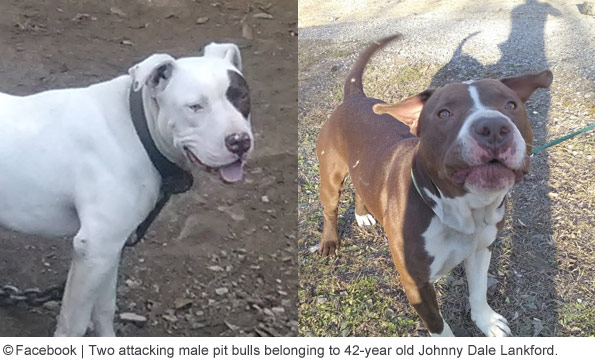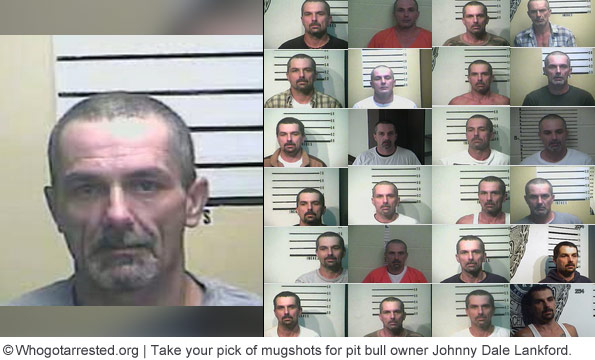 ---
BELL COUNTY SHERIFF'S DEPARTMENT
OFFICIAL PRESS RELEASE UPDATE:
(Arjay, KY) Monday December 25, 2017 – At approximately 2:00 this afternoon the Bell County Sheriff's Department was notified that the second dog wounded by gunshot during the tragic and fatal attack on Lorraine Brock Saylor on Sunday December 24th returned to the residence.
The dog was put down by the Bell County Sheriff's Department and Bell County Animal Shelter.
In addition to other charges already incurred, 42 year old Johnny Dale Lankford who was already lodged in the Bell County Detention Center has been charged with harboring a vicious animal.
BELL COUNTY SHERIFF'S DEPARTMENT
OFFICIAL PRESS RELEASE
(Arjay, KY) Sunday December 24, 2017
At approximately 10:20 this morning Deputy Robin Venable responded to a call of a dog attack in the Wieser Branch area of Arjay, Kentucky. Deputy Venable along with the Bell County EMS were the first to arrive on scene.
Deputy Venable was assisted by Bell County Sheriff's Office Sgt. Doug Jordan, Kentucky State Police Trooper Don Perry, and Kentucky Fish and Wildlife Lt. Ray Lawson. Incident to Deputy Venable's investigation he determined the following:
Early this morning Johnny Saylor woke up at his home looking for his wife, Lorraine, who was normally awake before him. His search lead him outside to his porch where he was attacked by two dogs described as both being pit bulls. The dogs grabbed Johnny Saylor attempting to pull him to the ground by his arm.
Johnny Saylor's brother heard the commotion and came outside yelling at the dogs. They released Johnny and he went back into his home to get a .22 caliber pistol. He used the pistol to shoot one of the pit bulls in the chest as it lunged at him. After being shot, the dog ran from the scene in the direction of Country Lane.
Saylor then searched for his wife in the front of the house and discovered her lying on the ground. As he was checking on her, the second pit bull was standing a short distance away from him. Fearing for his life, Johnny Saylor shot the dog killing it.
Saylor sustained injuries to his arm and head in the incident and he was transported to the Pineville Community Hospital via Bell County EMS for treatment.
Lorraine Brock Saylor sustained severe and fatal injuries and was pronounced deceased at the scene, by Bell County Coroner Jay Steele.
Also responding to the scene was Bell County Animal Control Officer Patsy Bracken who took charge of the deceased dog and is actively searching for the injured brown and white pit bull. Again, if you see this dangerous animal, do not engage it. Call Bell County Dispatch at 606-337-6174 or 911.
Upon further investigation Deputy Venable found that the dogs belonged to 42 year old Johnny Dale Lankford who was already lodged in the Bell County Detention Center on charges he acquired Friday afternoon December 22nd for assault 2nd degree – domestic violence, unlawful imprisonment – 2nd degree, and a bench warrant. After an interview at the detention center, Venable charged Lankford with harboring a vicious animal.
Lankford was already being held on bond of $25,000.00
---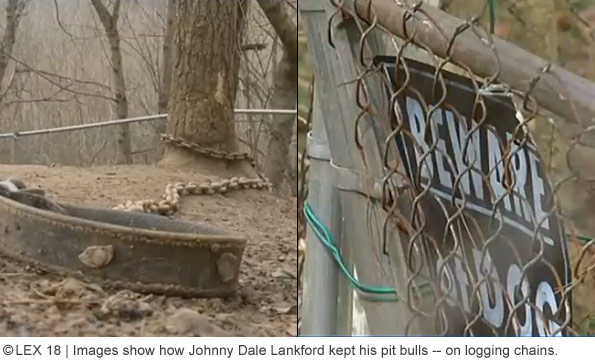 View the DogsBite.org Google State Map:
Kentucky Fatal Pit Bull Attacks
.
Related articles:
07/12/17:
2017 Dog Bite Fatality: Pack of Dogs Kill 79-Year Old Man in McCreary County
03/12/17:
Young Man Airlifted After Vicious Pit Bull Mauling in Graves County, Kentucky
---
Baseline reporting requirements:
Law enforcement departments across the United States should release consistent "baseline" information to the media and the public after each fatal dog mauling,
including these items
.
Labels: 2017 Dog Bite Fatality, Bell County, Fatal Pit Bull Attack, Incarcerated Dog Owner, Kentucky, Senior Citizen Fatality

Please donate to support our work
DogsBite.org is a 501(c)(3) tax-exempt public charity organization. Learn more »
posted by
|
permalink
|
13 comments
|

email
|

blog rss
|

comment rss

13 comments:

BeKind StopbreedingBullyDogs | 12/24/2017 7:14 PM | Flag
Disgusting unimaginable despicable horrific.

Get a couple of battery powered chainsaws. $50 and up.

Practice using them.

Have one in the car, by the back door, front door, take one in a stroller with you if you garden.

Keep them charged and available. Show all family members capable of using them where the chainsaws are.

A gladiator dog attacks, end the attack. Safer than a pistol.

Document all neighborhood, passerby bully dog escapes, sightings.

Attend governmental meetings, pointing out that BULLY people don't actually care about dog or even bully dog welfare.

Proof is their failure to educate the public on how to keep bully dogs safe.

Proof is their insane attempt at "defending" bully dogs, saying that they are not supposed to kill humans, they're bred to leave home and kill DOGS.

Proof is the bully persons' failure to offer or accept any breed specific ways to reduce the disproportionate suffering and death that surrounds gladiator dogs.

What trait could be worse than UNPROVOKED PROLONGED DEADLY psychopathic suicidal dog aggression, if you care about dog welfare?

Ka D | 12/24/2017 7:19 PM | Flag
How horrid to lose someone you love in such a violent manner, especially at this time of year. When a dog kills the owner needs to be charged, period. No dog should EVER get a free kill.

Dayna Hamilton | 12/24/2017 8:57 PM | Flag
Unreal. On Christmas Eve, losing a family member in such a brutal way. I can't even imagine.

Christy D | 12/25/2017 8:25 AM | Flag
Such a relief to see another police department be unified in 1. calling the dog what it is a pit bull, and 2. calling it (also what it is) very dangerous.



Colleen Lynn | 12/25/2017 10:08 PM | Flag
Been traveling -- get back tomorrow. I will get this post filled out then. This is not the first time an owner has been incarcerated and his pit bulls killed during this time. Here is his page: https://www.facebook.com/johnnydale.lankford.161

deniseyweesy | 12/27/2017 6:17 AM | Flag
It's depressing as hell that this guy has kids and the mother of his children is defending him on Facebook. Apparently, she doesn't realize that her kids could have had their faces ripped off by these dogs, or she doesn't care. Bizarre and sad, with mothers like these...

K-Hart | 12/27/2017 10:55 AM | Flag
God, that makes me so sad. My mom loves to feed the birds, as do I. I think we can always draw parallels to our own loved ones when something like this happens. To be doing something so kind and gentle as to feed the birds, and then get savaged to death by someone else's disgusting killer animals is beyond belief.
It's horrifying how often pit bulls mutilate and kill humans. I can't even understand how people advocate for such abhorrent creatures.

Christy D | 12/27/2017 1:59 PM | Flag
I like how these two female relatives of his keep defending him on facebook with this isn't his fault because he was in jail. Yes, because his dogs got loose and killed someone but he wasn't at home at the time, this is not his fault. So, if a pit gets out/loose and the owner is elsewhere (the store, at work, at the ER), the owner is not responsible in any way. Love how these pibble people think.

Colleen Lynn | 12/27/2017 2:14 PM | Flag
We have been following this today as well. It is incredible!

Ka D | 12/27/2017 6:08 PM | Flag
Typical of the people who choose to own these junkyard dogs- felons and imbeciles.

Bailey Boo | 12/27/2017 8:52 PM | Flag
Known criminals should not be allowed to own animals with the capacity to kill someone.

Staci Woodruff | 12/28/2017 10:13 AM | Flag
Here's a comment from one of his 'cuz' (I think that's hillbilly for 'cousin') on Facebook:

"Wow!!!! 172 comments!! Johnny Dale Lankford is famous now for sure!! And to think he wanted to be left alone and not talked about on facebook."

No, cuz, your criminal low-life relative isn't famous, he is briefly infamous. Once his worthless butt is in prison (hopefully!) he will fade from the public consciousness, as he should.

LibertarianThinker | 12/30/2017 5:54 AM | Flag
Disgusting that people defend him. He should be charged with manslaughter (at the minimum.) It's not uncommon that a pet can "get out", from a house, a fence, etc. A "pet" that is capable of killing someone if it accidently gets out, should not be a pet. It should be locked in a zoo by people trained to handle dangerous animals. So many wonderful dogs (and other non-hammful pets, rabbits, fish, cats, hamsters), why, why, why do people insist on keeping a killer breed as a pet?