Pit Bull Owner Found Guilty of Harboring a Vicious Dog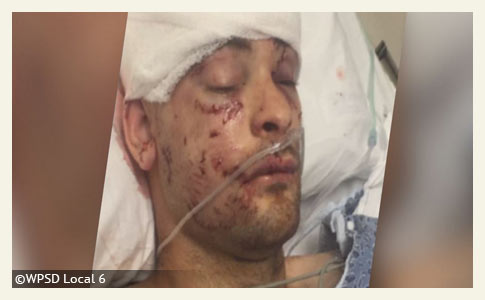 Mitchell Slayden was attacked by two pit bulls on July 2 in Farmington, Kentucky.
Bouland Found Guilty
UPDATE 03/12/17: Multiple events have occurred since we last published about this severe attack. Last July, 22-year old Mitchelle Slayden was riding his bicycle when he entered the driveway of a home belonging to 27-year old Chris Bouland. Mitchell was looking for his cousin, who formerly lived at the home. When Mitchell entered the driveway, he was confronted by Bouland's two pit bulls. When he tried to leave the driveway, the pit bulls viciously attacked him.
Mitchell suffered life-threatening injuries. He was immediately airlifted to Vanderbilt University Medical Center in Nashville, Tennessee.
Four months after the attack, a judge released the pit bulls back to Bouland and set a date to stand trial for harboring a vicious animal. In early January 2017, less than two months later, Graves County Sheriff's Deputies responded to a neighbor dispute and arrested Bouland on contempt of court charges. Bouland had been ordered to keep his dogs out of Graves County, but he failed to comply. In the dispute, one of his pit bulls charged a neighbor and ended up shot.
      Upon further investigation on Thursday, the sheriff's office and the Graves County Attorney's Office determined that the dog that was shot by the neighbor was, in fact, one of the dogs that was involved in the attack of Mitchell Slayden last summer. The other dog that was involved in the attack was also on the property on KY 129.

With both dogs being in Graves County, Bouland violated the orders set by the Graves County District Court. Bouland was arrested Thursday night on a contempt of court charge. He was also arrested on a separate warrant for bail jumping. - Associated Press, Jan 6, 2017
On Sunday, The Paducha Sun reported that a jury found Bouland guilty of harboring a vicious animal, but did not sentence him to any jail time. Bouland still must contend with the contempt of court charge, as well as another pending trial -- his legal troubles are not over. The worst news, but predictable, is that both of Boulands pit bulls are still alive; he refused to forfeit them. The dogs remain at the Mayfield-Graves County Animal Shelter until court proceedings are complete.
When we last wrote about this case, we called Bouland "just another 'exhausted cliché' owner of a dangerous pit bull." His initial and ongoing actions prove us right over and over again. Bouland not only lied to the court and judge, he refuses to responsibly enclose his two pit bulls anywhere, even after being charged with harboring a vicious animal. Despite these facts and his recent conviction, Bouland is still slated to get his dogs back as long as he meets the court's conditions for release.
---
07/14/16: Pit Bull Attack Survivor
Farmington, KY - On July 5, the Kentucky State Police issued a press release about a young man who was badly mauled by two pit bulls. He was airlifted to Tri-Star Skyline Medical Center in Nashville with life threatening injuries. Mitchell Slayden, 22, was riding his bicycle when he entered the driveway of a home on Dove road belonging to Chris Bouland, 27. Mitchell was looking for a man he thought lived at the home, however, that person no longer lived there, states the release.
"When he entered the driveway Slayden was confronted by two pit bulls. As he attempted to leave the driveway the two pit bulls attacked him. Slayden sustained lacerations to his face, head, arms, and legs. He was airlifted to Tri-Star Skyline Medical Center in Nashville, TN with life threatening injuries. The two dogs were taken into custody by the Graves County Animal Control." - Kentucky State Police
Days go by and we learn very little else. However, we did look up the owner of one of the pit bulls, Christopher Bouland and his near lethal mauler. Bouland has been in trouble with the Kentucky State Police in the past, and is a stereotypical owner of a dangerous pit bull. Mitchell did not stand a chance against the two unrestrained pit bulls kept in Bouland's unfenced backyard. All he had wanted to do was visit a man who he thought still lived at the home. He nearly paid with his life.
On July 13, we learned that Kentucky State Police charged Bouland and Tina Dykes, 45, both of Farmington, with harboring a vicious animal, a class B misdemeanor. If found guilty, the two could face a $200 fine, up to 60 days in jail or both. This is a pittance for the life-altering injuries the dogs inflicted on Mitchell. One commenter noted on the article, "$200 and 60 days? And those are max penalties. What a joke. That's the reason people keep vicious dogs. The penalty is so light."
"Since the attack, the Graves Fiscal Court is considering action regarding vicious dogs. During a meeting Monday night, Judge-Executive Jesse Perry said he and commissioners Todd Hayden, Tyler Goodman and Richie Galloway would be taking a look at a McCracken County proposal -- and possibly others -- to decide what can be done concerning vicious animals." - The Paducah Sun
Why Cities and Counties Ban Pit Bulls
The gravely damaging attack, combined with insufficient criminal penalties afterward, are two of three fundamental reasons why municipalities regulate pit bulls. The third reason is the predictable lack of civil recourse. Pit bull owners are often uninsured renters or otherwise uninsured. Even when there is insurance, the standard policy is only $100,000, which is grossly inadequate after a pit bull tears off part of a person's scalp, as was the case with Mitchell's near fatal injuries.
On Wednesday, Mitchell's father spoke out in a troubling piece by WPSD, which partly focused on "why" the attacking pit bulls still had not been released by the Mayfield-Graves County Animal Shelter. WPSD quotes kennel attendant Mickie Bailey, who foreseeably responds to the vicious designation of the dogs as, "I don't think they're mean. Misunderstood, maybe, and scared." Bailey should be fired for embarrassing the county, whose prosecutors have filed these charges.
Walter Slayden, Mitchell's father, said the scene was a bloody mess. Slayden found his son lying in a ditch across the road from Bouland's home. Mitchell had tried to run away from the dogs. The pit bulls attacked his face and scalp and his body was covered in dog bites. "I did not think he was going to make it," Slayden said. Doctors will begin reconstructive surgeries next week, he said. When asked what he would say to the pit bull owners, he states, "I don't need to talk to them."
Correct. Bouland is just another "exhausted cliche" owner of a dangerous pit bull and could care less about the health and well being of Mitchell.
At the very end of the WPSD video, reporter Brianna Clark noted that she was told that when Bouland and Dykes went to pick up their pit bulls after the 10-day quarantine on Tuesday, "they were very upset they could not take their dogs home." We rest our case about Bouland. If these two pit bulls are put down, Bouland and Dykes will immediately acquire new pit bulls and the process will begin all over again. The only way to stop it is for the county to regulate the breed.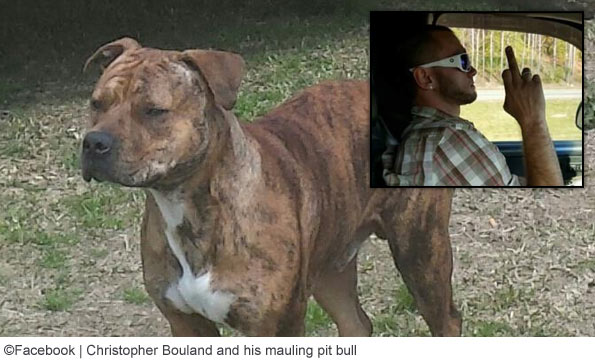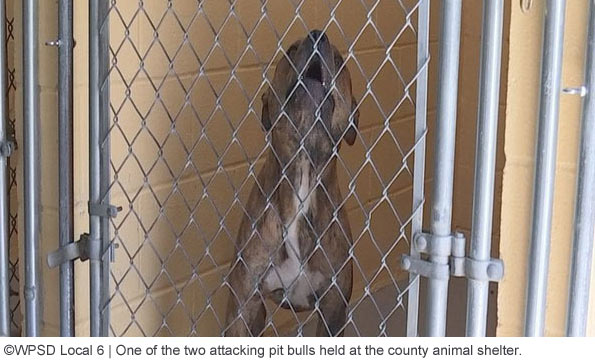 These are just "some" of Bouland's Facebook Likes about pit bulls; he prefers the large ones.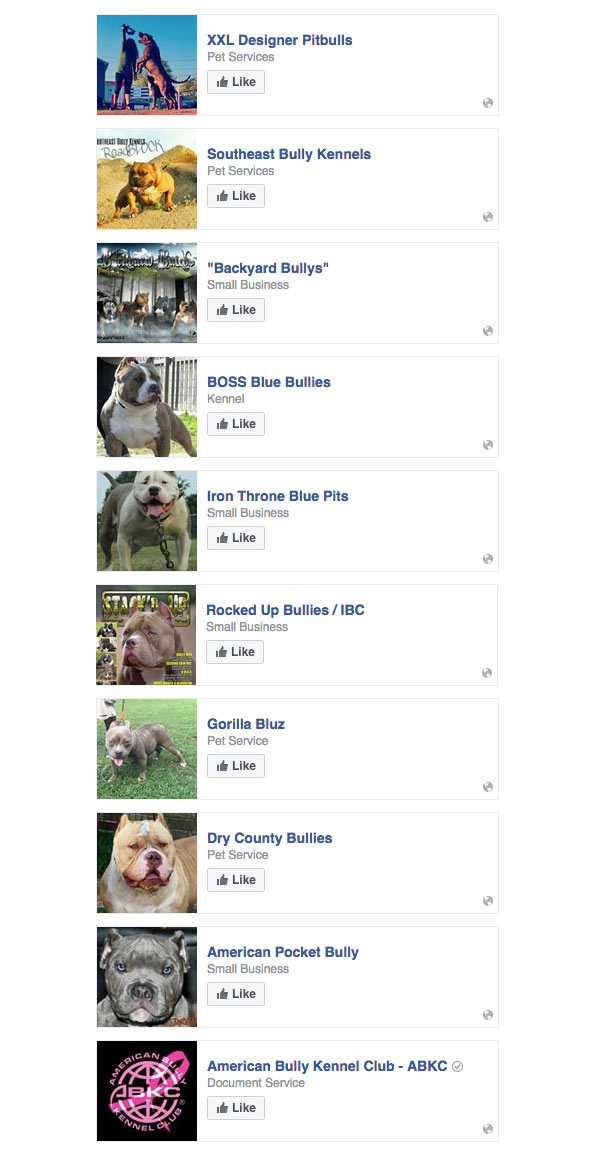 Related articles:
01/25/16: Pit Bulls Lead 'Bite' Counts Across U.S. Cities and Counties
09/01/15: Cities with Successful Pit Bull Laws; Data Shows Breed-Specific Laws Work
06/24/15: Anchorage Pit Bull Attack: The Mechanics of a "Classic" Unprovoked Pit Bull Attack