Wednesday, May 10, 2017
Pit Bull Owner Charged with Second-Degree Manslaughter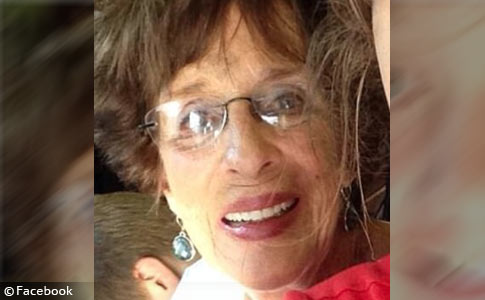 Cecille Short, 82-years old, and her small dog were savagely mauled to death by two pit bulls.
Manslaughter Charge
UPDATE 05/10/17:
On Wednesday, the owner of two dogs that brutally killed an 82-year old woman and her dog in April was charged with second-degree manslaughter.
Antwon Demetris Burks
, 31, is accused of keeping "
mischievous dogs
" that he allowed to roam, which resulted in the mauling death of Cecille Short. A news chopper captured the
grisly aftermath of the scene
. Emergency crews said the attack was so gruesome that the victim was nearly decapitated.
If convicted of second-degree manslaughter in connection to the dog mauling death of Cecille Short, Burks faces up to four years in prison.
The attack occurred on April 6 in the 11600 block of Windmill Road, a neighborhood in northwest Oklahoma City. Witnesses told investigators the two pit bulls were dragging Short "by the head and neck area, causing her death," reports
The Oklahoman
. First responders were initially unable to help the victim. Police officers later fired on both dogs, killing one, and rammed the other with a police cruiser. The surviving pit bull was taken into custody to be held as evidence in the case.
After the attack, police taped off an area around Burks' residence at 11624 Kings Circle, about a block away from the attack scene. Investigators found an
extensive hole in the fencing
where the two large dogs escaped. They described it as "old damage," reports
The Oklahoman
, and that it appeared someone had tried to cover it up with boards, a recycling container and an ice chest. Prosecutors said Burks' actions led to Short being attacked and killed by his two loose dogs.
---
04/07/17: Mauling Victim Identified
Late yesterday, a photograph of the two dogs was released showing a pit bull and an XXL pit bull, a designer breed, also known as an
American bully
. In 2014, a similar dog
killed a little girl in Louisiana
. Of the two major kennel clubs, only the United Kennel Club (UKC) recognizes the American bully and it only began doing so in 2013. Also, any "UKC registered American Pit Bull Terriers are
eligible to transfer to the American Bully
," states the UKC breed transfer form.
We call it a designer breed because that is what it is. The dogs usually come with a "designer" price tag too -- the point of a designer breed.

1
Headlines, as of late last night and today, are reflecting this confusion. No one is quite sure what to call the large white and brown dog with heavily exaggerated features. Yet if one does a Google Search for "
XXL Pit Bulls
," one will recognize this dog breed immediately. The American bullies work in two different directions,
extreme exaggerations
in the weight, size and features of a traditional pit bull, as well as the
pocket pit bull
, which is an extremely squat version of the breed.
Earlier today, The Oklahoman interviewed Jon Gary, the Superintendent of Animal Welfare for Oklahoma City, about the two dogs and their previous history.
"[The female gray dog] suffered two gunshot wounds, as well as abrasions. We were told that she was also hit by a police car … She's a large pit bull, probably 80 or 90 pounds, so she's very large. Um, pit bull-type dog," he said.
When asked by a reporter the size of the other dog, Gary responded, "It was also a pit bull-type dog and it was also a very large dog, over a hundred pounds."
When asked by a reporter, "Did you say that there have been calls for service regarding these two dogs?" Gary responded, "We have. At this point in time, I can't tell you the exact number. I have my staff currently doing research on any history there may be," he said.
Mauling Victim Identified
This morning, police identified the mauling victim as 82-year old Cecille Short. The owner of the two dogs was out of town at the time of the fatal attack. Reporter Bill Miston of News Channel 4 tweeted earlier that police are seeking
surveillance cameras
, Officer "Knight stressing that there isn't much to go on." Miston also tweeted that the
surviving dog
-- that was both rammed by a cruiser and shot by police -- was the smaller pit bull. The dog is currently being held as evidence.
Last August, nine months after a pack of pit bulls killed a man in Oklahoma City, authorities filed
second-degree manslaughter charges
against the dog's owner. Those dogs escaped though a hole in their owner's fence and viciously attacked 60-year old Edgar Brown. The severe bite injuries led to multiple complications, amputations and eventually to his death less than two weeks later. The dogs that killed Short and her dog also
escaped through a hole
in their owner's fence.
---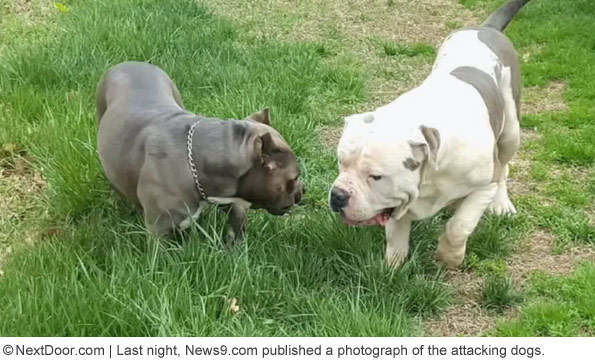 ---
04/06/17: Woman and Dog Killed
Oklahoma City, OK - A woman and her dog were both killed by two pit bulls while walking in a northwest Oklahoma City neighborhood Thursday afternoon. First responders were called to the attack scene in the 11600 block of Windmill Road. One of the attacking dogs was shot and killed by police. The other pit bull was rammed by a police vehicle, but survived. Police have confirmed that both attacking dogs were pit bulls. Below,
Master Sgt. Gary Knight describes the narrative.
"Sadly a woman was out walking her dog earlier today when she was attacked -- her an her dog were attacked by two large dogs, one of which was a pit bull. I don't know the breed of the other dog. During this attack, the woman's dog and the woman, sadly, were both killed. They were both mauled to death by the two dogs. When officers arrived, they tried to get to the woman to render aid to her. They were not able to get to her at first because of the dogs. They had to shoot one of the dogs and the second dog was actually hit by a police car and taken into custody. It was still alive and was transported to animal welfare to be treated."

- Master Sgt. Gary Knight, Oklahoma City Police Department
Clear Public Safety Threat
Jurisdictions across the U.S.
ban or regulate pit bulls
specifically to stop this type of attack: an off-property attack by a pit bull that ends in severe injury or death. A woman and her dog were walking down a suburban neighborhood street when two pit bulls launched a violent attack, killing them both. Neither the woman nor her dog could defend themselves against the animals. Officers had to shoot one pit bull to death and ram the other with a police cruiser to end the attack.
"Emergency crews say the attack was so gruesome that the victim was nearly decapitated."

- Matthew Nuttle, News 9, April 6, 2017
Neighbor Tim Pool
spoke to the heart of the issue
. "My gosh, this is right down the street from where we live, and
every one of these attacks is always where somebody lives
," he told News Channel 4. "I walk these streets almost every morning with my dog and, many times, my dog's been attacked by other people's dogs, and I've cautioned them: Don't do that, they have to be controlled. Many receive it well.
Others don't seem to understand what I'm talking about,"
he said.
2
Other neighbors told Fox 25 that at least
one of the pit bulls has attacked
other local dogs before. Last October, one neighbor even circulated a letter warning others of an attack and calling the two dogs "
2 vicious animals
." Jerry Bowerman has lived in the area for 36 years. He told
The Oklahoman
-- referring to the home surrounded by crime scene tape on Kings Circle -- that two pit bulls reside in that household, a gray female pit bull and a "huge" white male pit bull, he said.
Surreal Late Evening Update
Late in the evening, News 9 published their final report, which included
images of the attack scene
and the two pit bulls. One the dogs is an
XXL pit bull
, a designer pit bull breed. In 2014, a
similar dog devoured a little girl
in Houma, Louisiana. The dog was initially shot three times by police officers. Unfazed by the trio of bullets, officers fired 10 more rounds into the hulking dog before killing it. It is clear now why early reports of the Oklahoma attack simply called it a "large dog."
The News 9 report shows images of the
hole in the fence
that police believe the dogs escaped through, as well as the letter circulated by a neighbor about the dogs in October. Neighbors heard about the attack through Urgent Alerts on the
NextDoor
App. The victim, who has still not been named, was a senior citizen walking a small dog. The owner of the two pit bulls -- referred to as a he -- was out of town at the time of the attack. Police say more information will be released Friday.

View the DogsBite.org Google State Map:
Oklahoma Fatal Pit Bull Attacks
.
---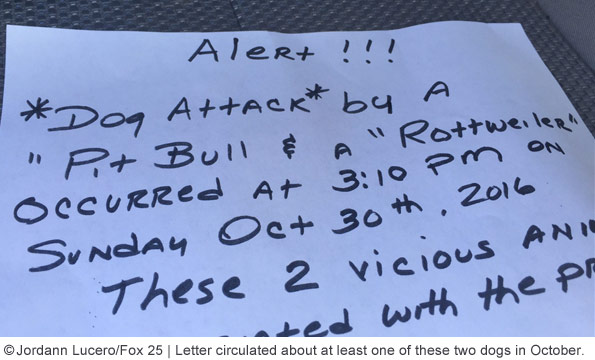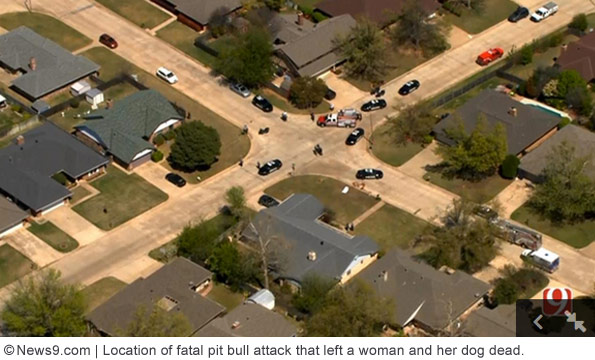 ⚠️ OKCPD &

@OKCFD

are working a vicious animal attack involving two pit bulls near 8500 Willow Creek Blvd. (1 of 3)

— Oklahoma City Police (@OKCPD) April 6, 2017
1
Some readers will disagree with Pool's statement, "Many receive it well." Pool appears to be a very nice man and may be perceived as a "gentle grandfather" to many dog owners. When the rest of the public tells an owner to leash his dog, it is most often met with foul language or sarcasm and the continuation of leaving their dog unleashed.
2
Some of these dogs are so exaggerated it is revolting. As one comnenter puts it, these are "mutant freak dogs."
Related articles:
02/28/17:
2017 Dog Bite Fatality: Man Dies After Vicious Attack by Two Pit Bulls in Lincoln...
01/19/17:
2017 Dog Bite Fatality: Pit Bulls Kill Child, Critically Injure Another, on Way to School...
08/04/16:
2015 Dog Bite Fatality: Oklahoma Man Dies After Vicious Attack by Five Pit Bulls
04/11/14:
2014 Dog Bite Fatality: Family Pit Bull Kills 4-Year Old Girl in Houma, Louisiana
---
Baseline reporting requirements:
Law enforcement departments across the United States should release consistent "baseline" information to the media and the public after each fatal dog mauling,
including these items
.
Labels: 2017 Dog Bite Fatality, Fatal Pit Bull Attack, Oklahoma, Oklahoma County, Pit Bull Dog Aggression, Police Shoot Aggressive Pit Bull, Senior Citizen Fatality

Please donate to support our work
DogsBite.org is a 501(c)(3) tax-exempt public charity organization. Learn more »
posted by
|
permalink
|
25 comments
|

email
|

blog rss
|

comment rss

25 comments:

Your Quiet Neighbor | 4/06/2017 6:01 PM | Flag
Taken to animal welfare for treatment? For crying out loud, put that dog down! It just killed people.

Why in the Sam Hill should it live on the taxpayers' dime?

Your Quiet Neighbor | 4/06/2017 6:02 PM | Flag
I meant to say that it just killed a woman and her dog.

Bailey | 4/06/2017 8:33 PM | Flag
Treatment?! Kill the other damn mauler!

Jake | 4/06/2017 9:46 PM | Flag
Somebody had better go to jail for this

Small Survivors | 4/06/2017 10:59 PM | Flag
they escape while in the care of the pet sitter. This victim was almost decapitated just for walking her dog. I hope there's enough to get this guy convicted


Ka D | 4/07/2017 12:11 PM | Flag
Victim was Cecille Short, 82 years old.

Unknown | 4/07/2017 3:21 PM | Flag
Blame the breed of dog not the owners!!!!!

B Cazz | 4/07/2017 7:21 PM | Flag
Blame the breed of the dog AND the idiot owners who decided they needed such pieces of shit and weren't bright enough to contain them.

Ka D | 4/07/2017 10:46 PM | Flag
Pocket pit bull? I always referred them as ghetto pigs.

joelande | 4/08/2017 5:13 AM | Flag
Local legislators and animal control killed that woman and her dog.

They knew these pit bulls were violent, and they did nothing about it but enabled a murder. They are as guilty as the pit bull owner.

Farmer Jane | 4/08/2017 10:32 AM | Flag
The owners are responsible because of the choices they made. Owning a pet is a choice. The breed you own is a choice. The choice in the type of confinement used is all up to the owner. No one held a gun to this dog owner's head and said, "Keep these dogs that were bred to attack and kill in an inadequate enclosure so that it endangers your neighbors lives, or die." We are free to own any dog we want. That comes with a great responsibility, both to the dog and the people around us. If you choose to ignore the warnings, the breeding, and the bloody mistakes of those that have gone before you, then it's all on you. You can no longer wring your hands after the fact and say, "I didn't know."

Anne Landers | 4/08/2017 10:49 AM | Flag
I feel like the city is responsible for the wrongful death of this woman. They had been notified on numerous occasions of incidents with these dogs and it appears did not provide proper follow up. There are cases in cities and counties across the U.S. of this very same thing....dogs loose, they get a little bad, a little more bad and then someone dies. It's inexcusable that residents of these communities pay taxes and are not afforded protection.

Your Quiet Neighbor | 4/08/2017 1:38 PM | Flag
I agree with Anne Landers. I also think that it is time to start suing animal control, er, welfare agencies. They're not protecting the public and they need to refocus on that mission.

Sandy | 4/09/2017 1:56 AM | Flag
I think that big dog is a razor's edge pitbull which is Pitbull mixed with Neapolitan Mastiff. You can tell by the baggy skin and then also probably American Bulldog Pitbull mastiff bulldog breeding...For large extra extra large sizes.about 20 years ago I live in Fort Lauderdale people were stealing Neapolitan mastiffs and are usually very nice and family pets.now 20 years later you're seeing aggressive pitbull bulldog French Mastiff bullmastiff mixes.very scary

AlisonSmith | 4/09/2017 6:18 PM | Flag
What a horrific story. And how big a hole does a 100lb pit bull need to escape a fence? That must be a hole with a fence around it.

Pit doodles abound. 30 years ago, they were all called bandogges, ie, pit bulls mixed with something else so the owners could claim they weren't pit bulls, no officer, they're mutts! Still a popular idea, btw, that all pit mixes are generic mutts rather than obvious pit bull mixes.

The pit bull people are unique in so many ways, but their obsession with cross-breeding for no valid purpose is a biggie. Most dog owners who don't work their dogs are religiously spaying/neutering their pets. A handful of people with herding, agility, flyball, guide/therapy, etc. dogs are crossing them to improve the genetic health and perfect their specific goals. Pit people, who don't work their animals at any actual task, cross them for no apparent reason - the only changes are in sizes and shapes. The American Bully breed is touted as having a better temperament than the pit bull breeds which were used to develop it. Since it's a breed with very small numbers and at least two have killed people in its short history, the temperament is clearly not quite there yet.

Speaking of pit bull offshoots - anyone see the claimed Alapaha Blue-Blood Bulldogs that went beserk in the UK last week? Another classic bandogge scam. And another classic pit owner - chest thrust out, arms waving, arguing angrily with people telling him to leash them even as they're mauling a dog and attacking people.

Dayna Hamilton | 4/11/2017 5:03 PM | Flag
The "authorities" are all trying to cover their asses! I hope this woman has at least one relative that is willing to litigate and sue the AC/county into the ground.

Colleen Lynn | 4/11/2017 5:27 PM | Flag
There was some additional news today. Police are arranging to talk the dog's owner in the presence of his attorney.

"Police said the owner is still out of town, but arrangements are being made to meet with him and an attorney who is now representing him. Police are also canvassing the neighborhood to gather history and information about the dogs and their owner."

Your Quiet Neighbor | 4/12/2017 8:18 AM | Flag
I hope that the victim's family also has a lawyer.

nowhereman1968 | 4/14/2017 6:05 PM | Flag
That other mauler would be easier to store as evidence if it was dead.
Just trying to be helpful.

Lambchops | 4/24/2017 10:09 AM | Flag
People claim pit-bulls are sweet and friendly but they are only friendly until they attack someone and maim or kill them. And insurance companies won't even insure someone with a pit bull and that should tell you something. Shelters that have pit-bulls should have to disclose to the people who adopt them what the pit-bull's history has been and even then it is risky to adopt one.

EyesOpened | 5/10/2017 5:13 PM | Flag
The owner has been charged with manslaughter! http://newsok.com/article/5548688

Most of the news stories either don't name the dog breed or say pit bull and another large dog.

Hopefully the fact that several of these cases have resulted in charges and even convictions will make owners of dangerous dogs take notice and better precautions. If just one of these horrifying tragedies can be avoided, it would be worth it.

responsible dog guy | 5/11/2017 10:05 AM | Flag
It is a start in the right direction.

K-Hart | 5/12/2017 2:02 PM | Flag
I just hope the DA has the cojones to not offer a plea deal. 4 years for a max sentence is pathetic enough, but to allow him to skate with next to no jail time is just wrong. Anyone who owns this type of dog knows exactly what they're capable of, so he cannot claim ignorance. And the fact they're XXL pitbulls, means he's XX responsible for those frickin' disgusting landsharks and the damage they do.

Chantal Clarke | 5/16/2017 8:46 AM | Flag
That petite little grandmother didn't stand a chance and what a horrific, violent NEEDLESS death. My Gosh, she might as well went swimming with a school of great white sharks; she may have stood a better chance.
How many stories like this are we as a society going to have to read? How many defenseless people and animals are going to DIE before our Government does something ?? The answer is NOT banning the breed, it's time to regulate the breeding of any and all pitbull type dogs. Stop the breeding period.
The guy that owned these dogs is a useless, irresponsible idiot who had no business owning any dog and that seems to always be the case in most of these attacks !! No responsibility by the owners, they're always looking to blame the attack on something. Hole in the fence, someone left the door open etc...it goes on and on.
RIP Cecile Short. I am so sorry this happened to you. Praying you are with Jesus right now.

Shirley Hickman | 6/13/2017 9:31 AM | Flag
I'm worried sick about my grandson who is 8 months old my son and his girlfriend just recently got a pitbull and seem to think it's okay they say she's nice I said it only takes one time for my grandson to get hurt or worse I wish there was something we could do before it gets too late if you have any information that would help me prevent my grandson from getting hurt please they wont listen to me micky1166@comcast.net