Saturday, August 2, 2014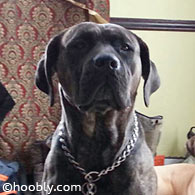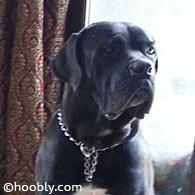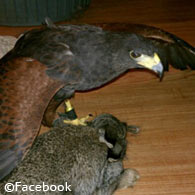 Puppies Spared; Right to Repetition
archived
UPDATE 08/02/14:
Three adult cane corsos have been euthanized, but prosecutors backed down from their civil complaint filed on July 25 to seize the eight offspring puppies
1
(
"Complainant believes ... they're [sic] blood line cannot be reasonably believed to be safe for society"
). Instead, prosecutors made a deal with the defendants' attorneys, who deny the dogs' owners are breeders, despite being caught red-handed selling these pure bred cane corsos for up to $1,100 online.
As an attorney and a prosecutor I have a problem with our county giving out these puppies and doing a wait and see and hopefully they are OK and wait and see. Maybe they will do something, maybe they won't. They probably won't, but we can't take that chance.

- Mike Hodges, Lapeer County assistant prosecuting attorney, July 30, WNEM.com
Prosecutors have bigger fish to fry -- Sebastiano Quagliata and Valbona Lucaj. Maybe this is why they lost sight of their original, and noteworthy, public safety concern. Lapeer County Animal Control, who took little preventable actions prior to the death of Craig Sytsma, will choose the rescue organization(s) to send the expensive purebred cane corso puppies to. Prosecutors have placed restrictions on the adoptions and maintain the right to repetition the court in 60-days.
If a shelter for the puppies cannot be found, the prosecutor's office can come back to the court.
"We have the right to repetition in 60 days," he said.
The puppies will be sterilized and anyone who takes them from any shelter would have to be warned of the history of their family, Hodges added.
In the meantime, animal control is attempting to contact other litters from breeds that Quagliata and Lucaj may have sold. He said they aren't looking to take the animals, but rather gather information about their aggressiveness.

- Mike Hodges, Lapeer County assistant prosecuting attorney, August 1, 2014, Mlive.com
We encourage readers to
write to the Lapeer County Prosecutors Office
in regard to their decision (scroll to see the mailing and email addresses). Fatal dog mauling criminal cases are regrettably uncommon and prosecutors are often in search of knowledge to help fill in the voids. Also, unless surprises occur in the short term, this update will complete this blog post. The criminal trial, which will no doubt be extensive, will be covered in a new post dedicated to the criminal proceedings.
07/31/14: Charged with Second-Degree Murder
The owners of two Italian cane corsos that mauled to death a jogger on July 23 in Metamora are being charged with second-degree murder, the Lapeer County Prosecutor's Office announced tonight.
2
Sebastiano Quagliata, 45 and former falcon owner, was already in custody Thursday and his wife, Valbona Lucaj, 44, was expected to turn herself in shortly, according to prosecutor Tim Turkelson. Quagliata and Lucaj will be arraigned in Lapeer County District Court at 9 am Friday.
The couple faces up to
life in prison if convicted of second-degree murder
. Prosecutors also charged the couple with possessing an animal causing death (another tier of significant charges if the jury fails to convict on second-degree murder). Murder charges are "exceptionally" rare in fatal dog attack cases. The only conviction in modern times is
Marjorie Knoller
.
3
In 2001, Knoller's two presa canarios brutally killed
Diane Whipple
in the hallway of her San Francisco apartment.
We guarantee readers that when Lapeer County prosecutors present their case -- just like the prosecutors did in the dog mauling death of Diane Whipple -- that numerous, perhaps even dozens, of new aggression or biting incidents will be presented along with the two reported previous attacks in 2012 and 2013. We predict that prosecutors will show that Lucaj and Quagliata had full knowledge of their dogs' viciousness and showed a
wanton disregard for human life
.
07/31/14: Facing "Imminent" Deportation
The owners of two cane corsos that brutally attacked and killed a jogger are in the U.S. illegally and were facing "imminent" deportation at the time of the attack, according to officials. Valbona Lucaj, 44, came to the country from Albania in January 1997 after bribing an immigration officer into granting her asylum, according to federal court filings. Her Italian husband and former falcon owner, Sebastiano Quagliata, 45, arrived a month earlier as a tourist and never left the country.
The couple has been fighting deportation ever since U.S. officials learned that Lucaj paid an immigration official in New York $3,000 to grant her asylum. This same asylum was then given to her spouse, Quagliata. Prosecutors are expected to announce a decision on criminal charges this week in connection to the death of Craig Sytsma. It is unclear how much, if at all, the couple's citizenship status -- history of bribery, lies and fraud -- will weigh into this possible prosecution.
As recently as March 31, 2014, a U.S. District Judge refused to stop their deportation, siding with immigration officials who said that Lucaj, "lacked good moral character arising out of fraud in obtaining asylum." By this point, Lucaja and Quagliata's two cane corsos had attacked two people at different times, 2012 and 2013, and the couple was heading into a homespun breeding operation of papered purebred Italian cane corsos, some puppies selling for $1,100 each.
How many other schemes are these two involved in?
The couple was first notified in 2005 that the U.S. government intended to terminate their asylum status and deport them. Lucaj traveled to Chicago to appeal the decision. While reviewing her file, immigration officials found more fraud, including that "documents were clearly altered" and that her story was not credible. Quagliata's arrest story was not credible either. Lucaj told investigators he had been arrested on a train and Quagliata told authorities his arrest took place on a boat.
On Friday, Lapeer County prosecutors will ask a district court judge to order the destruction of the two fatally attacking dogs, along with a third adult cane corse found at the home and seven cane corse puppies that are products of the fatally attacking dogs. On the same day, about 140 miles away, Sytsma's family will celebrate his life and mourn his death at Holy Cross Lutheran Church in Jenison, Michigan. Sytsma leaves behind three children and many grieving family members.
07/28/14: Possible Felony Charges
archived
Depending upon the results of the ongoing police investigation, prosecutors could pursue two different felony charges against the owners of the fatally attacking dogs. Lapeer County Prosecutor Tim Turkelson said his office could pursue felony manslaughter charges, if the facts warrant the charge, which carries up to 15-years in prison. His office could also pursue charges of possession of a dangerous animal causing death, which also carries up to 15-years in prison.
Turkelson mistakenly states in the article that fatal dog attacks involving adults are rare. What is true is that mauling fatalities involving persons 18-years and older are not much less frequent than fatalities involving children. During the 9-year period of 2005 to 2013, dogs mauled to death 284 Americans. 153 (54%) involved children 14-years and younger and 131 (46%) involved adults 20-years and older. See related chart:
9-Year U.S. Dog Bite Fatality Chart by Age Groups
Separately, today's Detroit Free Press article points out the woeful inadequacies of Lapeer County Animal Control (
Records: Police, animal control did little as dogs attacked walkers
) and how authorities took little action in the face of a growing menace involving massive "guardian" dogs -- a bull-baiting dog,
fighting dog, mastiff derivative
-- selectively bred for bloodsports and hunting large wild game, such as wild boar and cougars.
Why not treat them the same as a biting poodle?
The article also slams dog owners Valbona Lucaj, 44, and Sebastiano Quagliata, 45, who neglected to show up in court after the 2012 and 2013 biting incidents. The picture painted of the dogs' owners is that dog bite victims are the "real" menace that can be alleviated by 1.) Never facing them in court and 2.) Paying off a minimal fine. These responses by the owners were okay by Lapeer County Animal Control, who likely view dog bite victims as the "real" menace as well.
07/25/14: "Everything I Own is Aggressive"
The 911 call has been released. Craig Sytsma, 46, was brutally mauled to death by two loose cane corsos on Wednesday evening while jogging. New information was also provided about the dogs' owner and previous victims of the dogs. The owner and his multiple cane corsos moved to Metamora in 2011. Within a year, one of the dogs attacked April Smith of Oxford as she walked along the road near the owner's home. In 2013, the dogs attacked a male neighbor in his 70s.
The dogs' owner — who thus far has not been charged with any crime related to the fatal mauling — moved to the Metamora community in 2011, authorities said. Besides the dogs already surrendered, he has two more, including

another adult Cane Corso and multiple puppies

.
His dogs have been involved in two other attacks, one in 2012 and the other in 2013. And, according to neighbors, had a rough reputation.
"Unfortunately, I wasn't surprised," neighbor Ashley Winter, 31, said of the fatal attack.
She recalls meeting the owner and his Cane Corsos shortly after moving to the neighborhood in June 2012. The man came to introduce himself and had a full-sized pet hawk on his arm; one of the Corso dogs was running loose, she said.
"I said, 'Is he aggressive?' And he said,

'Yeah, everything I own is aggressive,'" Winter said. "I thought, 'What have we gotten ourselves into?'"

- Detroit Free Press
Attorney Glenn Saltsman, who represented Smith, said the male neighbor was bitten in November 2013 also while walking near the owner's home. Both were "very lucky" that their injuries were not more severe, he said. "Unfortunately, the recent victim wasn't so lucky," Saltsman said. "These people know full well what's been going on with their dogs, and they've chosen to do absolutely nothing about it... I don't know for the life of me why the authorities never took these dogs away."
Authorities have "known full well" what's been going on with these dogs as well. Even if they could not take the dogs away, they could have required fencing. Two years after the first attack, the owner's property is still unfenced. Not only is this a case of an extremely reckless dog owner, it is an extreme failure of local authorities acting to ensure public safety. Only now, after a man was killed by the animals, are they calling the dogs a "public threat" and "beyond rehabilitation."
What will local authorities do with the multiple offspring, presuming they are "little cane corsos" born from fatally attacking parents? Probably nothing. The owner and his family will simply raise a new round of cane corsos and the process will start all over again, whether they stay in Metamora or move to a new location. Local and state laws must become more aggressive about "extremely reckless dog owners" -- who are already "well-known" bottom of the bucket repeat offenders.
There was a major
9:48 pm update
to this Detroit Free Press news report.
4
On Friday, prosecutors filed a complaint seeking to seize the dogs involved in the fatal attack along with the puppies because, they are "
the apparent product of aggressive animals that have killed a human being
," the complaint said. "Complainant believes ... that the puppies are products of the adult Cane Corso's
resulting in human death and they're [sic] blood line cannot be reasonably believed to be safe for society," the complaint says
.
KUDOS prosecutors!
9:48 pm update additions:
In addition to the civil complaint filed by prosecutors to seize the puppies of the two fatally attacking cane corsos in the 9:48 pm update, the owners of the dogs were named and parts of their defense explained. Sebastiano Quagliata, 45, and Valbona Lucaj, 44, also want the two attackers put down, according to their attorney Jason Malkiewicz from St. Clair Shores. "Never in their wildest dreams" could they foresee anything like this ever happening.
A third attack, however, naturally follows a second attack. Now let's move onto fences and the "accidental breeding" of papered purebred dogs.
Malkiewicz counters that the dogs were "constantly" allowed to run free, as described by neighbor Ashley Winter. He said the dogs were kept in a fenced-in area behind the house. On the day of the fatal attack, Malkiewicz said the dogs had been left in a chain-link kennel at least 6 feet tall by 10 feet wide, with tethers bolted into the ground. He said he does not know how the dogs could have escaped. Though, a cane corso owned by a different neighbor
did have fence-jumping capabilities
.
Malkiewicz, however, said the family is "not really breeders," and that a neighbor's Cane Corso jumped the fence and bred with the mother. He said that the day of the attack, the dogs had been left in an outdoor chain-link kennel at least 6 feet tall by 10 feet wide, with tethers bolted into the ground.
He said he doesn't know how the dogs could have escaped. He also said his clients always complied with anything animal control asked.

- Detroit Free Press
As pointed out by the Detroit Free Press, an
advertisement selling puppies on Hoobly.com
, shows more than a dozen cane corso puppies for sale along with International Cane Corso Federation registration papers, ranging from $600 to $1,100. The listing includes a phone number for Quagliata and Lucaj and was renewed a week ago. The advertisement also says, "I have anther breed coming up 2 puppies." Does the below sound like an "accidental breeding" to readers?
I have cane corso register inccf booth parent champion blood last 2 male's black brindle coming with both shots deworming all peppers coming with puppies is reedy to go end new home am selling last because I have anther breed coming up 2 puppies for $1100 1 puppies $600 I give warranty per puppies more info call or email PH # 586/*** or 586/*** email Email Me Here thank Sebastian or Vali

- Hoobly Classifieds
07/24/14: Female Victim Speaks Out
Late Thursday, more information was released about one of the previous attack victims. April Smith, 25 of Oxford, recalls when she was attacked by one of the cane corsos in 2012. Smith filed a civil lawsuit against the dogs' owners. Smith said she was horrified to learn the owner was still in possession of the dog. "It's just crazy to me," Smith said. "Animal control should have done something. It should have never gone this far. The fact this has led to a death, it's sickening."
Now that the dogs have inflicted the brutal death of a man, being their third off-property attack, authorities are willing to "take the matter to court" to ensure that the dogs are put down -- that is two victims too late, at the very least, one victim too late. The dogs should have been destroyed after their second off-property attack in 2013. To answer our question from earlier today (italicized below), it appears
animal control did absolutely nothing
after the first two vicious attacks.
"When I was attacked, I didn't even see it running up to us until it was directly behind me with its teeth out and growling viciously. We were about three houses past the yard the dog lives in, so he ran 50 yards to catch up to us. He tore my leg in three different places and I had to get medical attention. There was a lot of bloodshed and it was very severe. I had bruising for months and had to endure physical therapy. This caused me a lot pain."
---snip---
She said she filed a lawsuit against the owners, which has been settled. She said the owners have no fence around their house, which was one of the stipulations in the lawsuit.
"I cannot believe this happened to someone," Smith said. "I'm not mad at the dogs, I'm so upset with the owners. I thought something would be done with these dogs, but nothing was done. Nothing was ever done. Those dogs are vicious. It's not a joke."

- April Smith, Detroit Free Press
Prosecutors in Michigan have filed charges in multiple cases after a fatal dog attack, including after the deaths of
Kyle Holland
,
Kylie Cox
and the double canine homicide of Cheryl Harper and Edward Gierlach. In 2008,
Diane Cockrell pleaded no contest
to felony and misdemeanor charges in connection to the deaths of Harper and Gierlach. She was sentenced to a minimum of 3.5 years for allowing her American bulldog-mixes to run free and kill two people in Iosco Township.
The Detroit Free Press report also notes that the owners of the cane corsos are running a breeding operation. It states that after attacking Craig Sytsma, the two dogs ran back to their property, "where there is at least one other dog and an unknown number of puppies," though authorities are unclear of the breed. Given the rarity of cane corsos and that a "pair" attacked Sytsma, seems likely the pair is a male and female and the puppies are "little cane corsos."
07/24/14: Three-Time Attackers
Updates throughout the day identify the
two attacking dogs as cane corsos
. Earlier today, ClickonDetroit.com had two photographs of the same dog. The most recent video shows the second dog, which clearly resembles a cane corso. Metamora Police Chief David Mallet said the man's arms were badly bitten. Craig Sytsma died of bite wounds and blood loss. Family members were angered to learn the same dogs had attacked two people in the past, in 2012 and 2013.
It would be interesting to know what, if any, restrictions were imposed upon the dogs' owners by animal control (or the local or county ordinance) after two separate injurious off-property attacks.
07/24/14: Jogger Dies After Dog Attack
Metamora, MI - A man is dead after being attacked by a pair of bullmastiffs while jogging on Wednesday. The attack occurred about 5:30 pm on the 5500 block of Thomas Road in Metamora Township. Officers were initially dispatched for gunshots fired. It later became apparent that a neighbor had shot at the dogs to frighten them away from the victim. Craig Sytsma, 46, was transported to McLaren Regional Medical Center with life-threatening injuries. He did not survive.
The two dogs were located and taken to Lapeer County Animal Control. ClickOnDetroit.com shows photographs of the dogs that police describe as 3-year old bullmastiffs. Police said the victim lived in Livonia and was in the area because he works at Eltro Services in Oxford Township. Sytsma is divorced with three children. Police said both bullmastiffs have been involved in previous bite cases. Police say it is too early to determine if the dogs' owner will face any charges.
In an afternoon report from CBS Detroit, Metamora Police Chief David Mallet said the dogs were actually cane corsos, a similar mastiff breed. Mallet said a neighbor who was cutting his lawn saw Sytsma in a ditch being mauled by the two animals. Mallet said police have received a "couple of calls about animal bites in the past with these dogs." He added, "I do hope something is done…This is disastrous." The Oakland County Prosecutor is investigating possible charges.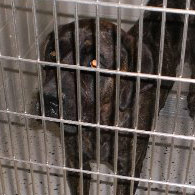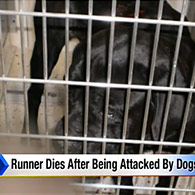 Related articles:
09/05/12:
2012 Dog Bite Fatality: Trotwood Senior Citizen Killed by Own Dogs
06/30/11:
Justice for Lincoln Park Fatal Dog Attack Victim Finally Emerges
05/29/11:
2011 Dog Bite Fatality: 'Monster Dog' Kills 4-Year Old Brooklyn Boy
07/27/08:
Coverage of the Double Fatal Dog Attack in Livingston, Michigan
Labels: 2014 Dog Bite Fatality, Cane Corso, Craig Sytsma, Criminal Charges, Criminal Trial, Jogger, Lapeer County, Michigan, Repeat Offender, Second-Degree Murder

Please donate to support our work
DogsBite.org is a 501(c)(3) tax-exempt public charity organization. Learn more »
posted by
|
permalink
|
22 comments
|

email
|

blog rss
|

comment rss

22 comments:

Cindy Ballard | 7/25/2014 1:48 PM | Flag
This comment has been removed by the author.

RSM | 7/25/2014 2:07 PM | Flag
Why has Ac failed so badly, all over the nation? How many stories of fatalities, just this year, were dogs that have a history of attack?

And WHY do we allow killer breeds to be pets? This is nuts. Pits are bad enough, but Cano Corso's are even worse because of their size. There aren't so many CC deaths simply because there are fewer of them. If there were millions, I cannot imagine the death toll.

BSL NOW, and BSL must cover all the GRIPPING DOGS, fighting breeds, and their mixes.

Your Quiet Neighbor | 7/25/2014 7:11 PM | Flag
Animal control is an oxymoron that's run by morons.

maultalk | 7/25/2014 8:19 PM | Flag
Gotta wonder if the dog's owner pulls weight in the town. Corsos are not inexpensive dogs nor is defending yourself against two separate lawsuits with a third on the way. He should be named in the future. Would not surprise me if a family member/relative is a judge or something along that line.

Farmer Jane | 7/26/2014 7:55 AM | Flag
I hope authorities look into the hawk thing. Most hawks are federally protected and require special licensing to keep. In my state (FL),
if you are found to have a bird of
prey illegally they'll go after you. The punishment is a lot worse than owning a dog that kills someone.They fall under the protection of Fl. Fish and Wildlife who are pretty zealous in prosecuting people. Unlike animal control who think that dogs are like people, only not responsible for their actions, and just doing what dogs do.
My heart goes out to this victim and his family. The last minutes of his life were a nightmare. No one deserves to die like this because of someone's choice of a pet.

B Cazz | 7/26/2014 8:55 AM | Flag
This is fantastic:
'"the apparent product of aggressive animals that have killed a human being," the complaint said. "Complainant believes ... that the puppies are products of the adult Cane Corso's resulting in human death and they're [sic] blood line cannot be reasonably believed to be safe for society," the complaint says"

I hope this catches on-
Cull the Man Biters, Cull the whole damned (blood)line!

maultalk | 7/26/2014 9:45 AM | Flag
Here are a few links before they go offline: The actual puppy sales link with photos and registration papers:
Corso puppies - Sebastian or Vali

Translation "My hawk has a nice rabbit for lunch."
Sebastiano Quagliata and his falcon

Miss Margo | 7/27/2014 1:41 PM | Flag
Farmer Jane, I was thinking the exact same thing about the hawk. You have to be licensed to own and fly a raptor. It takes years of diligent study to get that license, and, as I'm sure you know, you have to pass home inspections and demonstrate that you have a suitable home for the raptor. Your mentor at the local falconry club also has to vouch for you.

Somehow I do not think this fucktard has a permit for the hawk. I dunno, responsibility just doesn't seem like his strong suit.

What an awful, awful way for Mr. Sytsma to die.

Jeff Borchardt | 7/28/2014 3:37 PM | Flag
Daxton's Friends serves as a resource for legislators and legislation bodies addressing canine related public safety. Our goal is to support the implementation of tools to ensure healthy canine ownership and public safety.

If Daxton's Friends is provided substantial evidence that we have shared incorrect information, we will correct or retract statements. We welcome feedback and invite you to share your thoughts about our organization. Please e-mail us at DaxtonsFriends@gmail.com

The Cane Corso originates from Italy and is a descendant of the Roman Molossian, likely mixed with the ancient British Mastiffs (pugnaces Britanniae). The latter were used for bear- and bull-baiting, and by British soldiers in war as early as 55 B.C. The Romans were so impressed by the aggression of the English mastiffs that they considered them superior to their own Roman war dogs.

Both the Roman and the English ancestors of the Cane Corso were bred for hunting large game, to battle in warfare, as a guard dog, and for arena blood 'sports'. As a hunting dog they were selectively bred to attack game such as wild boar or cougars. One ancient writer described them thus: "not speedy but impetuous, a fighter of great courage and incredible strength, to be employed against bulls and wild boar, undaunted even when confronted with a lion." They were called canis pugnaces because of their willingness to fight to the death and their function of attacking wild animals. As guard dogs, they were always chained and never had the run of the property, because they were too dangerous. In the arena, they were used in spectacles that involved three or four of these pugnaces / molosser types mauling a bear, a horse or a lion to death slowly, though until the fall of the Roman Empire the victim could also be human (a slave or prisoner)2,3

Cane Corsos are, as adults, very calm house companions. They like to be near their family, but they aren't fond of cuddling nor demanding about attention. They can react to many things as if they perceive a threat. It is essential to get a puppy from a breeder that keeps the pups inside the home from birth, so they are socialized from birth to understand what is and isn't a threat in normal household activities. The same intense exposure is necessary to out-of-home things such as pedestrians on the street, people getting in and out of cars, people coming in and out of shops, so the dog will understand that these things are normal and also no threat. That said, there is no amount of socialization that will make the Cane Corso friendly to strangers inside or outside the home. They may do well with some strangers if properly introduced, but the owner must be present at all times for close supervision.

In North America, from 1982-2013, Cane Corsos have seriously attacked 18 humans that resulted in 11 maimings and 1 fatality. In addition, a Cane Corso/Pit Bull mix attacked 1 person that resulted in a fatality.

Click here to read the complete Cane Corso breed description: http://www.daxtonsfriends.com/cane-corso/

Farmer Jane | 7/29/2014 8:56 AM | Flag
I didn't see in the article whether or not the dogs and their puppies have actually been put down. Do we know?

Colleen Lynn | 7/29/2014 9:03 AM | Flag
The two attackers will likely be put down shortly -- owners have already agreed to put down. It could be a long time before the puppies and other dogs seized in the house are put down; depends upon if the owners fight it or if the dogs are needed for evidence...

Farmer Jane | 7/29/2014 10:04 AM | Flag
Thanks. I'm worried about the killer dog fan clubs that try to save these monsters. They should raise their heads any minute because, well, they are just puppies after all. What harm can they do. I wonder how many other litters have been sold?

Miss Margo | 7/29/2014 10:31 AM | Flag
But, but, but....man-biters are always culled!

The owner of these dogs should be sued into bankruptcy (though I doubt he has any meaningful wealth) and then put in prison.

The sad thing about cases like this is that justice will always be ephemeral; unattainable. Nothing can bring the victim back or assuage his terrible suffering. Nothing can adequately punish the awful person who allowed--indeed, engineered--the killing.

Colleen Lynn | 7/29/2014 9:39 PM | Flag
Farmer Jane, a hearing for the dogs is scheduled for Friday ("A hearing is scheduled for 1:30 p.m. Friday in a Lapeer County courtroom over the fate of the dogs, as well as several others the individual owns at their property") -- It really depends upon the owners. It would be in their best interest to hand them over and blame the attack on "bad breeding," which would minimize their role of being negligent, irresponsible owners. If they fight to "save" the puppies so that they have a chance of being brought up by "good" owners… This makes the current owners look bad. However, it would not surprise me if these owners put forth a deal to "send them to a sanctuary" out-of-state for the rest of their natural lives (with no proof of sterilization beforehand, no clue where the dogs will be 6 months after being shipped out of state, no oversight whatsoever! Just put the dozen or so puppies -- each worth $1,000 --- onto a plane and call it good!)

http://www.hometownlife.com/article/20140729/NEWS10/307290038/Charges-could-come-week-Livonia-man-s-death-after-dog-attack-Lapeer-County

Ch Carroll | 7/31/2014 3:25 AM | Flag
The owners are now reported to be in the country illegally. The woman is said to have bribed an official to reverse the decision to deny her asylum, and the man reportedly came in on a tourist visa and never left.

Someone in my building has a cane corso. It was young, maybe 3/4 grown, when I met it and was an unusually beautiful and seemingly good natured dog. It certainly didn't impress me as something that would eat people.

Farmer Jane | 8/01/2014 7:50 AM | Flag
It's good to see them given charges that actually seem to fit the crime. As I've mentioned before, I live just up the road from the home where Roy McSweeney was mauled and killed in 2011. This still haunts me. I don't know if the owners were ever convicted, but they were indicted.

"Deanna Blitch was charged with two counts of attack by a dangerous dog, giving false information to a deputy and resisting arrest without violence. Her son William, who goes by his middle name Braxton, was charged with giving false information and resisting arrest without violence.

The attack charges are first-degree misdemeanors and the others are second-degree. The Putnam grand jury indicted the two Monday. The mother and son were arrested Tuesday and were released on $3,000 and $2,000 bail, respectively."
http://staugustine.com/news/local-news/2011-11-16/mother-and-son-charged-connection-pit-bull-attack-putnam-county-man

I find this situation to be horribly similar to the attack on Mr. McSweeney. Yet, the owners were only charged with misdemeanors. I hope they nail these two to the wall and use them to set an example for future dog owners.

Farmer Jane | 8/01/2014 7:56 AM | Flag
Further research via Google tells me that the dog owner in the McSweeney killing got 90 days, some community service and a few piddly fines.
http://www.actionnewsjax.com/news/news/plea-deal-reached-in-fatal-pit-bull-attack-1/ndtkg/

I know she still lives close by because she was involved with a domestic altercation recently where the County Sheriff was called. She should have been sent away for life.

Colleen Lynn | 8/01/2014 1:26 PM | Flag
Bail was set at half a million each. The hearing to put the dogs down was cancelled today. Please send in updates in your comments. I will be traveling for a few days.

"Bail was set at $500,000 each for Sebastiano Quagliata, 45, and Valbona Lucaj, 44. The couple were arrested Thursday ... The Cane Corsos that killed Sytsma have reportedly been involved in other attacks. A hearing on putting the dogs down, scheduled for Friday afternoon, was canceled."
----
http://www.upi.com/Top_News/US/2014/08/01/Couple-face-murder-charge-for-joggers-dog-mauling-death/8971406903848/

Animal Uncontrol | 8/01/2014 8:11 PM | Flag
Nothing surprising about the criminal immigration status, visa fraud and the like. Violent, in your face doggers are the epitome of the bottom of the barrel scumbag. Yes, lets deport them... in body bags!

maultalk | 8/03/2014 6:10 PM | Flag
An update on the maul spawners here. By all means, let Lapeer AC make the determination, did such a great job on the parents!

"The puppies will be given to an appropriate shelter, based on the determination of the Lapeer County Animal Control...If a shelter for the puppies cannot be found, the prosecutor's office can come back to the court. "We have the right to repetition in 60 days," he said. The puppies will be sterilized and anyone who takes them from any shelter would have to be warned of the history of their family...animal control is attempting to contact other litters from breeds that Quagliata and Lucaj may have sold..."

http://michigan.icito.com/dogs-that-killed-jogger-in-lapeer-county-to-be-put-to-death-8-puppies-spared/

maultalk | 8/03/2014 6:15 PM | Flag
And there is more! Defense is claiming his clients could benefit from lack of action by AC!

http://michigan.icito.com/murder-charges-against-lapeer-county-couple-rare-in-deadly-dog-mauling-expert-says/

PutMeInCharge4OneDay | 8/04/2014 10:23 PM | Flag
"The puppies will be sterilized and anyone who takes them from any shelter would have to be warned of the history of their family..."

What about any one forced to live in the same neighborhood as these dogs. I don't suppose they will get the benefit of that warning.