Tuesday, April 15, 2014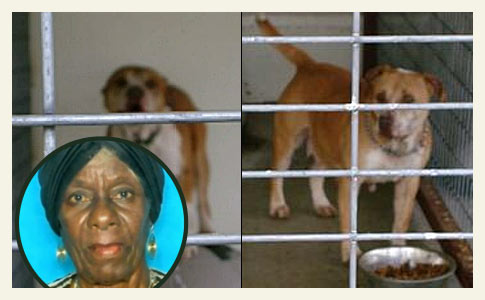 Two pit bulls seized from Michael Hamilton's homespun breeding operation.
Medical Examiner's Office
UPDATE 04/15/14:
The Dallas County Medical Examiner's Office ruled the cause of death for Dorothy Hamilton as a "dog mauling." The Medical Examiner's report listed the cause of death as "dog mauling with lacerations and puncture wounds." On March 31, 85-year old Dorothy Hamilton was discovered dead in her living room by her son at approximately 4:46 pm. Police immediately suspected that
two large "very aggressive" pit bulls
in the home were responsible for her death.
04/01/14: Eight Pit Bulls Seized
CBS Dallas / Fort Worth reports that police were called to a home on the 1400 block of East First North Street after Dorothy Hamilton was discovered by her son. When police arrived, they found the victim dead in the living room and a pair of aggressive pit bulls inside the home. Animal control put those pit bulls down right away. Police said the dogs were being held in a bedroom, but broke through the door to get the woman. Police believe the two dogs are responsible for her death.
NBC 5 reports that Michael Hamilton
, the victim's son, had been keeping a group of pit bulls on the property for several months. The two lived at the residence together. Authorities seized a total of eight pit bulls from the property -- including the two suspected of killing the woman. Police said that all of the pit bulls belonged to her son, who had been keeping two of the animals inside the home. Police said that all six of the remaining dogs are very aggressive and will be euthanized.
1
Autopsy results determining the actual cause of death are still pending from the medical examiner.

Related video
04/01/14: Woman Found Dead
Kaufman, TX - An elderly woman was found dead in her North Texas home Monday after she was apparently attacked by her son's pit bulls. Kaufman police identified the woman as 85-year old Dorothy Hamilton. Capt. Ed Black said that it appears two very large, aggressive dogs attacked her. Authorities seized eight pit bulls from the home. The woman's son also lives at the residence. The dogs were in a bedroom, but apparently broke through the door to attack, according to Black.
Her body was discovered in the living room. An autopsy has been ordered by police investigators.

View the DogsBite.org Google Map:
Texas Fatal Pit Bull Maulings
.
---

Texas Dog Bite Victims' Advocacy
-
Join our Texas email list to stay informed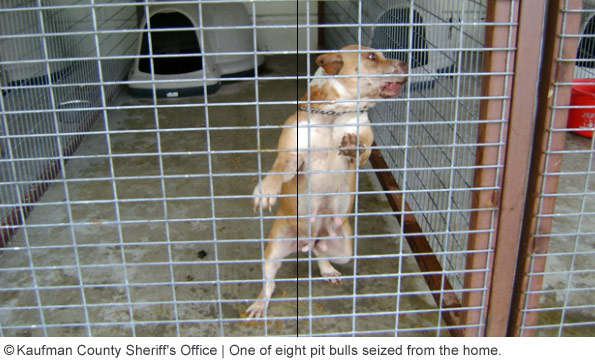 1
The NBC 5 video interviews a neighbor who said that her son "moved in a few months ago" (with his breeding operation). There have been seven documented calls to the home since April 2011 regarding stray animals.
Related articles:
01/07/14:
2014 Dog Bite Fatality: Woman Dies After Pit Bull Attack in Southeast Houston
09/02/13:
2013 Dog Bite Fatality: Pit Bulls Suspected of Killing 96-Year Old Texas Man
03/12/13:
Report: Texas Dog Bite Fatalities, January 1, 2005 to February 17, 2013
11/17/11:
2011 Dog Bite Fatality: Houston Woman Dies from Injuries After Pit Bull Mauling
Labels: 2014 Dog Bite Fatality, Fatal Pit Bull Attack, Senior Citizen Fatality, Texas, Texas Pit Bull Fatality

Please donate to support our work
DogsBite.org is a 501(c)(3) tax-exempt public charity organization. Learn more »
posted by
|
permalink
|
3 comments
|

email
|

blog rss
|

comment rss

3 comments:

Decatur AL livin nt to 4 pits | 4/02/2014 4:56 AM | Flag
If this is ruled a death by pit bulls, I believe this will be #400 to be documented by dbo.

Colleen Lynn | 4/02/2014 9:41 AM | Flag
You are correct, it will #400.

RSM | 4/02/2014 3:04 PM | Flag
400? Just thinking how ONE death is a brutal, horrific, nightmare, and realizing 400 lost their lives this way? Doesn't get worse.
Oh, yes, it does- the tens of thousands without limbs, faces, in daily pain, bankrupted and with PTSD. The walking wounded.