Sunday, January 20, 2013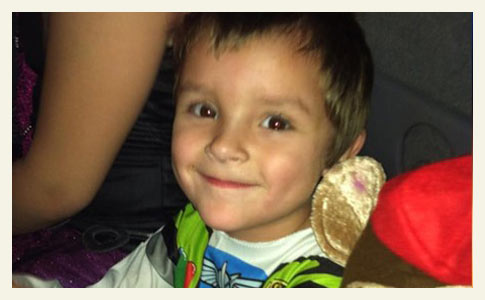 Christian Gormanous, 4-years old, was killed by his neighbor's chained pit bull.
Sister Helped Boy
UPDATE 01/20/13:
More information has been released about the 4-year old boy killed by a chained pit bull. Christian Gormanous was playing with his 9-year old sister, Trinity, in their backyard when he climbed over a chain link fence into his neighbor's yard. Though the dog was chained, it was still within reach of the boy. The animal attacked the boy. Trinity was able to get her brother away from the dog; brought him back over the fence then told her mother what happened.
At the time of incident, their mother was inside the home feeding her newborn baby. The mother's friends say that she was horrified by the attack and quickly called 911. Emergency responders airlifted the boy to a Houston hospital, but he did not survive his injuries. Close friends now surround the devastated family, less one child. No information was
provided about the dog's owner
or if the family knew the dog's owner. Animal control officers took custody of the pit bull.
He was a sweet little boy who liked to dress up as Spiderman," said Debra Dreyer, a family friend whose grandson played at Christian's house. Photographs show a child wearing a superhero costume for Halloween.
"He was a happy, very happy, very loved, sweet, little boy," Dreyer said.
On Saturday afternoon, Christian Gormanous' mother Janell — who's been caring for a newborn baby — left her 4-year-old son in their backyard with his 9-year-old sister. The boy did what boys often do: He climbed the fence and walked into a neighbor's yard.
Waiting in the neighbor's backyard was a dangerous dog, a chained pit bull.
The dog attacked the boy who'd wandered into the yard, savagely biting him until his sister Trinity came to his rescue.

- KHOU, January 20, 2013
01/20/13: Pit Bull Kills Boy
Montgomery County, TX - A young boy died after being attacked by a neighbor's pit bull on Saturday. Deputies with the Montgomery County Sheriff's Office were dispatched to a home in the 5700 block of Pinehurst involving a 4-year old boy that had been bitten by a pit bull. Investigators learned the boy had
climbed a chain link fence
into a neighbor's yard and was seriously injured by a chained pit bull. Christian Gormanous was airlifted to a Houston hospital where he later died.

View the DogsBite.org Google Map:
Texas Fatal Pit Bull Maulings
.
---

Texas Dog Bite Victims' Advocacy
-
Join our Texas email list to stay informed
Related articles:
03/28/12:
2012 Dog Bite Fatality: Victoria Boy, 4, Mauled to Death by Pit Bull
01/19/12:
2012 Dog Bite Fatality: Baby Boy Killed by Family Pit Bull in Montgomery Co.
Photo
:
abclocal.go.com
Labels: 2013 Dog Bite Fatality, Chained Dog, Chained Dog Fatality, Montgomery County, Texas, Texas Pit Bull Fatality

Please donate to support our work
DogsBite.org is a 501(c)(3) tax-exempt public charity organization. Learn more »
posted by
|
permalink
|
9 comments
|

email
|

blog rss
|

comment rss

9 comments:

Your Quiet Neighbor | 1/20/2013 6:16 PM | Flag
We're all of 20 days into the New Year and the DBRF count is already up to two.

Decatur AL livin nt to 4 pits | 1/20/2013 6:36 PM | Flag
The video in my brain starts playing and I wonder perhaps many times that child saw others pet the neighbor's Pit Bull or maybe he saw its wiggling butt...there was some reason this child did not have the appropriate fear to stop him short of going near that dog. It was a chain-link fence probably 4 feet tall. It's possible something was thrown over the fence or he saw something on the other side of the fence he wanted.

Decatur AL livin nt to 4 pits | 1/20/2013 7:25 PM | Flag
Look at this video at how close this dog was chained near the fence!!!

http://abclocal.go.com/ktrk/story?section=news/local&id=8960900

snack sized dog | 1/20/2013 8:44 PM | Flag
I agree with Decatur Al livin - I doubt the dog was acting vicious the whole time the child was climbing the fence and then walked into the dog's chain area.

I cannot fathom why people are defending the dog saying it did nothing wrong. Do we really think it is right and appropriate that a dog kills a child under any circumstances. I am just speechless.



truthbird | 1/20/2013 9:04 PM | Flag
Chained pit bulls are often notoriously "quiet." Even a yard of them. Not so dogfighting savvy police didn't know this when they found Kylar Johnson (Texas).
http://blog.dogsbite.org/2012/03/victoria-boy-4-may-have-been-mauled-to.html

"O'Connor said that when he went to the scene, the dogs appeared to be friendly. He said the dogs did not bark when investigators entered in the area."

Decatur AL livin nt to 4 pits | 1/21/2013 12:36 PM | Flag
Colleen, there is something odd about this story. It's hard to imagine that a 9 yr old girl got her 4 yr old brother "OVER" this fence. Maybe she went through the gate to get him ?? In this picture of the dog pen is where the car is parked the yard of the victim? I would like to know how long that chain was and could this child have been pulled over or under the fence. In other words, was the sister an eye witness - was she looking at the child when it happened???

truthbird | 1/21/2013 12:46 PM | Flag
In one of the videos, and I'll have to rewatch it, the mother's friends allude to the sister pulling him back under the fence... (I think, again, need to rewatch)

truthbird | 1/21/2013 12:54 PM | Flag
No... she said "brought her little brother back over the fence"

bitbypit | 1/21/2013 1:01 PM | Flag
This little boy was 4. Dandre Fisher was only 3 and authorities said that he climbed the fence. More:
--
http://savannahnow.com/coastal-empire/2007-08-30/mother-army-wont-press-charges-dog-mauling