Monday, January 21, 2013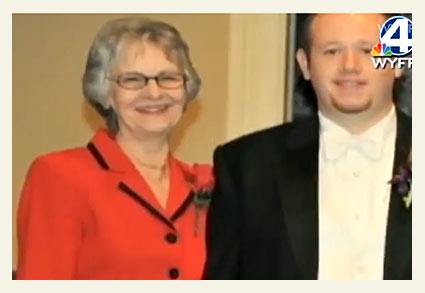 Daughter Recounts Attack
UPDATE 05/01/14:
On May 1, 2014, Ruth Todd Halleran, Betty Todd's daughter, provided an account of the vicious attack that killed her mother to
DaxtonsFriends.com
. Fatal pit bull maulings are horrific and Halleran does not leave anything out. She also describes her wonderful childhood with her mother. Halleran last sees Betty alive on January 6, 2013. Two days later, she would receive a call from her brother, "I'm so sorry Ruthie. My momma is gone. The dog killed her."
Betty Anne Chapman Todd – Killed by the family pit bull while babysitting her grandchildren
By Ruth Todd Halleran
...I missed a call from my baby brother on January 8, 2013, then got a "911 call now" text from him. My initial thoughts were to pray that the children were safe, then I worried about his wife and prayed she was safe. I called him and could tell immediately something was horribly wrong. He yelled out that Mom was dead, his dog had killed Mom. I was very confused (who the heck hears about a dog killing anyone, much less a grown woman). My brothers are very good at practical jokes, and I had JUST seen my mother, there was no way something so unheard of, so appalling, had happened. I scolded my baby brother for using mother for the base of his sick joke. He sobbed into the phone, saying he was so sorry. "I'm so sorry Ruthie. I'm so sorry baby. Momma. Momma is gone. My momma is gone. The dog killed her." I don't recall everything I said to my baby brother. I remember falling to my knees and my son's friend appearing before me. I remember feeling like I needed to time warp to my brother. I had to get to him immediately -- right away...
Read account in full »
01/21/13: Dog-Aggressive Pit Bull
Despite claims by the dog owner's brother-in-law, David Todd, that the family pit bull had "never shown any aggression before" and that the family "had the dog four years, and it never ever showed anything like this," it turns out the dog did have a history of dog aggression, and within the household. Further, the family pit bull fatally attacked 65-year old Betty Todd on January 8, just days (or possibly hours) after being neutered in the
hopes
of reducing the animal's aggression.
1
The January 8 attack on 65-year-old Betty Anne Chapman Todd was by a family pet. Initially, authorities believed that the animal had no previous history of violence, but officials say that, through the course of the investigation, they discovered that the pit bull responsible for Todd's death had killed another family pet, a siberian husky, just four months prior to the attack on Todd. Authorities say that, following that incident, the dog's owner had the dog neutered the first week of January to take away its aggression.

-Brian King, GwdToday.com, January 17, 2013
01/09/13: Victim Knew Dog Well
Additional details have been released about the death of Betty Todd. Officials say Betty Todd was watching her grandchildren at her son's home when the family pit bull attacked. She was babysitting while her son and his wife went out to dinner. One of the three children called their parents alerting them to the attack and the parents contacted 911. When deputies arrived at the home, they were met with a black and white pit bull that had blood on its mouth, chest and paws.
When EMS was able to reach the victim, they found Todd unresponsive. She had puncture wounds to her head, face and neck. Todd's son told deputies that his mother had been to his home on numerous occasions and around the animal without the dog ever showing aggression toward her, according to officials. The victim's brother-in-law, David Todd, told reporters, "
the dog slept in the bed with them
," referring to the children. He called Todd's death a "
tragic accident
."

Related video
2
01/09/13: Woman Killed by Dog
Hodges, SC - In a developing story, Greenwood County deputies say a 65-year old woman was mauled to death by a dog Tuesday while babysitting a toddler at a home in Hodges. Another child in the home called 911 to report the attack and that the other people in the home had gotten out safely. Officers found the pit bull (bit pull) with blood on it in the home and the body of Betty Todd. The dog's owner was able to coral the animal into a room until animal control arrived.

View the DogsBite.org Google Map:
South Carolina Fatal Pit Bull Maulings
.
1
Whether or not neutering a male dog lessens what humans term "aggression" is much debated. Neutering, however, is generally agreed to be very important in reducing sexually related aggression (male dog-on-male dog). Also, if neutering is not done at an early age, less than a year old, there's no surety that even that type of aggression will be lessened. The pit bull in this case was at least 4-years old.
2
Angy Hall of the Greenwood Humane Society said the dog was "protecting his family" which "any dog would do." Yet, the victim was the 65-year old grandmother of these children who had babysat numerous times before. The consistent and painfully false excuses the humane community provides after a fatal pit bull mauling are horrific.
Related articles:
09/05/12:
2012 Dog Bite Fatality: Trotwood Senior Citizen Killed by Own Dogs
05/08/12:
2012 Dog Bite Fatality: Pet Pit Bull Kills 74-Year Old Santa Fe Man
08/23/11:
2011 Dog Bite Fatality: Tucson Man Succumbs to Injuries After Attack by Pet Pit Bull
Labels: 2013 Dog Bite Fatality, Babysitting, Fatal Pit Bull Attack, Maul Talk, Pit Bull Dog Aggression, Senior Citizen Fatality, South Carolina

Please donate to support our work
DogsBite.org is a 501(c)(3) tax-exempt public charity organization. Learn more »
posted by
|
permalink
|
19 comments
|

email
|

blog rss
|

comment rss

19 comments:

Your Quiet Neighbor | 1/09/2013 12:27 PM | Flag
Cue up the pictures of doggie behind bars at the dog pound and the "save the doggie" campaign in 3,2,1...

orangedog | 1/09/2013 1:59 PM | Flag
Pibble wuz jus playin'!

Opalina | 1/09/2013 2:15 PM | Flag
Won't file charges? Ye gad. That poor poor woman! Those poor children to have to witness that! I would like to know about the "other people" in the house -- all children? Any adults? Too bad the deputies didn't shoot the aggressive beast on site, rather than give the owner a chance to bring poor widdle misunderstood wiggler home, with no charges, so that the beast can do this again. There is nothing in the world this woman could have done to deserve this! Normal dogs don't shred people at the drop of a pillow like pit bulls.

Unknown | 1/09/2013 5:09 PM | Flag
There is already one I just this minute saw on Yahoo...."Buck" the dog, shot in the face, $30,000 and counting in donations....want to guess what breed? Just wait until he recovers then watch out.

Decatur AL livin nt to 4 pits | 1/09/2013 5:14 PM | Flag
The excuses have begun: "this dog has never shown any aggression before. it slept in the bed with them. They've had it 4 years. This is a traggic accident". With the victim's blood splattered on the walls and puddled on the floor, I just can't wait to hear how this one went down - with the 3 children ages 1-12 in the house watching and all.

Decatur AL livin nt to 4 pits | 1/09/2013 6:12 PM | Flag
Just up the road in Spartanburg 3 Pit Bulls just about ate a woman alive early this morning - she has life-threatening injuries - Cops caught the dogs on their video -

http://www2.wspa.com/news/2013/jan/09/14/police-woman-attacked-3-dogs-ar-5328138/

Decatur AL livin nt to 4 pits | 1/09/2013 6:20 PM | Flag
...and then, further on down the road near Charleston in Berkeley Co SC - Quinton and Chantel McGrew, whose infant son Aiden McGrew was dismembered and killed in April of 2012 by their dog - are back in the news - it seems Aiden's older brother has been bitten in the face by the "family dog".

bitbypit | 1/09/2013 7:03 PM | Flag
At first glance of the Greenwood County fatality, we actually thought it was the Spartanburg woman.

tropical storms | 1/09/2013 8:32 PM | Flag
How is it that the McGrew parents, having lost one child to a dog, have another human aggressive dog in their home? What the hell is going on here?

vintage | 1/10/2013 2:57 AM | Flag
Well...On the bright side, at least the Pit Bull community made it 8 days into 2013 before killing someone....

US Piticde number: 354


The interesting thing about the McGrew case...That was the first American child mauled to death by a Golden Retriever since 1974.....That's 38 years. The wasn't even a Golden Retreiver DBRF listed in the 20 year CDC Report.

The Pit community can't even go 38 days between child DBRFs!

* Disclaimer...You Can't Make This Stuff Up!

Packhorse | 1/11/2013 8:09 AM | Flag
Four Injured In Dog Attack

Reason for pit bull terrier's behavior remains unknown

("Being a pit bull terrier" not considered.)

http://theintelligencer.net/page/content.detail/id/579738/Four-Injured-In-Dog-Attack.html?nav=515



Patricia Benson | 1/11/2013 1:10 PM | Flag
http://www.19actionnews.com/story/20292633/pet-owner-outraged-after-pit-bull-attack


more and more this does not include the newest attacked today...


Putme Incharge | 1/15/2013 4:35 PM | Flag
As usual these days, the inmates are running the asylum-

"Angy Hall, of the Greenwood Humane Society, said the dog was very submissive Wednesday, but because of the fatal incident, it had to be put down.
Hall speculated that given its history, the dog was likely just being protective of the children"

Dogs attacking family members has nothing to do with protecting anything.
It has to do with being a dangerous animal from a breed that is not fit to be a pet. Wouldn't it be nice if just ONCE someone from AC or the Humane Society would say something to the effect "its a pit bull, what do you expect"

http://www.dailymail.co.uk/news/article-2260430/Grandmother-13-mauled-death-pet-pit-bull-babysitting-young-grandkids-witnessed-bloody-attack.html

Putme Incharge | 1/15/2013 4:40 PM | Flag
I try NOT to read comments on news articles, but this one takes the cake..from the UK Mail Online Article I linked above.

"This is indeed tragic. I love pit bulls, they are wonderful dogs. They are very protective of their family members, especially children. But, they should always be safely contained when their adult masters are not present. A babysitter, even if the dog knows them well, is never fully in charge of a house containing a Pit bull. You never know what a dog will consider as a threat. Even with the most calm, loving and adoring Pit bull, reprimanding a child could turn deadly in an instant. Assure the health and safety of both dog and sitter, contain your Pit bull before you leave....
- Common Sense , US, 11/1/2013 16:03"

And anyone would think that is a normal kind of dog to live with, and that kind of behavior is a virtue?





Sputnik2009 | 1/22/2013 4:46 AM | Flag
I've seen enough photos of the SO-CALLED Golden Retriever in the first McGrew case to say for sure that it was part pit bull. Just for the record, okay?

Meanwhile, as I understand the pit freaks, a pit bull never attacks unless it was trained to do so. So I suppose the son's wife hated her mother-in-law and secretly trained the pit bull to attack Grandma. Or maybe the son hated his mother and did the training.

How's that for a pit-freak certified reason to press criminal charges?

Packhorse | 1/22/2013 5:12 PM | Flag
It's NORMAL for the family dog to attack Grandma?! ANY dog would do it?! People who live with normal dogs know how false and offensive this statement is.

Putme Incharge | 1/24/2013 11:13 AM | Flag
RE:: Revelation that dog had killed the families Siberian Husky.

Wait a minute, one of the nutters favorite claims is that "animal aggression is different then human aggression".

Those of us in reality know that is bologna since prey drive is prey drive. It just depends on what the pit bull decides is prey that day.

Putme Incharge | 1/24/2013 2:10 PM | Flag
This comment has been removed by a blog administrator.

Sputnik2009 | 1/25/2013 5:45 AM | Flag
There's no such thing as prey drive. Even if there were, which there isn't, not even in wild hunting species, let alone in domesticated species, it would have nothing to do with why pit bulls kill. No need to introduce more misleading misconceptions into a topic that's already so full of them.

The reason why animal aggression in a case like this is no different than aggression towards humans is: The dog that kills another household member is showing that it's willing to kill members of a species it perceives as social partners, even those that belong to its permanent social group. Since we humans also are in the social-partners category the domestic dog lives with, the killing of another dog in the house means the killer dog won't hesitate to kill one of us too, even if we are family members.

Thank you.