Monday, October 15, 2012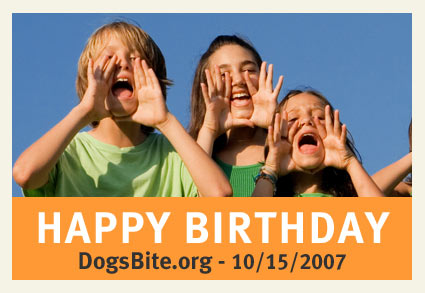 DogsBite.org Turns Five-Years Old
DogsBite.org - October 15, 2012 marks the fifth year that DogsBite.org has been operating on the World Wide Web,
documenting statistics
and
providing resources
to help prevent serious dog attacks. Our news comes on the heels of a press release issued for the
upcoming October Tucson event
: Walk for Victims of Pit Bulls and Other Dangerous Dogs. National dog bite victims' advocates, including founder
Colleen Lynn
and
Anthony Solesky
will be speaking at the event.
DogsBite.org hopes to see you in Tucson, Arizona on October 27!
A world of change has occurred since last October, starting in January when
Animal People
editor Merritt Clifton released a
30-year summary of Dog Attack Deaths and Maimings, U.S. & Canada
. The report shows a great escalation in pit bull maulings in the past 10 years. Furthermore, 39% of pit bull attacks involving serious injury and death in the last 30 years have occurred since 2007 alone, when national animal groups ramped up their pit bull advocacy due to
Michael Vick
.
In April 2012, the highest court in Maryland set off a firestorm by declaring, "
pit bulls are inherently dangerous
" and attached strict liability when a pit bull attacks. DogsBite.org launched the
Maryland Dog Bite Victims Advocacy
web page and email alert list to help citizens and groups take action to support the Court's decision. After a failed attempt by Maryland legislators to
override the Court's ruling in August
, the Pit Bull Task Force is set to
meet again on October 25
.
News about the Pit Bull Task Force arrives as fatal dog attacks in the United States reach record-breaking frequency. From September 1 to October 4,
nine U.S. citizens were killed by canines
. 67% of these attacks involved pit bulls, of these attacks, 100% involved a pet pit bull killing a family member. The U.S. is on track to surpass 40 fatal dog attacks for the year of 2012. Without the growing dog bite victim advocacy movement, there would be even more fatal dog attacks.
Angels Are Among Us
DogsBite.org thanks our
contributors and readers
for helping us reach five-years old. We thank the many individuals who have started
their own advocacy blogs
and those who are speaking out in comments after horrific pit bull maulings. We thank the Facebook Pit Bull Regulation Project and all of its members. We thank
Miss Universe Canada, Sahar Biniaz
, for courageously calling for a provincial pit bull law and sharing her own story of being attacked by a family pit bull.
2012 marks an unforgettable year for raising awareness about victims of serious and fatal dog maulings. Many unforgettable moments have yet to be played out as well. These amazing moments will unfold in just over 10-days in the City of Tucson, Arizona at the
first ever Walk Event for dog bite victims
. To the local grassroots organizers of the event,
Melissa "Mellie" Baze and Matthew Pimple
, DogsBite.org and our readers send our warmest and heartfelt thanks.

Donations to DogsBite.org are tax-deductible
Help keep our mission of prevention alive by contributing today
Related articles:
09/02/12:
Miss Universe Canada Joins Call for Provincial Pit Bull Law in British Columbia
08/15/12:
Anthony Solesky, Father of Pit Bull Mauling Victim, to Testify at Hearings
06/11/12:
Tucson Activists Announce Date for Walk Event to Raise Awareness for Victims...
06/08/12:
DogsBite.org Launches Maryland Dog Bite Victim Advocacy Web Page...
03/30/12:
Maryland Court of Appeals Holds Pit Bull Owners and Landlords Accountable...
03/05/12:
DogsBite.org Announces Neighborhood Safety Campaign and New Brochure...
01/16/12:
30-Year Summary: Dog Attack Deaths and Maimings, U.S. & Canada
10/15/11:
Announcement: Happy Birthday DogsBite.org and Gratitude from a Reader
10/15/11:
Founder Colleen Lynn Reflects Upon Four Year Anniversary of Her Attack
05/08/11:
Announcement: DogsBite.org Receives 501 (c)(3) Tax-Exempt Status
Labels: Animal People, Announcement, Anthony Solesky, Court of Appeals, Happy Birthday, Inherently Dangerous, Melissa Blaze, Michael Vick, Miss Universe Canada, Pit Bull Statistics, Supportthecourt, Tucson

Please donate to support our work
DogsBite.org is a 501(c)(3) tax-exempt public charity organization. Learn more »
posted by
|
permalink
|
10 comments
|

email
|

blog rss
|

comment rss

10 comments:

Your Quiet Neighbor | 10/15/2012 9:20 PM | Flag
We in Tucson are looking forward to welcoming the DogsBite.org crew to our city. And we will proudly walk with you on October 27th!

april 29 | 10/15/2012 10:07 PM | Flag
Happy Birthday DBO, a memorable five years. Thank you Colleen!

Decatur AL livin nt to 4 pits | 10/16/2012 7:24 AM | Flag
Happy Birthday DBO and thank you Colleen and all those involved with helping victims in any way. I will not be in Tucson physically, but I will be with all of you in spirit. I will be looking forward to seeing pictures and video hopefully and reading each and every word. I am so honored to be a supporter of DBO !!!

Putme Incharge | 10/16/2012 9:50 AM | Flag
Happy Birthday Dog Bites Org.

You have been an incredible voice out there.

I wish there was a way I could attend the walk. I will be there in spirit.

bitbypit | 10/16/2012 10:12 AM | Flag
DogsBite.org will be documenting the event with a video cam! Should have lots of segments to edit when we return to Texas!

snack sized dog | 10/17/2012 2:49 PM | Flag
Happy Belated Birthday Dogsbite.Org! It is hard to believe that only 5 years ago attack victims and absolutely no resources, no support, and nowhere to turn. It is hard to believe that this massive compendium of resources was assembled in only 5 years. It is hard to believe what strides have been made by Colleen and DBO in 5 years.

The Walk for Victims seems to be marking the very beginning of a second stage in development. Congratulations to you all and I can't wait to see the videos!


Anne King | 10/18/2012 6:58 AM | Flag
Happy Belated!!! Thank you for all the support through our 14 months post attack. Within hours of arriving home after getting home from the hospital, our son now with a face full of stitches from a pit attack, a friend sent me a link to dogsbite, our lives felt supported from that moment on.

Anne King | 10/18/2012 6:59 AM | Flag
Happy Belated! Within hour of arriving home from the hospital, my son's face full of stitches after the pit attack, a friend sent me a link to dogsbite. From that moment on, my family felt support and now a connection to those that understand and care. Thank you!

vintage | 10/20/2012 6:06 AM | Flag
There's been 100 Americans killed by Pit Bulls since DBO started in 2007.

The Dog Lobby hates DBO because no one was supposed to know...might affect profits....

Great Job DBO!!!!!!!!!!!!!

BanTheBull | 10/23/2012 4:36 AM | Flag
Pit bull owners beware. Owning a pit bull causes chihuahua bites! Reading the comments on news stories I see where the greatest majority of pit bull owners confess to having been bitten by a chihuahua. One can only conclude that pit bull ownership causes chihuahua bites. Wish I could be in Tuscon for the march. Beware of chihuahua's.