Thursday, September 29, 2011
Mother of Child Killed by Dog Sentenced to Probation by Judge
Valerie Grace Carlson, 30-years old, sentenced after the mauling death of her son.
Mother Sentenced
archived
UPDATE 09/29/11:
The mother of a 2-year old boy mauled to death by a dog while she was in a "drunken stupor" in her Tierrasanta home was sentenced to 5-years probation. Valerie Grace Carlson, 30, was also ordered by Judge Laura Halgren to complete a one-year jail term. Since her arrest back in April, combined with good behavior credits, she has already spent the equivalent of 313 days behind bars, leaving her with only a month more to of jail time to serve, reports 10 News.
Judge Halgren said that if she fails to complete probation, Carlson will be imprisoned for eight years for her "inexcusable conduct" on July 31, 2010. In June, Calson -- who has three other children -- pleaded guilty to four counts of child endangerment. One of those counts was in connection to the mauling death of her son, 2-year old Aaron Carlson. While the mother was drunk on a couch downstairs, Aaron was left alone to deal the dog that was "hyper" around children.
04/28/11: Mother Arrested
archived
In an unusual development, authorities have arrested Valerie Carlson, 29, the mother of a toddler who was mauled to death by the family dog last July. At the time of the attack, the family had been living in Tierrasanta, a military housing area. The mother had been asleep on a couch downstairs, when the dog attacked Aaron Carlson in front of his three siblings upstairs. Carlson is facing five felony counts of cruelty to a child with possible injury or death and a prison sentence of 19 years.
San Diego police Detective Cindy Brady wrote in the declaration that the left side of the boy's face had been torn off and he had no skin in the middle of his face. The child's nose and cartilage were gone, the detective wrote.
The victim's three siblings were in the home at the time and their father was away on deployment, according to the detective.
According to the declaration, Valerie Carlson told detectives she had a friend visit her home the night before and drank four to five Jim Beam bourbon and Coke drinks, starting about 9:30 p.m.
Carlson said she normally put the dog, a German shepherd named Zeus, in a crate at night, but on that night didn't feel like it, according to the declaration.

- CBS 8, May 5, 2011
08/01/10:
Death Ruled an Accident
archived
The San Diego County Medical Examiner's Office ruled the death of Aaron Carlson an accident. Police said the family dog, named Zeus, fatally attacked the young boy Saturday in a military housing complex while his three siblings were in the same room. According to police Lt. Rick O'Hanlon, no criminal charges are pending against the mother who was home during the event. An autopsy showed the boy died of bite injuries to his head and neck. The dog was put down.
It is important to point out that when fatal dog attacks occur on military base housing, the military greatly limits U.S. media access. In the most recent incident involving Aaron Carlson,
reporter Doug Kolk
states in an early video, "Because this occurred inside military housing, this is as far as we can get to the crime scene." The media has even less access when the incident actually occurs on base, such as the deaths of
Julian Slack
(2008) and
Dandre Fisher
(2007).
Despite this truth, pit bull defenders are already
clamoring
to call the mauling death of Aaron Carlson another "
media conspiracy
" against pit bulls by under reporting this fatal dog attack.
07/31/10: Child Killed by Family Dog
San Diego, CA - In a developing story, a 2-year old boy was mauled to death by a family dog in Tierrasanta, a military housing area within the City of San Diego. According to Police Department Sgt. Ray Battrick, the incident happened at 11:33 am at a home on Lofberg Street. The boy was attacked in front of his siblings in an upstairs bedroom, while the mother was sleeping on a couch downstairs. The father is an active serviceman and currently deployed overseas, Battrick said.
The family has owned the dog, a 1.5-year old German shepherd-mix, for about 6 months.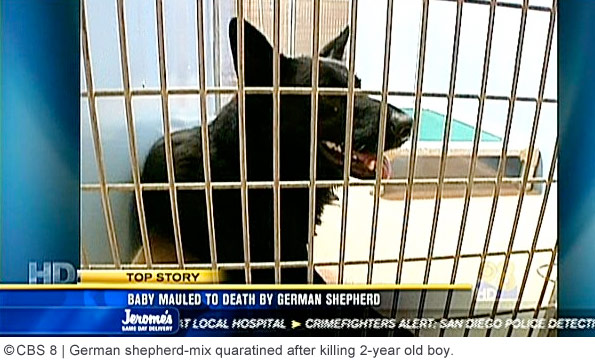 Related Related articles:
01/15/10:
Great-Grandmother Charged in Fatal Pit Bull Mauling of Izaiah Cox Dies Before Trial
08/21/09:
Editorial: Deflating the "Media Conspiracy" Fueled by Pit Bull Groups
05/15/09:
2009 Dog Bite Fatality: 2-Year Old Boy Killed by Chained Pit Bull in Luling, TX
Labels: 2010 Dog Bite Fatality, Criminal Charges, Media Conspiracy, Military Dog Bite Fatality, Rescue or Rehomed Dog Kills, San Diego County

Please donate to support our work
DogsBite.org is a 501(c)(3) tax-exempt public charity organization. Learn more »
posted by
|
permalink
|
11 comments
|

email
|

blog rss
|

comment rss

11 comments:

trigger770 | 7/31/2010 10:32 PM | Flag
Dog photos are here:
http://www.cbs8.com/Global/story.asp?S=12905136

trigger770 | 8/01/2010 11:41 AM | Flag
Take a look at some wolf hybrids DogsBite, they do not all carry the common color characteristics of wolves. Of course the breeding history must be known:

http://www.nevercrywolfrescue.com/placed.asp
http://www.wolfsanctum.org/gallery/albums/inmemory/angel/
http://dancingbrookelodge.org/images/Alphas.bmp

cravendesires | 8/01/2010 12:58 PM | Flag
they are calling this a gsd mix but i don't see any other breed in there.

i bet the pit/rott nutters are quietly celebrating this death because it occurred in military housing.

Sandra | 8/01/2010 5:25 PM | Flag
It looks, from that one picture, like a Malinois cross to me. And you know which breed is currently being crossed with the Malinois and sold as the ultimate guard dog in southern CA, right?

I would place my bets that that dog is a Malinois/Pit cross.

P. | 8/01/2010 9:06 PM | Flag
Trigger, I see some of the dogs on the links are with a CA rescue. You have to have a permit in CA for a wolf hybrid. I think I might report this group. I know of no other groups adopting out hybrids.

It was hard to tell from the picture but it looked like a Belgium SheepDog to me. I say that because it looks a great deal like my dog and he is a chow mix but can easily pass for a BSD until he opens his black mouth.

CKing | 8/02/2010 10:12 AM | Flag
That's an excellent point about the reporting being affected by the military's ability to control media access.

And as far as the new report video, the reporting seems exactly like reporting of pit maulings. They show the video of the stressed out animal in a cage, and then they go on to point out how high the GSDs are on the dangerous dogs list.

What they don't ever mention is the fact that rotts are a distant #2 and GSDs are a distant #3 after pits as #1.

trigger770 | 8/03/2010 10:10 AM | Flag
Siblings of boy mauled by family dog are taken by Child Welfare:
"The move to take custody of the three other children is a routine precaution while officials determine whether their parents can adequately care for them, authorities said."
---
http://latimesblogs.latimes.com/lanow/2010/08/dog-boy-mauled-siblings-san-diego-county.html

Donnie Brasco | 8/03/2010 3:45 PM | Flag
That is the first german shepherd fatal attack in a long time.

craven desires | 4/29/2011 2:05 AM | Flag
hey, maybe she can get a change of venue to judge thomas a. smith's court.

maultalk | 4/29/2011 9:26 AM | Flag
I think Dad came home and raised some holy hell. Can't say that I blame him. Five felonies is no joke. Destroyed lives all over the place in this case. Welcome to the U.S. prison system Valerie. You are going to be "enrolled" for quite some time.

daniella | 5/06/2011 12:26 AM | Flag
One is a dangerous beast, the other is a monster. One is going to be pumped full of phenobarbital to be euthanized, the other is going to be inside a cage for quite a while. Like owner, like dog.

Good job, Valerie. You get the most ironic life this week award. Enjoy prison.