Tuesday, April 6, 2010
Alexander's pit bull image and a 2nd Klan ceremonial robe.
After the Parade
On March 13, 2010, Jere Alexander, the former Director of the Fulton County Animal Shelter, posted another
dogfighting embroidery image
to Pit Bull Patriarchy, a website that she contributes to under the name Spotted Dog Farm. She also posted the image to her own blog. Alexander was
forced to resign
after an investigation by Fox 5 News showed her making questionable decisions regarding shelter pit bulls, her own pit bulls and her
links to dogfighting
.
After the Fulton County Animal Shelter scandal, Alexander applied for and received a grant from Emory University for "
Stitch 'Er Up: Dogfighting Embroidery
." It is unknown why anyone could receive a grant for the expressed purpose of romanticizing dogfighters and fighting dogs of a bygone era (See the real:
Your Friend and Mine
and
Honeybunch
1
). She even depicts the mating of
Fanny and Redboy
, which produced the infamous
Bailey's Bingo
.
2
Dogfighting is a violent and illegal bloodsport. There is no form or function in "romanticizing" this blunt truth.
Brief History of the KKK and Dogfighting
One cannot discuss the meaning of Alexander's "After the Parade" image without first discussing the interwoven history of the Ku Klux Klan and dogfighting. In a 2005 online forum hosted by Best Friends, Merritt Clifton, editor of
Animal People
, does just that. Please review Clifton's discussion in full (See:
Racism and Pit Bull Terriers
). He powerfully describes the historical and present racial issues involved in dogfighting and the history of the pit bull.
Snipped portions:
"From [1905] until the early 1980s, dogfighting was almost exclusively a fundraising activity of the Klan and Klan splinter groups, along with cockfighting and pigeon shoots. As recently as the early 1930s, Klan chapters would openly advertise dogfights, cockfights, and pigeon shoots. As overt racism became less and less respectable, along with cruelty to animals, the ads became more discreet..."

"If the Imperial Grand Wizards of the Ku Klux Klan had devised a plot about then to do the maximum possible damage to Afro-Americans, they could not have concocted a more diabolical scheme than to introduce dogfighting to black inner cities.
With the proceeds from dogfighting in decline for generations, there was no longer any reason to keep it as an exclusive franchise, while unleashing pit bull terriers amid crowded housing projects and multi-family small framehouses full of little kids was a surefire way to kill and maim many more children, faster, than the Birmingham Bomber ever dreamed of..."

"While there are human victims among all classes and ethnic groups, Afro-Americans, especially Afro-American children, have suffered most.
Failing to fully integrate the Afro-American community into humane work during the 20th century, after a promising start in the 19th century, was the first great dereliction of duty toward Afro-Americans of the U.S. humane movement.
The second was failure to keep dogfighting from spreading into the Afro-American inner city, from the most racist niches within white America..."
Potential Meaning of Alexander's Image
Let's first start with the title. Klan members were the most visible to the public
during their parades
. "After the Parade" suggests a lack of this presence. It may also represent modern times. Thousands of Klansmen no longer march down our streets. Moreover, white supremacists are currently feeling besieged and threatened with an African American serving as the president. In this light, the title might also reflect the current state-of-mind of such groups.
The central colors of the image are white, red and black, the same colors that make up the Klan's current logo, which consists of four connected K's and a "Christ blood drop" in the center (The "Christ blood drop" is
historically inaccurate
; it was adopted
during the 2nd Klan
,
3
1915-1944, for propaganda purposes). The dog depiction is all white except for the logo, much like the Klan's ceremonial robe. The shapes around the dog suggest large teardrops.
The hanging of the pit bull is emphasized by a loose rope that is not stitched into the fabric. What goes hand-in-hand with the Klan is the lynching of thousands of innocent African Americans. What goes hand-in-hand with dogfighters is the hanging, torturing and shooting of "cur" pit bulls -- dogs that lost or refused to fight. Finally, the image looks strikingly like a homicide scene where police have chalked the outline of a dead human body.
We have several theories on the meaning of Alexander's embroidered image, but we do not know from where her original "artistic" idea actually sprung. Presently, there are well-educated people from the South that grew up thinking and still believe that the KKK is a "misunderstood" community service organization. Alexander may be one of these people and through her image attempts to convey the commonly voiced theme that pit bulls are also "
misunderstood
."
In terms of romanticizing the "golden years" of dogfighters, from 1955 to 1975, the image might also represent the death of this period
and
the Klan's. By 1945, Klan membership had fallen below 30,000. Today's media and the general public condemn racist groups and dogfighting. Federal laws have been enacted to protect citizens against hate crimes. All 50 states have criminalized dogfighting too. States formerly controlled by the Klan being the last ones.
Despite the large teardrops and sense of loss Alexander's image conveys, nearly no American misses the era of the Ku Klux Klan nor will we miss the
final extinction
of the dogfighting industry.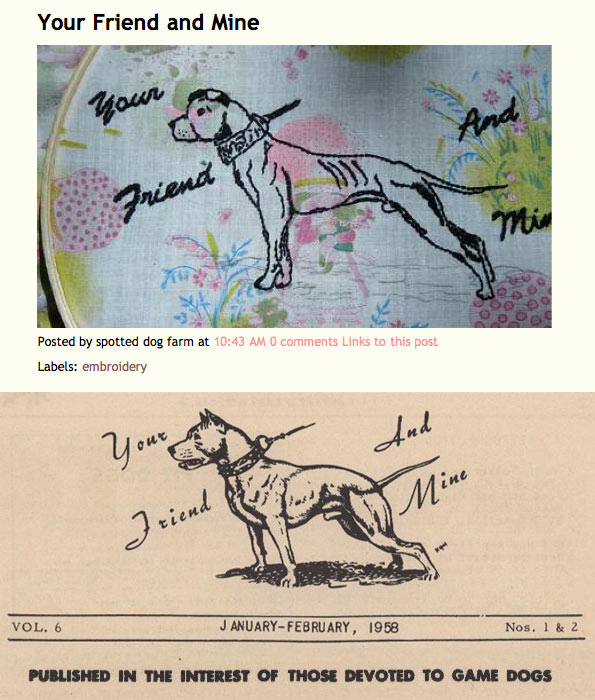 1
CH Crenshaw's Honeybunch, 3 time winner and Register of Merit (ROM). Honeybunch was the best producing female of all times, in that she produced the most fighting dog champions.
2
Bailey's Bingo's pedigree remarks, "1XW~ OVER A 4XW IN 1.27, NOT BAD FOR HIS FIRST AND ONLY TIME" translates into: He is a one time winner that beat a four time winner in one hour and 27 minutes.
3
There were many chapters of the KKK across the country during the 2nd Klan period, some depicting the original logo, The Mystic Insignia Of A Klansman (MIOAK) with a Yin Yang symbol in the center, others depicting the "Christ blood drop" in the center with the logo in its original "x" shape and still others turning the "X" shape into an upright cross to further appeal to Christians.
Related articles:
10/31/08:
Coverage of the Fulton County Animal Shelter - DogsBite.org
Labels: Animal People, Dogfighting, Jere Alexander

Please donate to support our work
DogsBite.org is a 501(c)(3) tax-exempt public charity organization. Learn more »
posted by
|
permalink
|
20 comments
|

email
|

blog rss
|

comment rss

20 comments:

Dark | 4/06/2010 6:29 PM | Flag
I have no idea what she's trying to say with that other than, "I'm a creepy lunatic who likes to torture dogs". Then again, "art" interpretation was never my forte. Is this art or a craft? If I petition Emory to give me money to sew pit survivor crafts, think I can get a grant, too?

P. | 4/06/2010 9:38 PM | Flag
Emory is a very exclusive, private college in Atlanta. Knowing it very well, I am surprised that they would be a part of this. If your readers would contact Emory, that would be good. I have already written to them awhile back when we learned of this grant. She may have a friend who got this for her and the higher ups may not know about it.

I lived at Stone Mountain which was owned forever by the family who was closely associated with the KKK. They had Grand Dragons in their family and the KKK used to meet at Stone Mountain. I did know that Grand Dragon and he was a dog lover to the point that they sat at the dinner table. But I never saw a pit at his house. Probably had them chained in the woods around his house. I think these dog fighters see pits as something other than a dog. I have no doubt that this man probably participated in dog fighting or at least knew his members did it. So he was probably chaining his pits while sleeping with his lap dog. He donated Stone Mountain to the State finally.

trigger770 | 4/06/2010 10:14 PM | Flag
Julie Gilchrist of the CDC, who openly opposes pit bull laws and ANTI-CHAINING laws, lives in Stone Mountain along with Sherri Self, who is married to a dogfighter, the owner of Bailey's Bingo!

http://blog.dogsbite.org/2008/12/who-wrote-cdc-fatal-dog-attack-report.html

lisa.yaeger | 4/07/2010 10:49 AM | Flag
That is some of the ugliest embroidery I have ever seen. I mean, it is just not well designed at all! I don't believe it is all done by hand. It looks to me like it was done with one of those embroidery machines. I'm sure she sewed on the appliques by hand - note the non-uniform stitching on those areas. Did you see the one "maul of doom" which has a kitten applique inside the pitbulls open mouth? Good lord! Remember how she got rid of all those cats and couldn't account for them? This woman is pure psycho. I also saw in one of her blogs that she is currently working in another shelter.

lisa.yaeger | 4/07/2010 11:58 AM | Flag
Correction: The pit bull eating the kitten is called, "gaping maw of doom." Charming, that one.

lisa.yaeger | 4/07/2010 12:03 PM | Flag
Sorry to go on about this one particular piece of, ahem, art, but another picture of the "gaping maw of doom" shows that it is done on a hanky, with red stains on it, and a doll head and leg next to it. I get the red stains -- blood. But what the heck is with the dismembered doll? And someone actually tagged that photo as a favorite and declares it, "So so so good!"

Creepy lunatic is right!

cravendesires | 4/07/2010 1:15 PM | Flag
i can't decide what is more shocking, jere's embroidery or emery's support of it.

i wonder if a campaign against emory is in order.

btw dark, i love your description of jere alexander, CREEPY LUNATIC.

Nic Giraffe | 4/07/2010 6:38 PM | Flag
Classy. No, I'm thinking of those other words to describe the embroidered image... weird and tasteless.

I'd swear she's trying to say that the "persecution" of pit bulls is actually comparable to what the KKK has done to minorities and their other targets over the centuries.

ItsATragedy | 4/08/2010 4:50 AM | Flag
"Julie Gilchrist of the CDC, who openly opposes pit bull laws and ANTI-CHAINING laws, lives in Stone Mountain along with Sherri Self who is married to a dogfighter, the owner of Bailey's "

This is the Center for Disease Control?

I am shocked that this is going on. This is a nuclear bomb for the American public.

There needs to be a government investigation of the CDC, because clearly special interests have taken over a government institution for the financial interests of these dog breeders.

Our safety and public health is at risk.

ItsATragedy | 4/08/2010 4:54 AM | Flag
And what kind of supposed health professional would advocate chaining dogs, which in essence turns dogs into Disease Vectors (heartworm, giardia which is transmissable to humans, ticks and tick borne diseases, other parasites like hookworm, etc), and attractants for wild animals which bring diseased wild animals into human/canine contact?

Dog fighters support dog fighting because it's a cheap way to raise aggressive dogs.

But a HEALTH PROFESSIONAL?

ItsATragedy | 4/08/2010 5:00 AM | Flag
What might be unclear to some readers (was to me at first) is that Stone Mountain Georgia is in Fulton County where Jere Alexanders's animal abuse, pit bull breeding and dog fighting interests (along with her husband's) were busted out in public by a media investigation.

ItsATragedy | 4/08/2010 5:02 AM | Flag
Does Julie Gilchrist have a connection to Emory University?

This whole situation reminds me of the Alane Koki debacle, a female supposed "professional" in the health field connected to dog fighting and related dog breeding interests.

ItsATragedy | 4/08/2010 5:04 AM | Flag
The connection between pit bull breeding, dog fighting, and white supremacists has really hit the news lately with the Jesse James affair, adding Nazism into the mix.

lisa.yaeger | 4/09/2010 10:48 AM | Flag
From her blog http://pitbullpatriarchy.blogspot.com/

" but we are familiar here, i think, with the fact that gender and sex and species all exist within discourse. they are all based on relationality and are mutable."

What the heck? Sex and species are mutable? This woman is sicker than any of us thought, I believe. This quote is from a rambling blog entry, and she defends NOT removing testes, giving only a few good reasons for it to be done, but never mentions that it reduces aggression. She says this, which I further find very disturbing:

"IMO the seeming "need" for cutting out all these organs has more to do with vets making money, coupled with the typical pet owner's desire to infantilize pets, and along with that, an anxiety around sexuality that is triggered by our pets' all-too-visible genitalia."

OMG.

lisa.yaeger | 4/09/2010 10:50 AM | Flag
And another thing -- she has a lot more pit bull embroidery on her blog -- many of them depict dogs that have obviously been in fights. Yet I have not seen her condemn dog fighting on her blog, nor mention the reason why she depicts dogs that have been in fights. She talks about showing their strength and loyalty, but that's it.

I think that smells really really bad.

P. | 4/09/2010 12:18 PM | Flag
I think Gilchrist is an alumni of Emory. It is a very exclusive law and medical school, considered one of the best. And yes, we do need a campaign against this at Emory. There's a lot of conservative people who support Emory and I can guarantee that none of them own a pit.

Dark | 4/09/2010 3:00 PM | Flag
Ah, yes, Jesse James, the pit advocate darling while "Cinabun" was missing. How quickly their "heroes" seem to fall. Kris Crawford, anyone?

ItsATragedy | 4/12/2010 1:36 PM | Flag
There was an expose of the links between Jesse James, his white supremacist iinterests, and involvement in dog fighting in the media.

http://www.youtube.com/watch?v=bcI0WiUtaeY

trigger770 | 4/13/2010 4:39 PM | Flag
And it is still going on:

Fight goes on against racism in community Goshen College events focus on continuation of King's work
Published: 1/20/2009 12:00:00 AM
Last Updated: 1/19/2009 10:49:58 PM

BY MARLYS E. WEAVER mweaver@etruth.com
"GOSHEN -- The day before Barack Obama's inauguration, programs at Goshen College celebrated the impact of Martin Luther King Jr. and the continuation of his work on the national and local levels. This year's activities emphasized the history and present-day issues of civil rights and racism in Elkhart County. Monica Tetzlaff of the Indiana University-South Bend Civil Rights Heritage Center offered historical background, while local families, including Adam and Maggie Williams' family, shared stories of racism in Elkhart County. Adam Williams grew up in Alabama, but "never experienced outrageous racism" until he moved to Elkhart, including a cross-burning in the family's front yard. "The cross burning was the head of two years of racism," he said. A few days before, Williams' daughter, Gabriela, stepped off the school bus outside her home while a neighbor commanded her pit bull to sic the young girl. The dog chased Gabriela all the way from the bus to her house as the neighbor yelled death threats.

lisa.yaeger | 4/23/2010 12:05 PM | Flag
Jere has closed her blog to the public, requiring one to register before being approved to view. She has also removed every bit of "Stich'er up" embroidery from Pitbullpatriarchy.com. That certainly begs the question, doesn't it?