Monday, November 9, 2009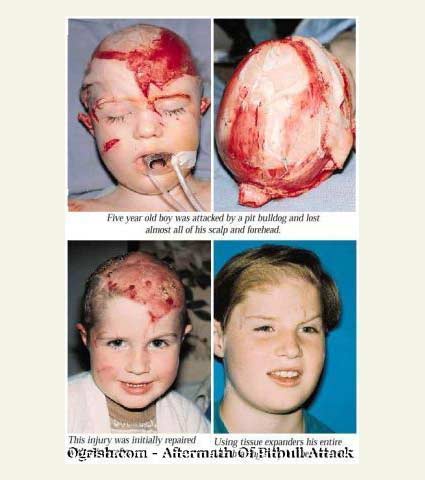 Photo text: "Five year old boy was attacked by a pit bulldog and lost almost all of his scalp and forehead."
Unnamed Victim
DogsBite.org - On October 31, a blogger named "
thinkinfyou
" wrote a post titled, "
Fear, Loss and Much Needed Legislation
." The post details a deadly attack inflicted by a pit bull on the writer's Chihuahua named Spotty. The four-month old pit bull apparently "feasted" on Spotty as its owner stood by and watched. This attack marks the third pit bull incident experienced by the writer, one of which includes being bitten. We've included a portion of the blog post below.
Also within the post is an undated photo of a pit bull attack victim. The five-year old boy suffered the loss of most of his scalp. If any of our readers know the name of this victim or any details pertaining to this attack, please leave this information in the Comments section. The photo was at one point published to
Ogrish.com
, a "shock" website that now points to
LiveLeak.com
. Depictions of pit bull injuries are frequently posted to "shock" websites, as these injuries are horrific.
We must also note that the pit bull attack victim website, pit-bulls.christianunfair.org, shows this same photo, but links to a story that
does not quite match
the photographed boy's injuries. This child, who could be a young man by now, may be American, Canadian, British, Australian or from a different country. Pit bull maulings that result in permanently disfiguring injury occur across the world everyday, which is why some countries ban the
importation and ownership
of pit bulls.
Fear, Loss and Much Needed Legislation


"The sight of walking out into my backyard and finding my fence ripped open and seeing my dogs right outside of the gate was enough to get me running, but as soon as I got to the opening, the horror that my eyes beheld stopped me in my tracks. This pit bull puppy had my chihuahua underneath him and when he heard me walk up, he lifted his head slightly to reveal that my dog's neck was gone. I panicked and started screaming, while the dog's owner came running to the scene. I felt a sense of relief feeling that she would be able to control her dog, but that was quickly replaced by terror, when the dog picked up my dog like it was just a stick and ran with him sagging out of his mouth. Not knowing what to do, I ran inside called the cops, and went back out the front door hoping to find her and her savage beast gone, but to my surprise, she had caught her dog and was allowing him to feast off my dog shaking and ripping flesh from him, right in my front yard. The sight of this was too much for my eyes and my stomach, for I started puking right there."
Related articles:
10/08/09:
Collection of Pit Bull Scalp Attack Victims - DogsBite.org
02/06/09:
Ecuador Joins International Trend: Bans Pit Bulls and Rottweilers as Pets
Labels: Scalp Injury

Please donate to support our work
DogsBite.org is a 501(c)(3) tax-exempt public charity organization. Learn more »
posted by
|
permalink
|
7 comments
|

email
|

blog rss
|

comment rss

7 comments:

FoolMeOnce | 11/12/2009 8:37 AM | Flag
Seeing this poor child's devastating injuries just breaks my heart. Someone has routinely posted the comment here that pits are a defective product and should be recalled. Over 1,000,000 strollers have just been recalled because of 12 reports of children losing the tips of their fingers, over a 10 year period. Boggles the mind, doesn't it?

Trigger | 11/12/2009 10:47 AM | Flag
Defective products not only get recalled, but the manufacturers get their *sses sued off, often in a class action suit. There are stiff penalties and loads of litigation to be sure when an American corporation creates a defective product. Lawyers are often the biggest winners in these cases. No such luck with breeders of dangerous dogs. Not only can these breeders -- backyard, kennels and otherwise -- breed indiscriminately without registration, licensing or any regulation whatsoever, they also have zero liability for their defective product.

FoolMeOnce | 11/12/2009 1:47 PM | Flag
Trigger, it is so hard to keep my brain from exploding when I contemplate the many layers of the pit bull problem. I get through by hanging my hat on Denver's successful BAN -- and that photo of the mere few dozen in a city of one million plus that came out to protest the ban. That bans can stand despite the pitnutters' pathetic nonsense.

Anonymous | 11/13/2009 4:25 AM | Flag
Of the pitiful dozen or so who turned out for that ban protest, how many do you bet actually LIVED in Denver? I'd wager only a handful. Nutters love to travel for protests and do it whenever they can.

P. | 11/13/2009 11:46 AM | Flag
The nutters don't realize that the more attacks there are, the more people are affected. Those affected people/family are spreading the word better than we can. There's a saying in real estate that for every satisfied customer, it means 5 more referrals. I think word of mouth will defeat the pits. Too many people are being affected and they are spreading the word. It's not just the person who was attacked, it is their family, their neighborhood, their church, etc. It's like a ripple on the water.

Anonymous | 11/18/2009 1:01 AM | Flag
I think some of the people at that "Denver protest" were interviewed by the media and even ADMITTED they didn't live in the state!

They were trucked in.

The dog fighters and breeders probably paid their expenses.

santa89 | 12/18/2010 1:46 PM | Flag
Thanks for writing a post about this. You've got a bunch of wonderful information here on your site. I'm very! I have a few blogs that I try to keep somewhat ongoing myself but it is a struggle sometimes. You've done a good job with this one. How do you keep up?