Wednesday, November 4, 2009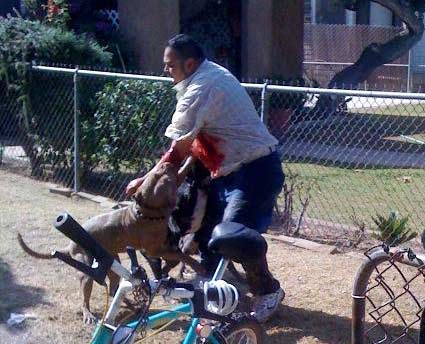 iPhone Snapshot
Bakersfield, CA - In a
rare photo
captured by Damon Hill via iPhone on Tuesday, 35-year old Steven Herrera is shown being attacked by three pit bulls in the front yard of his brother Salvador Romero's East Bakersfield home. Neighbor Andy Castaneda could hear Herrera's screams from four houses down. He was screaming, "Oh God, please somebody help me," Castaneda said. When 69-year old Castaneda arrived at the scene, he had no weapon except a hardwood cane.
"The big pit was chewing the man's arm off. It was horrible," Castaneda said. "I've never seen anything like that."

As neighbors gathered outside the fenced front yard of Salvador Romero, one shot a few photos with his cell phone. Others were reluctant to enter without a weapon to defend themselves against the powerful pit bulls. According to Castaneda (pictured right), by this point, "the man's arm was shredded." So he entered the yard, used the bicycle to shield himself, and started beating the dogs with his cane until they retreated long enough to get Herrera out of the yard.
Damon Hill also heard the commotion. "His son was outside the yard
crying and throwing up
," Hill said of the victim. Hill said he believes Herrera would probably have been killed had someone not intervened. "The dogs were just going wild," he said. Romero, who runs a backyard breeding operation, initially said he would not seek the return of the three pit bulls that are currently being held in quarantine, but later suggested he may want the two pregnant females back.
Related articles:
09/17/09:
3-Year Old Girl Airlifted After Backyard Breeder's Pit Bull Attacks
04/14/09:
Camera Catches Pit Bull Attack on Bichon Near Fort Collins
12/05/08:
Video: 4 Pit Bulls Kill Pit Bull in Owners Back Yard

Please donate to support our work
DogsBite.org is a 501(c)(3) tax-exempt public charity organization. Learn more »
posted by
|
permalink
|
18 comments
|

email
|

blog rss
|

comment rss

18 comments:

cravendesires | 11/04/2009 2:30 PM | Flag
an awesome find dogsbite!

Trigger | 11/04/2009 2:53 PM | Flag
"Davis, who has seen more than her share of dog bite victims, said having access to dogs of such ferocity just by lifting a gate latch is a safety issue in the neighborhood."
---
City Animal Control Field Supervisor Tammy Davis

Sandra | 11/04/2009 2:54 PM | Flag
Look at the fence behind the victim - quite a containment area for dogs that are known to jump 9-12 foot obstacles with relative ease. And of course they're going to return them so that they can hop the fence and wreak that kind of damage on someone's child or grandparent next.

cravendesires | 11/04/2009 2:56 PM | Flag
even if there was a padlock on the gate, dogs of such ferocity behind a 4 ft chain link fence is still a safety issue.

Anonymous | 11/04/2009 4:40 PM | Flag
Classic Level 5 Mauling...The hallmark of the breed!

How do you tell the difference between a meth dealer, a dog fighter and a Pit Bull breeder?

Answer: You don't!

bluesmom | 11/04/2009 6:15 PM | Flag
The world really needs the puppies of these maulers... one can only hope the legal system will not return the dogs to Romero. How can one brother have so little concern for another brother?

Anonymous | 11/05/2009 1:33 AM | Flag
How can a breeder have such unconcern for the safety of the animals he is breeding? Come on, pit nutters, what happened to "man biters are always culled"?

Anonymous | 11/05/2009 2:18 AM | Flag
This man is very lucky that Mr. Castaneda appeared with a cane to beat the dogs off him. The pit bulls were in the process of "pulling him to the ground" to attack him fatally. Perhaps due to his weight and strength, Herrera was able to stay upright. How many of us could say the same with three pit bulls, biting, tearing and pulling you to ground?

bitbypit | 11/05/2009 11:51 AM | Flag
If Damon Hill finds this blog post, please send all of the photos taken to DogsBite.org (info@dogsbite.org)

Anonymous | 11/06/2009 2:28 AM | Flag
Another documented human aggressive breeding operation! Anxiously awaiting the "responsible" pit bull community to condemn it....We'll probably just get another Pits wearing tu-tu's awareness march instead.

Anonymous | 11/06/2009 4:59 AM | Flag
These pups probably have increased street value with Bakersfields meth dealers after a documented Level 5 mauling.

When is the Pit Bull community going to "grow up?!?

Melissa | 11/06/2009 9:34 AM | Flag
I will never understand the fascination with these vile creatures.....Then again I'm not a sociopath. Seriously , if someone tells me that they own a pitbull that tells me all I need to know about them.

I bet that man hasn't expressed any concern for his brother.

Anonymous | 11/09/2009 3:42 PM | Flag
This is an illegal backyard breeding operation, not reporting income and not paying taxes!

The IRS and state tax officials need to be doing a full investigation.

Anonymous | 11/09/2009 3:46 PM | Flag
From what I have heard, the Bakersfield area is a nest of dog fighters, puppy mills, hoarders, and tax cheat illegal breeders.

Why? No regulations, so these crooks can get away with this.

The authorities let dog fighting go on literally under their noses.

When will Bakersfield decide that it doesn't want tax cheats endangering their lives and abusing animals?

Anonymous | 11/17/2009 5:15 AM | Flag
It's is not only lack of income declaration.... everytime a breeder sells a dog they are required to collect and remit sales tax.

California and Indiana is starting to go after them...

On the bright side, these dogs were euthanized, including the pregnant human aggressive females.

Trigger | 11/17/2009 10:46 AM | Flag
An absolute shocker the brother did not go after the puppies!

"Three pitbulls that mauled a man in an east Bakersfield yard were set to be euthanized Tuesday at the end of a 10-day quarantine. "The owner will not be redeeming the dogs," city animal control Supervisor Tammy Davis said Monday. "They won't be released to a rescue or anything like that because of their behavioral history."
---
http://www.kget.com/news/local/story/Pitbulls-to-be-euthanized-following-attack-caught/ZavnHqwdtE274T-lD74Udg.cspx

Cheers to 12 or more new potential maulers that will not be!

Anonymous | 11/18/2009 10:06 AM | Flag
Nov 17, update:

"ON THE DAY OF THE ATTACK, ROMERO ASKED ANIMAL CONTROL OFFICERS IF HE COULD GET SOME ROTTWEILERS TO PUT BACK IN HIS YARD TO PREVENT THEFT. DAVIS HAS ALSO HEARD HE MAY HAVE ANOTHER PIT BULL."
---
http://tinyurl.com/yl7q5rl

highwayman999 | 3/05/2011 6:43 PM | Flag
This shows that virtually all pit bull breeders are sociopathic and can't be trusted. This assclown wanted the pregnant females back after HIS mutant dogs almost mauled his own brother to death. I'm convinced pit bull owners are antisocial cowards. How could ANYONE with any kind of human decency and conscience want a pair of dogs back that almost killed a family member? This true account says a lot about the amoral character of people who breed and own these very dangerous animals.