Wednesday, January 23, 2008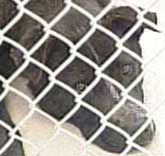 Dog Mauls, Kills Another Dog
Philadelphia - A disturbing dog attack could lead to charges against Henry and Lattice Davis. Animal control officials said a Chow mix mauled, killed and partially consumed a 3-month-old Akita puppy.
"It was the most brutal attack I've ever seen," Bev Greco, executive director of the Cumberland County SPCA, said.
Greco said one of the Chows that lived with several others in an adjacent house broke free and attacked the Akita. The owners of the Chows, Henry and Lattice Davis, who have five dogs in all, face serious charges including cruelty and neglect. The owner of the Akita could face abandonment charges.

Please donate to support our work
DogsBite.org is a 501(c)(3) tax-exempt public charity organization. Learn more »
posted by
|
permalink
|
2 comments
|

email
|

blog rss
|

comment rss

2 comments:

Anonymous | 1/23/2008 9:49 PM | Flag
Has this chow been shaved or undergone some kind ear augmentation? What happened to the small erect ears and thick fur?
Or is this what they are calling pit bulls now?

Packhorse | 8/01/2011 5:41 PM | Flag
The stripe down the face is another clue. I've never seen that type of marking on a Chow.