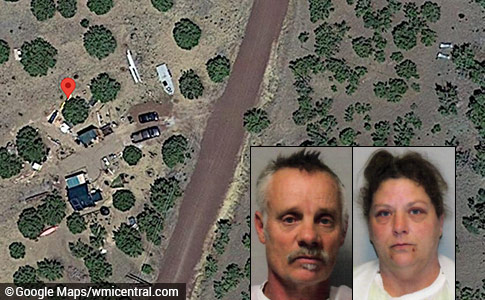 Two adults were arrested after a child was killed by three pit bull-mixes in Apache County.
Child Killed by Dogs
Apache County, AZ - A 2-year old girl is dead and two adults have been charged after three dogs attacked the toddler. On June 21, at about 5:00 pm, the Apache County Sheriff's Office (ACSO) received a call for assistance for a child severely injured in a "domestic dog attack," according to an ACSO report. Deputies responded to a home at 40 County Road 3043, south of Concho. The child was taken to Summit Regional Medical Center in Show Low, where she later died.
After investigating, deputies arrested the owners of three pit bull-mix dogs. Jason Brad Kruse, 50, and Tonjia Maria Chubokoff, 51, were arrested and booked into the Apache County Jail on one charge of aggravated assault with a deadly weapon -- which is a class 2 felony because of the victim's age -- and assault by a vicious animal at large, a class 5 felony, reports the White Mountain Independent. The remote location of the attack lies between Phoenix and Albuquerque.
The first charge, aggravated assault with a deadly weapon, is a charge we rarely see in fatal dog maulings, as it clearly speaks to "intent." Prosecutors in Oklahoma tried several years ago, but the witness who allegedly observed this intent (commanding his pit bulls to attack), was unreliable. Also, a woman in Kentucky, who went "redneck" on a man, beating him and commanding her pit bull to attack him, accepted a plea in 2022 and was sentenced to 20 years in a state prison.
View the DogsBite.org Google Map:
Arizona Fatal Pit Bull Maulings
.
Related articles:
11/09/22: 2020 Dog Bite Fatality: Woman Charged with Murder After Violent Pit Bull Attack
05/09/22: 2020 Dog Bite Fatality: Violent Pit Bull Mauling in Tulsa; Owner Charged with Murder
---
Baseline reporting requirements:
Law enforcement departments across the United States should release consistent "baseline" information to the media and the public after each fatal dog mauling,
including these items
.