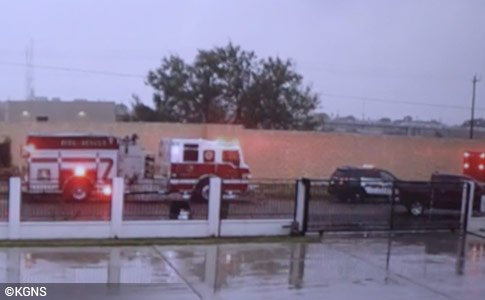 A migrant woman was found dead Tuesday morning after a suspected dog attack.
Woman Found Dead
Laredo, TX - On Tuesday morning, a woman was found dead with bite marks on the sidewalk of the 300 block of River Front Street. The Webb County Medical Examiner's Office conducted an autopsy. Officials believe the woman was in her 20s, from Guatemala and had crossed the Rio Grande when she was attacked by one or more dogs. She sustained multiple bite marks, which resulted in her death, the medical examiner said. It is unknown what types of dogs attacked her.
"Foul play was not found at this preliminary phase of the investigation nor has an official cause of death been finalized. The investigation has revealed that there was evidence of an animal attack on the victim," police said in a statement. Police also said the that the victim had crossed the border illegally. Authorities have not identified the victim, pending notification of next of kin. Residents say that issues and attacks by loose and stray dogs is common in the neighborhood.
Age of the Victim
Persons in their 20s is a rare age group for victims of fatal dog attacks. Of the 569 people killed by dogs from 2005 to 2020, only 11 females fell into the 19-29 age group, less than 2% of all deaths. 91% of these attacks (10 of 11) involved pit bulls. A Dogo argentino inflicted the other death. Among males 19-29 years old, there were 10 deaths, also less than 2% of all deaths. 90% of these fatal attacks (9 of 10) were carried out by pit bulls. A rottweiler inflicted the other death.
Earlier this week, Kimberly Dawn Morris, of McLean, was found dead in Gray County, Texas. Authorities initially thought it was a homicide -- they thought the woman had been stabbed. The autopsy results, however, determined it was an "animal attack." Currently, it is unknown what animal species were involved. There were no witnesses to the attack, but it did occur in a rural neighborhood with dirt roads. The most likely culprit is one or more loose dogs, not wildlife.
---
Join Texas Dog Bite Victims' Advocacy - Join our Texas email list to stay informed
Related articles:
01/18/18: Persistent 'Wild Animal' Theory Finally Derailed, Elderly Man was Killed by Dogs
---
Baseline reporting requirements:
Law enforcement departments across the United States should release consistent "baseline" information to the media and the public after each fatal dog mauling,
including these items
.