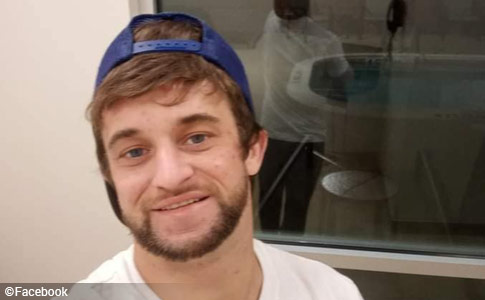 Rusty Shane Burris, 32, was killed by an "alligator" pit bull in Polk County, Tennessee.
Pit Bull Kills Man
Polk County, TN - Over the weekend, a dog killed a man in Polk County, according to the Polk County Sheriff's Office. The fatal attack occurred early Sunday morning at a home on Swallows Drive in Old Fort. Deputies arrived at the scene just after 2:00 pm with EMS personnel. Deputies found 32-year old Rusty Shane Burris unconscious and unresponsive. He was pronounced dead at the scene. Sheriff Steve Ross said the canine, a pit bull, was owned by the man's family.
Burris suffered severe injuries to both arms. The dog also had a history of aggression. "He was defending himself from the dog, and that's why he got so many bites on the arms," Sheriff Ross told WTVC. "The dog had been aggressive before, and it was on a cable, but at some point during the night it broke the cable and came after Mr. Burris," Ross said. The family secured the pit bull in a car after the attack. They asked for the dog to be euthanized, which a deputy did at the scene.
The Polk County Sheriff's Office said they found Burris behind the family's home, next to the fence line. Sheriff Ross said the dog bite fatality was a "first" for his agency. "We have the occasional dog bites, but this is a first for us, as far as someone actually dying from a dog bite. This was a very brutal attack," Ross said. The sheriff had hoped to hand the dog over to an agency for euthanasia, but none could take the animal. On scene euthanasia was the only safe option.
"Alligator" Pit Bull
WDEF reported the dog was an "alligator" pit bull. This presumably refers to CH Plumber's Alligator bloodline. Though, not to be confused with CH (Crenshaw's) Rodriguez' Gator bloodline. Both are serious fighting dog bloodlines in the south. However, many breeders falsely claim "Alligator" or "Gator" bloodlines. "Gator Pit Bull is a common name used by backyard breeders to boost their marketing appeal, as well as 'gator mouth pit bull,'" states Goodpitbulls.com.
Back in 2017, the owner of two family pit bulls that killed a child in Georgia claimed one dog was a "Jeep Rascal and Gator Gotti. No mixing in that bloodline at all (sic)." We will not begin to explain how implausible that is or how full of marketing nonsense that is. But it seems to be common bragging rights among some pit bull owners in the south to claim to own a "Jeep" or "Alligator" or "Gator" from a famous fighting dog bloodline that such individuals are unlikely to have access to.
Adult Male Age Group
Over the 17-year period of 2005 to 2021, very few men in the 30 to 39 year-old age group have been victims of fatal dog attacks. In fact, there have only been 10 men, according to our records, within the approximate 621 total dog bite fatalities during this period. 80% of these 10 deaths involved pit bulls. Half of these attacks, 50%, involved the dog killing its owner or a household member. These rare fatal attacks of men in their 30s are disproportionately inflicted by pit bulls.
View the DogsBite.org Google Map:
Tennessee Fatal Pit Bull Maulings
.
Related articles:
06/07/22: 2022 Dog Bite Fatality: Woman, 70, Killed by Pet Rottweilers in Tennessee
04/02/22: 2022 Dog Bite Fatality: Woman Killed by Personal Protection Dog in Tennessee
---
Baseline reporting requirements:
Law enforcement departments across the United States should release consistent "baseline" information to the media and the public after each fatal dog mauling,
including these items
.