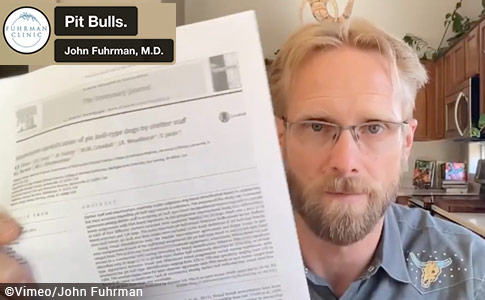 Dr. John Fuhrman discusses the risks of dog ownership and dog bite injury studies.
Discussion with Doctor
Prescott, AZ - In July, Dr. John Fuhrman of the Fuhrman Clinic published an informative post and video that discusses risk factors for families that are considering bringing a dog into their home; dog bite injury studies; and breed-related findings within those studies. Some of the medical studies discussed appear in our Level 1 trauma center table. Fuhrman also discusses studies pertaining to pit bull identification and references several high court rulings on the matter.
We encourage you to watch the entire video, which is 30 minutes in length. It is valuable to listen to a doctor discuss medical study findings in an informal, conversational manner. Such findings are not always easily interpretable to lay persons. Dr. Fuhrman emphasizes that children (50%, 1 in 2) are at a higher risk of sustaining a dog bite in their lifetime than adults (20%, 1 in 5) and that "most victims are involved in normal, non-provoking activities before the dog attacks."
About 70% of all dog attacks are from a dog known to the victim, he writes, not the proverbial stray. Most bites also occur inside or near the family's home, particularly bites and attacks to children. "Dog familiarity may confer a false sense of safety," states a 2015 pediatric dog bite injury study. "Unfortunately, familiarity may lead to injury," states a 2017 pediatric dog bite injury study. A 2018 pediatric study found that "parental presence was reported in 43.6% of cases."
"Infants are 4 times more likely to be bitten by a family dog. When infants are attacked, usually the baby is asleep. There is nothing less provocative than a sleeping baby, yet dogs attack them." -Dr. Fuhrman
Breed-Related Findings
What was almost "universally found in the 17 or so papers that I looked at," he states about his literature review, is that "when humans went to the emergency rooms, and when humans went to the operating room because they needed a surgery from a dog attack, and when humans died because of a dog attack, pit bull-type dogs were more responsible for those things than any other type of dog," he states. There were other breeds, but "pit bull was stand out number one."
Dr. Fuhrman then proceeds to quote breed-related findings from over a dozen scientific medical studies, some of which found that pit bulls inflict the highest prevalence of injuries and the highest severity of injuries, compared to other dog breeds. "Of the more than 8 different breeds identified, one-third were caused by pit bull terriers and resulted in the highest rate of consultation (94%) and had 5 times the relative rate of surgical intervention," states a 2015 dog bite injury study.
Pit Bull Identification Studies
Dr. Fuhrman next discusses key "Find the pit bull" studies and points out their flaws. The first one, (Hoffman, 2014), is based on 20 photographs. "No actual dogs were shown to the participants. Instead, one photo of each dog was shown. The photos were not standardized. They were taken at different angles and some do not include the dog's whole body," he writes. Participants self-selected to take the survey for the study too. "Better to select participants randomly," he writes.
He notes that the second pit bull identification study, (Olson, 2015), coded the dog "pit bull-type" if results from the DNA test only showed 12.5% of the breed's composition. "I think this standard is too high," he writes. "If the dog is 1/8 pit bull by genetic testing, then the authors count that dog as a pit bull. I would not expect the staff to look at a dog that is 1/8 pit bull and identify it as pit bull." Yet, even with this 1/8 DNA standard, "most of the time staff agreed with each other," he writes.
Dr. Fuhrman also questions the conflict-of-interest statement in the Olson study, "None of the authors of this paper has a financial or personal relationship with other people or organizations that could inappropriately influence or bias the content of the paper." Yet, the study was funded by Maddie's Fund. "I invite you to go to Maddie's Fund's website, search for 'pit bull,' and decide for yourself if the search results show any bias about pit bulls at Maddie's Fund," he writes.
Even as a newbie into the area of pit bull identification studies, which often have "self-selecting" study participants, flawed study designs, use non-standardized 2-dimensional photographs, and often lack conflict-of-interest statements, Dr. Fuhrman is clear that something is amiss. Welcome to the world of "Find the pit bull" studies, where conflict-of-interest statements may be wholly omitted and the studies are funded, co-authored or both by pit bull advocacy in secrecy.
Case in point, Dr. Fuhrman was unaware that one study he cited, (Reese, 2020), was co-authored by Laura A. Reese, a pit bull advocate, who failed to disclose her conflicts of interest, "The authors have no conflict of interest in this project," states the study. Reese co-authored a policy paper in 2016, Pit Bulls, Perceptions, And Public Policy,1 laden with decades old pit bull propaganda, and wrote an editorial condemning breed bans after four pit bulls killed a boy in Detroit in 2015.
In Conclusion
Dr. Fuhrman concludes by summarizing risk factors for families that are considering bringing a dog into their home for the first time and what breed or type of dog that should be. As he states, the research suggests, even as secondary trends that, "It seems that female dogs are a lower risk for attacking" and, "It seems that dogs which are not chained up are a lower risk for attacking." What should be strongly emphasized, however, is that pit bulls are inflicting the most severe injuries.
"Thing that really should be underlined is that pit bulls are the number one dog for sending people to the emergency room. Sending people to the operating room. And, sending people to the morgue." - Dr. Fuhrman
Dr. Fuhrman also reminds parents deciding on whether to bring a dog into their home that there are many breeds to choose from. "I mean even if it is just the top ten offenders, you scratch those off the list, you are still left with over 200 breeds to choose from," he states. "So, knowing what you know now, along with all of the other information that you are going to use to make your decision. But knowing the medical literature statements on this, what breed would you choose?" he asks.
Lastly, we don't think Dr. Fuhrman studied the pit bull identification studies too deeply. He did not need to. His insights show that a scientific mind just scratching the surface of these studies can find a lot of flaws and false conclusions. We doubt he looked deeply into Maddie's Fund either, who strives for a "no-kill nation now." But he quickly realized that the funding source for the Olson identification study, "made possible by support from Maddie's Fund" was not neutral.2
---
1
Ironically, Reese's policy paper points readers to the online test, "Pick the Pit," which was created circa 2011 and is now defunct. These online quizzes, "Find the pit bull," were the first iteration of pit bull identification games using unstandardized and deceptive photos. These online quizzes then began being recreated in studies, where participants were recruited via convenience samples and/or individuals who self-selected to take the online survey.
2
Dr. Julie Levy, who co-authored the pit bull identification study with Olson is a faculty member of the Maddie's Shelter Medicine Program at the University of Florida in Gainesville, where the study was carried out. Maddie's Fund did not just fund the Olson/Levy study, they established and underwrite the shelter medicine program. The Olson/Levy study was also part of a "bigger umbrella study," as noted in the study, involving a large Internet survey of 5922 self-identified "dog-experts" that were shown photographs of the same dogs used in the Olson/Levy study and asked to determine breed. That portion of the study was funded by the National Canine Research Council, a subsidiary of Animal Farm Foundation, both are primary members of the American pit bull lobby.
Related articles:
08/01/22: Level 1 Trauma Dog Bite Studies in All U.S. Geographical Regions: Pit Bulls Highest...
01/12/22: 2021 Fatal Dog Attack Breed Identification Photographs - DogsBite.org
10/20/16: Back Story of the Montreal Pit Bull Ban, What the Vets Omitted and Cited...
08/31/15: Who Can Identify a Pit Bull? A Dog Owner of 'Ordinary Intelligence' Say the High Courts