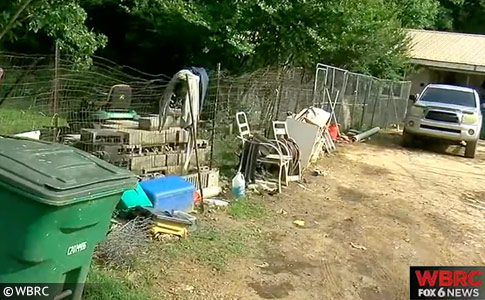 Ronda Persall, 57, was killed by her neighbor's "yard dogs" in western Cullman County.
Woman Killed by Dogs
Cullman County, AL - Over the weekend, a woman was killed by multiple dogs belonging to her neighbor. Cullman County Coroner Jeremy Kilpatrick identified the victim as 57-year old Ronda Persall. She was attacked sometime around 2:30 am Sunday after the dogs escaped a fenced area. She was pronounced dead at the scene when the coroner arrived around 3:00 am. The attack occurred in the Jones Chapel community on Country Road 1030 where Persall lived.
ABC 33/40 spoke to the dog's owner, who would not show his face on camera. The owner said he's known Persall for over a decade. "Now I gotta live with that, I've got to live with that forever," he said, referring to his pack of dogs killing her. "Sooner or later, I've got to explain that to my children. All they know is, Miss Ronda is not here." The owner described Persall as "a really good woman, she was kind hearted," and "good to everybody." He added, "she was always helpful."
The attack occurred on the dog owner's property. The owner said he was awakened by a commotion around 2:30 am. He ran outside and saw the dogs attacking his neighbor. He rushed over to help her and was also bitten by the dogs. "I grabbed her up, picked her up and started kicking the dogs back," he said. He then called 911. He didn't want to wait for the ambulance, so he drove her to meet them. "She was tore up," he said. "She'd been attacked pretty bad."
The Cullman County Commission released a statement:

"With heavy hearts, the Cullman County Commission and Animal Control staff must report that a Cullman County citizen, Ronda Persall, lost her life in an unfortunate attack by multiple dogs on the dog owner's property. The dogs involved in the incident are confined and being tested during this ongoing investigation. Our thoughts and prayers go out to the family during this difficult time."
Dogs Escaped Fenced Area
WBRC also spoke to the dogs' owner, who could not explain how his dogs escaped the fenced area and attacked the woman. "They can't dig through it. There are boards all around it. They couldn't chew through it. It's a metal fence," he said, describing his fence line. "It' a mystery how they got out," he said. "She was laying over here beside the car and the dogs had surrounded her and they were biting her. I picked her up out of them. They started biting on me," he explained.
The owner told WBRC he ended up shooting at least 12 dogs that he described as "yard dogs." Cullman County's Animal Control Director, who was at the scene Monday, said that two lab-mix dogs were pulled off the victim. The owner told WBRC the whole ordeal "traumatized the smoke out of me." He recalled his longtime friend as having a few oddities. "She was eccentric I guess you'd call her," he said, "but she was good as gold." It's unclear what led up to the fatal attack.
Western Alabama Attacks
Three week ago, and less than a two hour drive west, two women were attacked by a pack of dogs near Red Bay. Michele Sheeks was attacked on April 28. She was airlifted to a hospital in Mississippi, where she remains today. On April 29, Jacqueline Summer Beard, an Alabama public health employee, went to the dog owner's home to investigate the first attack and was killed by the same dogs. The owner of the dogs, Brandy Dowdy, was arrested and charged with manslaughter.
---
---
Related articles:
05/08/22: 2022 Dog Bite Fatality: Public Health Employee Killed by Pack of Dogs in Alabama
09/23/21: 2021 Dog Bite Fatality: Phenix City Man, 70, Dies After Brutal Pit Bull Mauling
---
Baseline reporting requirements:
Law enforcement departments across the United States should release consistent "baseline" information to the media and the public after each fatal dog mauling,
including these items
.