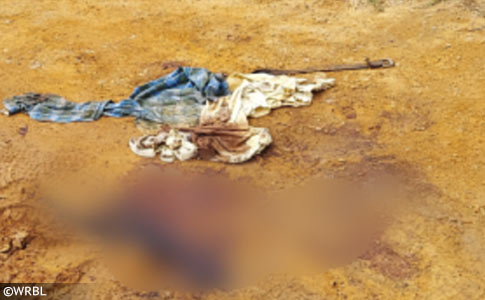 Area on dirt driveway where a man was severely mauled by a pit bull in Phenix City.
Man Lost Limbs
Phenix City, AL - An elderly man is dead after being mauled by a pit bull early Tuesday morning. Frank Cobb, 70-years old, was found lying in a dirt driveway with severe dog bite injuries when police arrived. Cobb was first transported to Piedmont Columbus Regional Hospital in West Georgia, then transferred to Grady Health in Atlanta, "where they tried to re-attach his limbs," family members said. Cobb died in the intensive care unit at Grady Health on Tuesday night.
An aggressive large black dog was seen in the area where police found the victim. One officer attempted to Taze the dog. A canine matching the description of the attacking dog was later found dead on US Route 431 after being struck by a vehicle, according to police. That dog's body was sent to a lab for testing. Cobb's body was transported back to Alabama, where an autopsy will be performed. Police have not identified the owner of the pit bull and no arrests have been made.
On September 21 at about 2:00 am, Phenix City police were dispatched to the 100 block of 17th Avenue in reference to a dog attack. Arriving officers found Cobb on the ground with serious injuries. Witness Kenny Bo spoke to WTVM. "I heard someone say help," Bo said. "It was blood everywhere. I was devastated, I mean flabbergasted. I tried to help Red. I grabbed the dog by its neck and by his nose and I took off running down the street so he could chase me," Bo said.
Phenix City lies in both Lee and Russell counties on the border of Alabama and Georgia. The only thing separating the city from Georgia is the Chattahoochee River. Multiple people have been killed by dogs in Phenix City over the years, including, Katie Morrison, 20, in 2014, Cason Bryant, 5, in 2010 and Richard Adams, 47, in 2006. The population in Phenix City is only 36,000. There have now been four fatal dog maulings in a population this small over a 16-year period.
View the DogsBite.org Google Map:
Alabama Fatal Pit Bull Maulings
.
Related articles:
04/05/18: Alabama Legislature Passes, "Emily's Law" After Woman Killed by Pack of Pit Bulls
03/23/18: 2017 Dog Bite Fatality: Pack of Dogs Kill Woman, Badly Injure Another, in Guntersville
---
Baseline reporting requirements:
Law enforcement departments across the United States should release consistent "baseline" information to the media and the public after each fatal dog mauling,
including these items
.