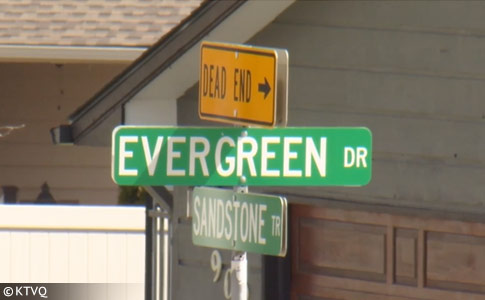 Melitta Hain, 84, died eight days after being mauled by dogs in Billings Heights.
Mauling Victim Identified
Billings, MT - On April 18, news reports emerged about a fatal dog mauling in Billings Heights, a suburban neighborhood in northeast Billings. The attack occurred on April 8 in the 1100 block of Sandstone Trial at about 6:30 pm. Police were initially dispatched to the area on a report of a disturbance. While en route, police learned the disturbance was a dog attack. When officers arrived on scene, they found an elderly woman who had sustained injuries from a dog attack.
On April 19, the Yellowstone County Coroner's Office identified the victim as 84-year old Melitta Hain. She was injured on April 8 and died on April 16 from complications of multiple dog bites. Her death was ruled an accident, the coroner's office said. The attack occurred on private property, and three large mixed-breed dogs were involved, police said. All three dogs are being held in quarantine at the Yellowstone County Animal Shelter. No arrests or charges have been filed.
Audio dispatch logs from Yellowstone County Public Safety on Broadcastify.com indicate the victim lived at a home on Sandstone Trial next-door to the property where the dogs resided. No other information has been released by police. Hain's family has retained the Billings-based law firm Heenan and Cook to represent them, reports KTVQ, an MTN News affiliate. The family and their attorney declined an interview request with MTN News until the police investigation is complete.
Last year, two people were killed by dogs in Montana. In December, 58-year old Duke Little Whirlwind was fatally mauled by a pack of dogs in Lame Deer on the Northern Cheyenne Indian Reservation, about 115 miles southeast of Billings. In May, 4-year old Elliot Sherwin was killed by his grandparents two rottweilers in Whitehall, about 200 miles west of Billings. The grandparents had gained custody of the boy and had recently moved to the area from Washington state.
Prior to the pandemic, only two fatal dog maulings had been recorded in Montana since 2005. In 2006, Dominic Giordano, 4-years old, was killed by one of his uncle's rottweilers in Ulm. The boy and his family had been staying with his aunt and uncle who owned four rottweilers. In 2017, Melissa Barnes, 65-years old, was brutally attacked by two familiar pit bulls belonging to a tenant that lived on her property in Bozeman. She was pronounced brain dead the following day.
Obituary Announcement
Melitta Martha Hain was born in Berlin, Germany prior to World War II. She was injured in the bombing of Berlin and buried in a hospital for two days in Leipzig, according to her obituary. She would have been a young child at that time. She later escaped from East Berlin. Being sponsored out of a refugee camp, she arrived in Great Falls, Montana and felt "safe and free." After marrying her husband in 1983, the couple lived in Denver, Colorado before settling in Billings, Montana.
Related articles:
12/16/21: 2021 Dog Bite Fatality: Pack of Dogs Kill Man on Northern Cheyenne Reservation
05/28/21: 2021 Dog Bite Fatality: Boy, 4, Killed by His Grandparents Two Rottweilers in Montana
09/13/17: 2017 Dog Bite Fatality: Woman Brain Dead After Pit Bull Mauling Near Bozeman
---
Baseline reporting requirements:
Law enforcement departments across the United States should release consistent "baseline" information to the media and the public after each fatal dog mauling,
including these items
.