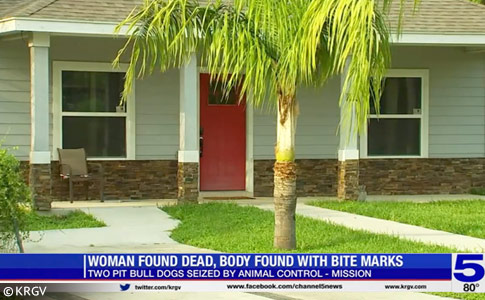 Police suspect Maria Rachel Perez, 59, was killed by two pit bulls inside her Mission home.
Woman Discovered Dead
Mission, TX - A 59-year old woman was found unresponsive by her 10-year old granddaughter on Thursday around 3:41 pm in the 800 block of Leal Street. When police arrived at the scene, they located the woman covered in blood with "several bite marks on her left side of her body and face," according to Mission police spokesman Investigator Art Flores. Maria Rachel Perez was pronounced dead at 4:18 pm. Two pit bulls that belonged to relatives were taken into custody.
It was the granddaughter that called 911. "A young lady, a juvenile showed up at home to a residence and observed that her grandmother was laying on the floor with blood," Flores said. "We did see some evidence of dog bites on the female's left side portion, upper portion of the body, left arm," said Flores. "We can't say it was the dogs at this point." When police arrived, the "two pit bulls were isolated in another room," Flores said. An autopsy has been ordered for Perez's death.
A male neighbor, who did not wish to be identified by KRGV, said the two dogs were known to be aggressive. "These were pretty aggressive dogs. They would escape. They were always roaming in the neighborhood. They'd even break into people's yards," he said. "It could have been a child. I hope this never happens to anybody ever again." The last dog bite fatality DogsBite.org recorded in this county -- Hidalgo County -- was the death of a 5-year old child that occurred in 2008.
---
Join Texas Dog Bite Victims' Advocacy - Join our Texas email list to stay informed
View the DogsBite.org Google State Map:
Texas Fatal Pit Bull Attacks
.
Related articles:
07/19/21: 2021 Dog Bite Fatality: Woman, 59, Killed by Pair of Family Pit Bulls in El Paso
05/11/21: 2021 Dog Bite Fatality: 46-Year Old Man Killed by Pit Bull in Big Spring, Texas
---
Baseline reporting requirements:
Law enforcement departments across the United States should release consistent "baseline" information to the media and the public after each fatal dog mauling,
including these items
.