Fourth Time Police Had Been Called to Owner's Home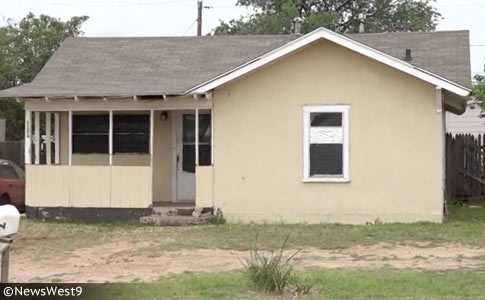 A man died after being attacked by a pit bull and dragged up and down the sidewalk.
Man Killed by Dog
Big Spring, TX - A 46-year old man is dead after being attacked by a dog in Big Spring. The fatal attack occurred about 6:00 am in the 1100 block of East 13th Street. Neighbors told NewsWest 9 the man was dragged up and down the sidewalk before police arrived. Officers open fired on the dog, described as a pit bull, before Big Spring Animal Control took the dog into custody. John Henry, 46-years old, was transferred to Scenic Mountain Medical Center where he later died.
One neighbor, a former dispatch worker, witnessed the attack. "They were all around him just trying to get the dog off him," Traci Myrick said. "I just felt so helpless because I couldn't do anything." Myrick awoke that morning to screaming and her own dogs barking. She quickly called 911. "They had sticks, they had a tire even all throwing it at the dog," she said. "The dog would stop a little bit and then go back to the man." Myrick stayed on the line with 911 during the attack.
According to neighbors, the owner of the dog lives at an abandoned home on the block. This is probably the fourth time police have been to the home, Myrick said, and they've only been living there for about three weeks. The owner also has a pit bull puppy, Myrick said. It is unclear at this time if the owner of the dog will face charges. The dog is currently being held at the Big Spring Animal Shelter. Big Spring is located in Howard County near the cities of Midland and Odessa.
Wednesday Updates
Myrick also spoke to Big 2 News and added more details. She even compared the pit bull's attack to a police K9 attack. "One man tried getting the dog to chase him down the street, he was the one who got bit," Myrick said. "But, then the dog turned around and started attacking the man across the street, like police dogs do. I mean he just tackled him on the ground and went after him." She was panicked at the time, she said. "I was just trying to think of anything I can do to help this man."
Also, the Mayor Big Spring, Shannon Thomason, commented on the local police news release. Constituents were not pleased by his comments. "To see this kind of response from a city official is extremely embarrassing," Cody said. "Have you heard of decorum? Instead of condescension you could have approached the conversation with a helpful attitude and tried to educate one of your constituents on the details of a situation that obviously has people concerned for their safety."
One person told the mayor, referring to the number of roaming dogs in the city, "It's a shame you don't drive the streets of Big Spring more often." The mayor responded, "Now how would you know about my driving habits?" Commenter Rachel replied, "It's a shame that you speak to constituents this way." Other people asked the mayor, "When is the next election?" Cody replied, "Not soon enough." Recall, this is a thread about a 46-year old man killed by a loose pit bull.
---
Media Release - 5-11-2021

On the 11th of May 2021, at approximately 6:00 A.M., Big Spring Police Department officers responded to the 1100 block of E. 13th due to an unknown disturbance. Upon arrival, officers immediately observed a dog attacking a male individual identified as John Henry, Hispanic/Male 46 years of age. Officers observed two more individuals outside trying to get the dog to stop attacking Mr. Henry. The officers discharged their weapons in the direction of the dog, scaring the dog away.

Mr. Henry was immediately transported to Scenic Mountain Medical Center for treatment, but unfortunately, has died. The actual cause of death is not known at this time; an autopsy is scheduled for tomorrow morning. The Big Spring Police Department Criminal Investigations Division arrived on scene and are currently investigating this incident. Animal Control Wardens arrived on scene and were able to capture the dog which is now in quarantine at the Big Spring Animal Shelter. During this incident, another male individual was also bitten; he was treated and released from SMMC. This case is still under investigation and no further information is available at this time.

Chief of Police, Chad Williams
Administrative Lieutenant Brian Gordon
CID Sergeant John Haynes
---
Join Texas Dog Bite Victims' Advocacy - Join our Texas email list to stay informed
View the DogsBite.org Google State Map:
Texas Fatal Pit Bull Attacks
.
Related articles:
05/01/21: 2021 Dog Bite Fatality: Family Dog Fatally Mauls 4-Year Girl in Fort Worth, Texas
03/02/12: 2021 Dog Bite Fatality: Woman Killed by Pack of Dogs During State Power Crisis
---
Baseline reporting requirements:
Law enforcement departments across the United States should release consistent "baseline" information to the media and the public after each fatal dog mauling,
including these items
.