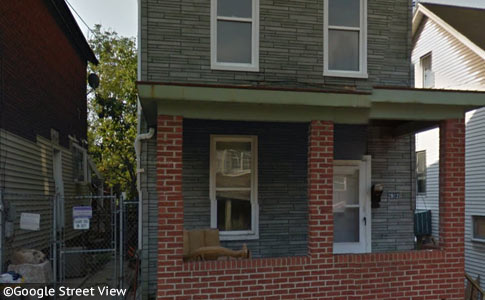 A 41-year old man was found dead in a home, and a pit bull was the initial suspect.1
Few Details Released
McKeesport, PA - On Friday afternoon, just after 4:30 pm, Allegheny County Police were dispatched to the 2900 block of Grover Street, for an "individual possibly injured by a dog. Unknown the severity of injuries," according to audio dispatch logs from Allegheny County Public Safety. Allegheny County Homicide is investigating the death of a man believed to be the result of a dog attack, McKeesport Police Captain Christopher Halaszynski told KDKA Friday night.
Multiple neighbors told KDKA that they heard about four gunshots and believe the dog had been shot once they came out and saw this. "There was blood and vomit on the street. There were four shell casings on the street," one neighbor told KDKA. The dog involved was a brindle-colored pit bull, who neighbors believed to be about 4-years old. McKeesport police said the dog was alive and was taken into custody by animal control officials. It's unclear if the dog had been shot.
The man was identified as Stephen Rucinski, 41, by the Allegheny County medical examiner's office. By Saturday, Halaszynski said that police no longer believe that the dog was involved. He requested that Allegheny County Homicide detectives "sort out what happened," WPXI reported. That department is now overseeing the investigation. At 6:50 pm Friday, Allegheny County Fire was asked to do a "spray down" on Grover Street, according to audio dispatch log files.
Rucinski was found wounded and dead inside by a family member, according to emergency personnel, reports Tube City Almanac. The extent of Rucinski's injuries was not publicly released and it was not clear who owned the dog. The pit bull bolted from the home too. McKeesport police and animal control officers had to search the neighborhood for an hour after the "incident" to locate the animal. The investigation is continuing, but further information will not be released.
Pennsylvania Undercount
Back in 2017, we commented on three fatal or near fatal pit bull maulings in Philadelphia, none of which are included in our dog bite fatality statistics due to lack of confirmation by Philadelphia police, an agency that has never responded to our FOIA requests. Now, another victim may be added in the Pittsburg area. We know from CDC Wonder database that we have undercounted dog bite fatalities in Pennsylvania with the most obvious areas being Philadelphia and Pittsburg.
Since 2005, we have recorded three fatal dog maulings in Philadelphia (population 1.6 million), but none in Pittsburg (population 302,000), the second largest city in Pennsylvania. Suburbs of Pittsburg, however, have reported fatal dog maulings during the period, including one fatal attack in McKeesport (population 19,000) in 2012 and another in West Mifflin (population 20,000) in 2015. It is unknown if we will learn anything else about the death of Stephen Rucinski.
1
Notably, in the 2013 Google Street View photograph of the home on Grover Street, there is a lighter colored, non-brindle pit bull curled up behind the fence sleeping, where a sign reads, "Guard Dog on Duty." Ambiance.
Related articles:
11/24/17: Man Dies in North Philadelphia After Being Attacked by Four Pit Bulls on Thanksgiving
---
Baseline reporting requirements:
Law enforcement departments across the United States should release consistent "baseline" information to the media and the public after each fatal dog mauling,
including these items
.