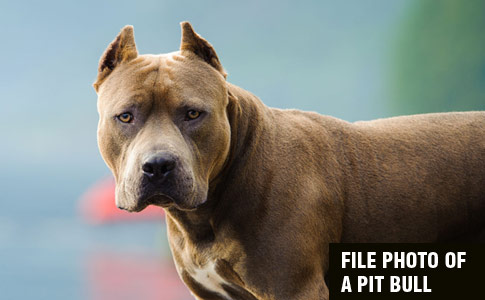 A newborn baby boy was killed by a family pit bull in Johnston County, North Carolina.
Family Dog Kills Infant
Kenly, NC - A newborn baby boy is dead after being attacked by a pit bull. Just after 5:00 am, Kenly Police and emergency responders were dispatched to a residence in the 200 block of South Church Street. Arriving officers discovered that a male infant had been attacked inside the home by a female pit bull. The North Carolina State Bureau of Investigation and Johnston County Medical Examiner's Office will be assisting Kenly Police with the infant's death investigation.
Police Chief Josh Gibson said the death is being treated as accidental. "First and foremost, we offer our sincere condolences to the family and their friends during this difficult time," Chief Gibson said in a prepared statement. The pit bull was taken into custody by Johnston County Animal Services. Officials said the dog was surrendered to them. After a 72 hour hold, the dog will be euthanized. Counseling will be offered to all of the first responders who were at the scene.
Audio dispatch logs from Johnston County Public Safety at Broadcastify.com state it was a family dog. "Family dog, code blue, code blue," states the dispatcher. "Respond to a 1-month old male," states the dispatcher. The infant's death comes after 10-month old Malia Winberry was fatally attacked by a pair of family rottweilers in the same county back in May. The father of Malia was a law enforcement officer in Wake County and her mother worked for Johnston County's EMS.
In late April, 7-year old Jayden Henderson was killed by her neighbor's two pit bulls in the adjacent county of Wake County. After months of court proceedings, those pit bulls were finally euthanized. The death of Jayden, and the subsequent legal actions by the dogs' owners to have the dogs returned to them, received enormous press coverage in this area. Why "any" parent or caretaker would have a newborn baby in the same household as a pit bull is simply unimaginable to us.
On Thursday, WRAL News provided new information about the 8-day old baby boy's mauling death. Initially, Chief Gibson said the family had taken in the pit bull as a stray just a few days prior to the fatal attack. On Friday, Detective Rayne Biggs clarified that the dog was rehomed and familiar to the family. "The dog was rehomed, and the family was familiar with the dog from previous encounters," Biggs said. The identity of the infant boy was not released by police.
Infant Dog Bite Fatalities
Despite the fact that all dog breeds are "capable" of killing infants (< 1 year old), most dog breeds do not. Over the 16-year period of 2005 through 2020, canines killed 72 infants in the U.S. Pit bulls accounted for 49% of these killings, followed by huskies, 13%, rottweilers, 10%, and German shepherds, 8%. 16 different dog breeds inflicted these infant deaths, the majority of these breeds having only 1 death attribution. The AKC currently recognizes 197 different dog breeds in U.S.
Dog breeds "capable" of killing infants in no way reflects the breeds that actually do kill infants. Pit bulls alone accounted for half of these deaths.
---
View the DogsBite.org Google State Map:
North Carolina Fatal Pit Bull Attacks
.
Related articles:
09/10/21: 2021 Dog Bite Fatality: Child Killed, Mother Hospitalized While Caring for Neighbor's...
09/09/21: 2021 Dog Bite Fatality: Woman Dies in Hospital After Being Attacked by Three Pit Bulls
05/26/21: 2021 Dog Bite Fatality: Pair of Family Rottweilers Kill Baby in Johnston County...
---
Baseline reporting requirements:
Law enforcement departments across the United States should release consistent "baseline" information to the media and the public after each fatal dog mauling,
including these items
.