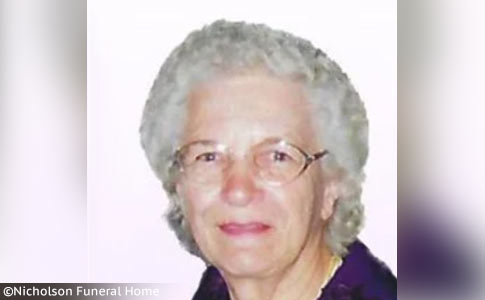 Mildred Vaughan died nine days after being attacked by three dogs on Mahaffey Lane.
Woman Dies in Hospital
Wilkes County, NC - An elderly woman hospitalized after being attacked by three dogs near her home died on August 30 at Atrium Health Wake Forest Baptist Medical Center in Winston-Salem. Mildred Vaughn, 89-years old, had walked to her mailbox on August 21, when three dogs from a nearby property attacked her. EMS was dispatched to 211 Mahaffey Lane at 2:21 pm. Vaughn was airlifted to the hospital in Winston-Salem, where she was initially listed in critical condition.
Wilkes County Animal Services Director Steve Rhoades said his department impounded three dogs involved in the attack, a female pit bull and her two offspring, not yet fully-grown pit bull-mixes. All three dogs were euthanized after they were determined to be dangerous, Rhoades said. The owner of the dogs did not appeal the decision to declare the dogs dangerous, Rhoades said. The Wilkes County Sheriff's Office also responded to the scene and conducted an investigation.
Her obituary states that she "was a very independent and active woman who was full of life. She had a passion for gardening and loved her pets. Mildred was happy and proud of the home she made in Union Grove." The Journal Patriot reports that Mahaffey Lane is a dead-end, unpaved road less than a fourth of a mile long that intersects with Ridgeline Road at the Wilkes-Iredell county line. Police did not identify the owners of the dogs. No other information was released.
View the DogsBite.org Google State Map:
North Carolina Fatal Pit Bull Attacks
.
Related articles:
09/07/21: 2021 Dog Bite Fatality: Elderly Puna Woman Dies After Multi-Victim Dog Attack...
09/03/21: 2021 Dog Bite Fatality: 91-Year Old Woman Killed by a Pet Rottweiler While Living...
---
Baseline reporting requirements:
Law enforcement departments across the United States should release consistent "baseline" information to the media and the public after each fatal dog mauling,
including these items
.