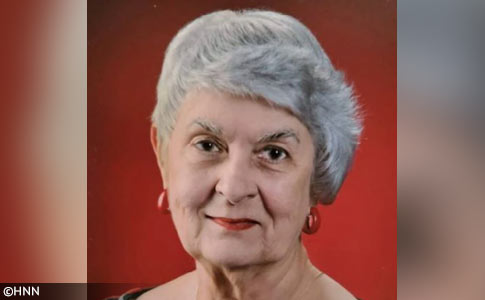 Dolores Oskins, 85, died of injuries sustained from a vicious dog attack in mid-August.
Dog Attack Victim Dies
Puna, HI - On August 14, a pack of four dogs described by a dispatcher as "pit bulls and bulldog-mix dogs," attacked three adults, two men and one woman. The 85-year old woman suffered critical injuries, she was "bitten about the head, neck, and arms, receiving multiple puncture wounds and lacerations," according to Hawaii Police Department Captain Scott Amaral. She was transported to Hilo Medical Center, where she succumbed to her injuries on Sunday, September 5.
Family members identified her as 85-year old Dolores Oskins. She died Sunday at the Hilo Medical Center -- three weeks after the attack.
Back in August, Amaral said, "This is one of the worst dog bite cases that I've seen in 20 years." According to HPD, the attack occurred on 12th Avenue in Hawaiian Paradise Park at around 5:43 pm. The 85-year old woman had been searching for her lost dog, when the dogs escaped from a partially fenced yard. The two men, 89 and 88-years old, attempted to fend off the dogs. Both were treated for their injuries at a hospital and released. Authorities took two dogs into custody.
The most recent update on September 7 reports that the 89-year old man bitten was the victim's husband and the other male victim in his 80s was a family member. The vicious attack was classified as a dangerous dog incident under the Hawaii County Code 4-31, Amaral said back in August. Police have "no prior documented reported incidents of these dogs from that residence being loose in the area, and we don't know what provoked the dogs to attack," Amaral said.
Breeds of Dogs
Audio dispatch logs from Hawaii County Police and Fire (East) located on Broadcastify.com described the dogs as "pit bulls and bulldog-mix dogs." There "is blood everywhere," the dispatcher states. "Active dog attack. Three patients, four dogs, will be on 12th Avenue, that's off Paradise," she states. "There will be a pit bull on scene, a bulldog and another big dog. Unknown who the owners are," the dispatcher states. No media articles contained breed information.
---
Related articles:
10/16/20: 2020 Dog Bite Fatality: Infant Dies After Dog Attack in Schofield Barracks in Honolulu
08/12/16: 2016 Dog Bite Fatality: Homeless Man Killed by Pit Bull-Mixes Owned by Honolulu...
---
Baseline reporting requirements:
Law enforcement departments across the United States should release consistent "baseline" information to the media and the public after each fatal dog mauling,
including these items
.